BO KNOWS BODYBUILDING!
Muscular Development
|
November 2020
Dectric 'Bo' Lewis Is Roaring Up the 212 Ranks
Those of you who were around in the late 1980s will recall Nike's Bo Knows campaign for their cross-training shoe. It featured legendary musician Bo Diddley and Vincent Bo Jackson, the only man in history to be named an All-Star in both pro baseball and football. Now, in our own sport of bodybuilding, a new champion is rising in the 212 division. At 42 years old, Dectric Bo Lewis is still a rookie, having turned pro in July of 2018 as a Master at the NPC Universe. He could very well have been like the legions of men who turn pro as a Masters competitor - destined for obscurity with nary a chance to ever make any impact on an IFBB Pro League stage amongst the younger athletes who earned their pro status at tougher events like the USA, NPC Nationals, Amateur Olympia and Arnold Amateur. Bo Lewis would be one of the rare few to break that cycle. With a dense, complete physique featuring thick pecs, melon delts and monster arms, Bo recently returned with major improvements to take a close second place to George Da Bull Peterson as the former Classic star made his debut as a 212 at the Tampa Pro. Though George was the man most fans were waiting to see in the 212 class there, it was Bo who became the talk of the weekend. Who is this guy? It is now my pleasure to tell you all about Dectric Bo Lewis.
THE TENNESSEE TITAN
Bo grew up in Memphis, the same city that spawned blues and rock and roll music. He played several sports well, but was best at baseball and basketball. In baseball, pitchers would intentionally walk him because as he says, If I made contact with the ball, you could kiss it goodbye. And despite being a hair under 5-foot-7, he followed in the footsteps of his aunts and uncles on the basketball court as a point guard. I could dunk, and still can believe it or not, and could rebound with the best of them.
His introduction to weight training came not from sports, but from an uncle who had a weight set in his backroom. One day when Bo was only 10, he told the child to "go back there and lift some weights." Dectric saw the bench press with a bar on its racks, and proceeded to do his first set ever. "My chest got this tight feeling, and I ran out to show my mom," he laughs. Around this time, he found a TV show on reruns called The Incredible Hulk. "It was on at 3:00 p.m., and I used to run home from school every day to watch it," he tells us. "Seeing Lou Ferrigno all painted green and hitting those poses, throwing people around like dolls, flipping cars over – man, that made me want muscles!"
Bo asked for his own weight set to train at home with, and on every birthday and Christmas his gift request was always the same – more weights, please. "These were those concrete weights with the plastic over them where you had to use a wrench for the collars," he says. In junior high, a friend invited him to a local YMCA weight room, where an older member urged him to try his hand at the bench press. He did 135 with ease but got stuck when 45s were added to each side to make it 225. "That really bothered me," Bo says, which led to his long foray into powerlifting. He bulked up to 250 pounds thanks to eight or nine meals a day that were often mostly fast food, and posted lifts of a 765-pound squat and deadlift as well as a 525-pound bench press.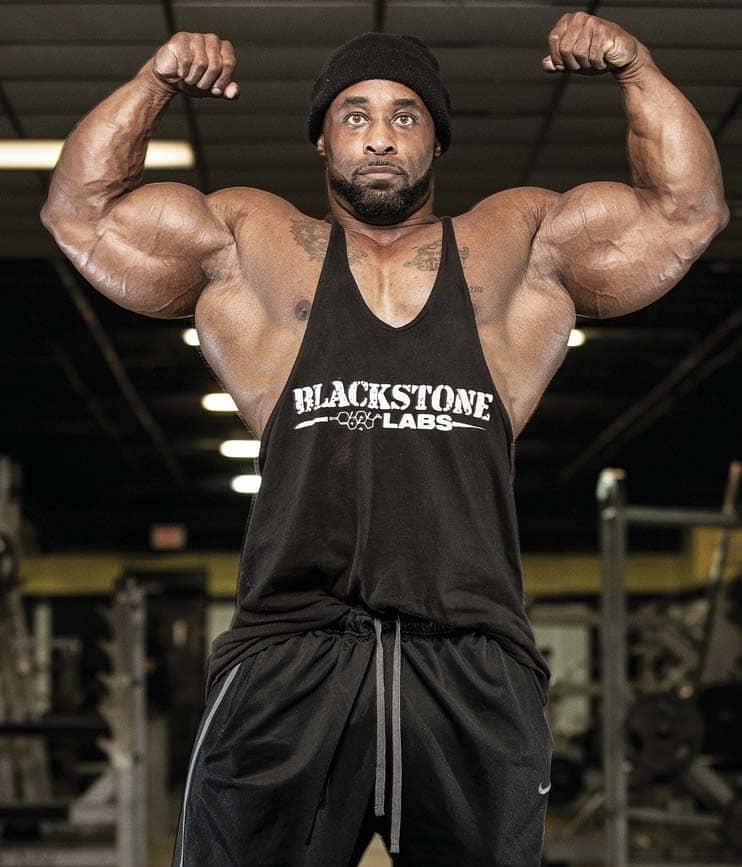 A BODYBUILDER AT LAST
There is a good chance the tremendous physique of Bo Lewis may have never been seen, buried under layers of body fat forever. Then one day in the gym, someone asked him if he was a pro bodybuilder. Taken aback, Bo replied that he had never even competed. This gentleman told him to consider it, as did more and more gym members not long after. IFBB Pro DeShawn Glass and Dwayne Hampton, who is still his trainer, were the two men who finally convinced Dectric he would do very well. But first he had some shocking news for Bo.
You can read up to 3 premium stories before you subscribe to Magzter GOLD
Log in, if you are already a subscriber
Get unlimited access to thousands of curated premium stories, newspapers and 5,000+ magazines
READ THE ENTIRE ISSUE
November 2020