Scary Good
Men's Journal|November 2019
With The Shining sequel, Doctor Sleep, a return to the iconic role of Obi-Wan Kenobi, and a now-on-track personal life, EWAN McGREGOR is back on top—again.
IRON MAN IS EATING A HOT DOG. The Little Mermaid is charging her cell phone. And I am lost.
It's late August and I've come to Anaheim, California, for D23—a three-day event where Disney executives will announce programming for the company's new Netflix killer, Disney+, a streaming service launching in November. Some 7,000 fans (many in costume) are seated inside a convention center, waiting for their favorite stars to come out on stage and wave. It's like Comic-Con for anyone who gets a boner for Donald Duck. Or maybe it's the world's most expensive pep rally.
And everyone is playing ball. Among the boldfaced names I see: Marvel president Kevin Feige; Avengers stars Elizabeth Olsen and Paul Bettany; Thor: Ragnarok director Taika Waititi; and funnyman Billy Eichner and Anna Kendrick, his co-star in Noelle, a new comedy about what happens to Christmas when Santa Claus has a nervous breakdown. Meanwhile, everyone's talking about Angelina Jolie and whether she'll show up to promote Marvel's The Eternals.
As for me, I'm supposed to meet Ewan McGregor somewhere in the bowels of this cavernous hall. If he's hard to find, that's by design. The dude's been instructed to make himself scarce, lest he spoil today's big surprise. The internet's been rife with speculation for weeks, but he's about to make it official: After a 15-year absence from the Star Wars universe, McGregor is set to reprise his role as Obi-Wan Kenobi in a new TV series.
"It's a fucking massive relief," he tells me when I'm finally ushered into his trailer. "Because for four years, I've been having to lie to people about it."
At 48, the boyish enthusiasm that made him a star still registers large. Behind the pale eyes and that thick mane of hair, dressed in black jeans and a black T-shirt, he still feels like the optimist from Trainspotting who— in the face of addiction—decided to "choose life." He emotes like the lovesick poet from Moulin Rouge who sang an Elton John song to a cynical Nicole Kidman. And if he's feeling particularly optimistic today, it makes sense: While Hollywood is in serious flux and white men of certain age are (finally!) being pushed aside for fresh and diverse perspectives, McGregor's weathered the tide, with a slew of potential franchises coming, including the Suicide Squad spin-off, Birds of Prey (And the Fantabulous Emancipation of One Harley Quinn), plus this month's long-awaited sequel to Stanley Kubrick's The Shining, Doctor Sleep.
I am eager to hear about it all. But first, McGregor has a question for me: "Tea?"
WAY BACK IN 1997, WHEN McGREGor was cast as Anakin Skywalker's mentor, Obi-Wan Kenobi, he was getting coffee with Christian Bale. They were on the set of Velvet Goldmine, the Todd Haynes cult classic about London's glam rock scene, and McGregor was maybe 26 years old. Of that moment, McGregor says: "We were just two kids on a fucking rooftop.... "
It was a whirlwind time. Trainspotting had made him an international star, but he still felt like one of us. We were '90s kids and he was our poster boy, a hero plucked from the crowd to represent our excitements and fears about the coming millennium. In his early 20s, he'd shared a London flat with Jude Law and his Trainspotting co-star Jonny Lee Miller, who was dating Angelina Jolie at the time. Thankfully, smartphones hadn't been invented yet.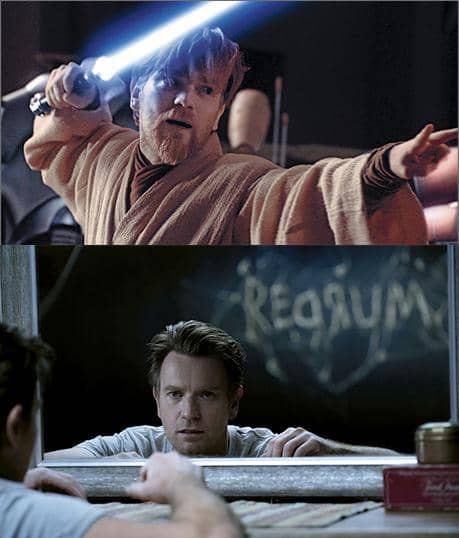 Pouring hot water from the kettle, McGregor recalls: "My brother was two years older than me, and he was in the Royal Air Force. But he was living with me and Jude and Jonny and occasionally Angelina. For six months, he had to work in the Intelligence Department. He'd come back in his suit from the war office to this, like, chaos. He worked for the Ministry of Defence! He shouldn't have been around some of the things.... " "Like what?" I ask with a smile. "Drugs?" "Well, things like that, you know—It was pretty hectic in there."
McGregor was still drinking then, still getting himself into trouble. He and his then wife famously conceived their first child while filming Trainspotting ("Made in Scotland!" McGregor once said), and the film ignited his career. He was young and hot and wildly brash, memorably talking shit about Hugh Grant's acting in the press and calling David Letterman "arrogant and uninteresting."
McGregor got sober not long after. And he's been clean for two decades. His sobriety is, in part, what drew him to this month's Doctor Sleep. The film (and the Stephen King book it's based on) picks up 30 years after the events of The Shining, or 30 years after the Overlook Hotel was destroyed. McGregor stars as the grown-up Danny Torrance—Jack Nicholson's son in the film, and the boy who cried, "Redrum." When the story opens, Danny (now Dan) is a drunk who abuses alcohol to keep the literal ghosts at bay. He gets sober only after waking up next to a woman with a beer gut and a toddler—a kid who reaches for a pile of Mommy's cocaine, calling it "canny."
"I've been sober for years," McGregor says. "This was the first time I got to explore that in my work. What intrigued me was the fact that when we meet Dan, he's like a rock-bottom alcoholic, and then finds recovery."
You can read up to 3 premium stories before you subscribe to Magzter GOLD
Log in, if you are already a subscriber
Get unlimited access to thousands of curated premium stories and 5,000+ magazines
READ THE ENTIRE ISSUE
November 2019