Top 8 Reason To Exercise
Natural Solutions
|
June 2017
People often like a "prescription" for exercise. They like to know specifically how much they should exercise every day and every week. Keep in mind, it is best to exercise five or six days a week, but three days a week should be the minimum goal. Just make sure to check with your doctor before engaging in any form of exercise—cardio or strength training—to be sure your body and heart can handle what you're doing.
If three days every single week sounds painful to cram into your schedule, you might be interested to know why this much time in the gym is so healthful. You'll receive benefits far beyond sculpted abs for meeting or exceeding the minimum level of exercise. I'm not exaggerating when I say exercise can improve almost every aspect of health. Here are eight ways exercise can transform your body—and mind.
It boosts brainpower.
Exercise is so powerful it actually causes the creation of new neurons in the brain and, specifically, the hippocampus—the center of learning and memory. (And stress, interestingly, can hamper this growth of new neurons.) But aerobic exercise is what gets this hippocampus-boosting result: resistance training, balance training,and muscle-toning exercises did not get the same results, although these exercises have other positive effects on your body. Aerobic training can improve concentration and overall cognitive function.
Exercise also seems to boost the brain by reducing inflammation in the body and in the brain. When you exercise, your fat and muscle tissue release anti-inflammatory cytokines—proteins that affect the interactions between cells—into your blood, which accounts for this reduction of inflammation. This helps keep brain cells healthy. Researchers even go so far as to say that exercise actually changes the brain for the better, protecting it from age-related memory changes.In essence, exercise keeps the brain young.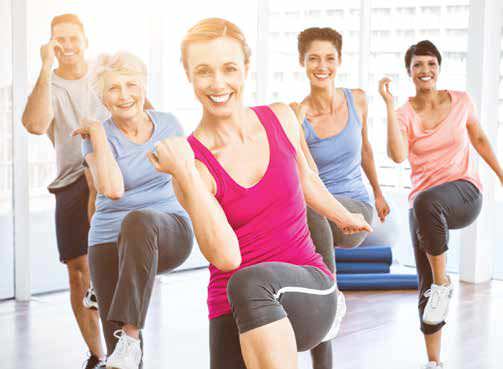 It makes you feel great
You feel amazing during and after exercise because of the secretion of a finely choreographed symphony of mood-boosting chemicals called endorphins. (These are what give you the so-called runner's high.)
Endorphins are neurotransmitters, or chemicals that pass electrical signals from one neuron to the next in the nervous system. These neurotransmitters—which are secreted from the pituitary gland, the spinal cord, and throughout the brain and nervous system—play a key role in the functioning of the central nervous system. When they're released, such as after exercise, after massage, and even after eating hot chili peppers, they interact with brain cell receptors responsible for blocking pain (both physical and mental) and controlling emotion.
You can read up to 3 premium stories before you subscribe to Magzter GOLD
Log in, if you are already a subscriber
Get unlimited access to thousands of curated premium stories, newspapers and 5,000+ magazines
READ THE ENTIRE ISSUE
June 2017