Goa OOH - At the threshold of a makeover
OUTDOOR ASIA|January 2020
Even as the industry has had to tackle the menace of unauthorised business, multiplicity of OOH norms and jurisdictions, there are visible signs of positive change with forward looking administrators wanting to usher in digital OOH media and regulate the business expeditiously
Goa, recognised for its holiday destinations, sea-side resorts and New Year eve celebrations, is also an important OOH market. The cities of Goa see significant OOH advertising by various national brands during this time of the year, but several developments through the year 2019 have had a major bearing on the local OOH business.
To assess the changes one would have to go a little back in time. The Goa civic body has always favoured the tourism industry over any other, as it brings in maximum revenues for the body. The excessive focus on seasonal tourism at the expense of many other industries has meant that the OOH industry had a rather limited local clientele to reach out to.
Relying solely on the peak season and regional brands during the rest of the year, media owners operating in the state were known to seldom make profits. Gradually, from month-long campaigns, advertising brands began to settle for shorter-duration one and two week campaigns.
Goa's numerous' industries largely depend on the numerous events-Sunburn, India Bike Week, Serendipity, Carnival, also known as Mardi Gras, and so many more, spanning from the first week of December, all the way to February. Many of these events Sunburn for instance, returned to Goa after two years, bringing with it the opportunities — for more income to the OOH players. Keith Fernandes, Founder of Slipdisc Advertising and Events which holds the rights for Sunburn's outdoor branding, said, "Events are a major crowd-puller. Sunburn and its sponsors spend around Rs 1.5 crore on outdoor advertising and they bring with them, immense economic benefits. | will be advertising for Kingfisher, Magic Moments, who are two of their biggest sponsors, and Sunburn event itself."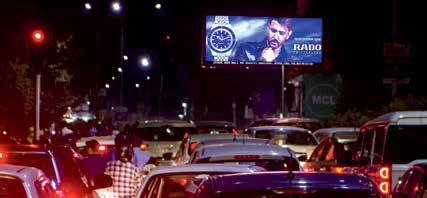 A variety of formats are used for the branding of those events. And with Sunburn appearing after a 2-year break in Goa, the media owners have almost doubled the cost of their media after maintaining a standard rate since the last 5 years. Keith notes that even with the increased media cost, the amount is quite low as compared to other cities of India. Another key aspect of this period is that some 20 Lakh tourists visit Goa, which adds to the existing 15 lakh population of Goa. That offers a great opportunity to the brands to engage with their target audience. In other words, at a cost, almost 50% lower than some major cities in India, Goa offers a multi-cultural audience of about 40 lakh who visit Goa to spend their money. For any brand, that's an unmissable opportunity.
A question that arises is whether the 3 month period of campaigns is enough to keep the OOH industry afloat over the long haul. It is true that the peak season is highly desired by national brands, but during the off season, there is a high population of Indian tourists, especially from Northern India visiting Goa. That prompts the regional brands to maintain their presence on the OOH canvas. Moreover, the casinos, holiday resorts and jeweller brands are regular spenders on OOH through the year.
In response to the advertising demand, in recent years many new formats have come up in Goa. Panjim, for instance, sees innovations on pole kiosk media, after the Corporation of the City of Panjim (CCP) banned the use of flex on this format. Serendipity made an innovative use of this opportunity, and came up with a format that can never go unnoticed by the audience. A bicycle wheel with fabric attached to make a fan-like structure, with Serendipity written on it, rotates as the wind blows past it. Large formats such as hoardings and unipoles dot the highways, with gantries, pole kiosks, digital signages, mobile vans and bus shelters (metallic and cement made) visibly present on the roads. These are the major formats available in Goa, with a small proportion of cab wraps also available.
You can read up to 3 premium stories before you subscribe to Magzter GOLD
Log in, if you are already a subscriber
Get unlimited access to thousands of curated premium stories and 5,000+ magazines
READ THE ENTIRE ISSUE
January 2020