The Bold And The Influential
Businessworld
|
February 2, 2019
IS THERE a dearth of women leaders in this man's world? Not really, if you look at the women leaders' lists floating around. This list, full of usual suspects, doesn't really serve the cause as it rarely evolves. And hence it lacks credibility.
We, on the other hand, are known for trend-spotting. The personalities featured by BW Businessworld are known to make it big — this has been the general trend.
When we decided to showcase 38 Most Influential Women leaders who impact businesses and economy (to coincide with BW Businessworld's 38th anniversary), we thought the list must have a stamp of credibility and authority.
Hence, we did a Corporate India Survey spanning eight centres across India, targeting 400 industry captains.
Some of the names are obvious — like Kiran Mazumdar Shaw, Sushma Swaraj, Debjani Ghosh and Nirmala Sitharaman. Some of them, however, may not be that familiar but you will hear more about them in the days to come. The final Most Influential Women leaders' list, then, is a ready reckoner for the industry, media, academia and readers alike.
Methodology of the Corporate India Study
This Corporate India survey reached out to 400 industry leaders, across eight cities.
Every respondent was given a list of 20 names to rate (from a pool of 50). They were given an option to not rate certain names if they chose not to. Rating was done on a scale of 1-10 (Strongly Disagree — Strongly Agree) on three parameters: (80 per cent weight) — SCOPE OF IMPACT ON BUSINESS / POLICY (20 per cent weight) — ACTIVE ENGAGEMENT (20 per cent weight) — MEDIA MOMENTUM Every nominee received at least 100 ratings.
Research Agency: The data compilation and analysis was done by Decode Research and Analytics—led by Havish Madhvapaty (Co-founder) and Raunak Singh (analyst). — Team BW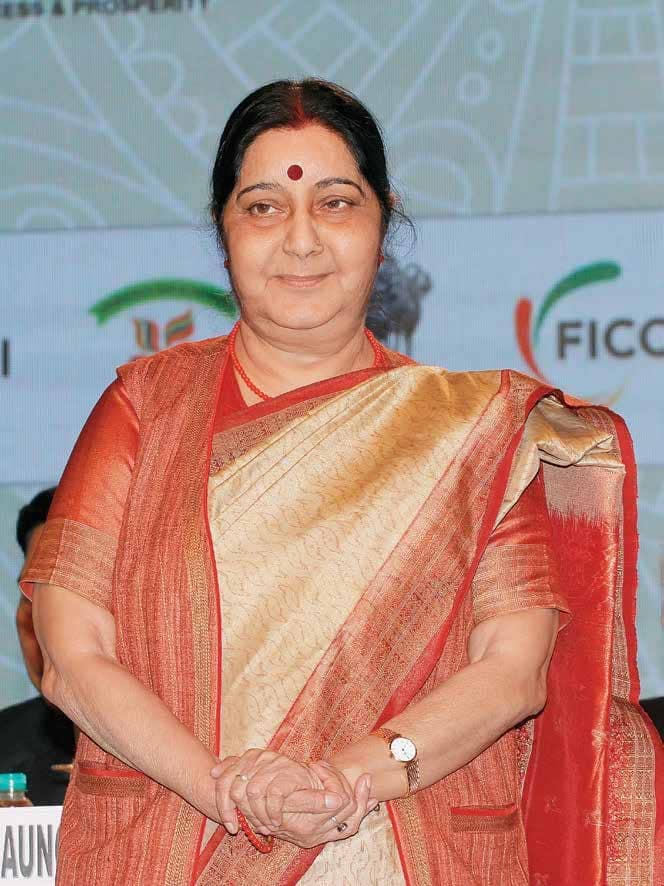 THIS FIESTY MINISTER CHAMPIONS TRADE-LED DIPLOMACY
IN THE ANNALS OF EMPOWERED WOMEN in India, Sushma Swaraj will surely be among the pathfinders. She is a seven-time member of Parliament and was among the two women in the Atal Bihari Vajpayee Cabinet in 1999, which was the first Bharatiya Janata Party-led government to serve a full term. She is also the second woman External Affairs Minister of India after Indira Gandhi (1967-69).
Sushma Swaraj has served as the leader of the Opposition in Parliament and was the first woman Chief Minister of Delhi. She will be remembered for her initiatives to transform Delhi into a world-class city. As a political persona, she is known to be proactive and reachable.
During Swaraj's tenure, India has worked many landmark trade deals in the African continent and with nations in the Middle East, while simultaneously exploring new opportunities in Europe. Sino-Indian trade is on an upswing, notwithstanding some diplomatic skirmishes. Under Swaraj's leadership, the Ministry of External Affairs (MEA) has persistently been able to rise to the occasion. In her impressive address at the United Nations General Assembly in 2018, Swaraj had reiterated India's commitment to achieve the Sustainable Development Goals of the UN well on schedule.
During Swaraj's path-breaking visit to Kuwait's top leadership, including Amir Sheikh Sabah Al-Ahmad Al-Jaber Al-Sabah, her deliberations strengthen bilateral ties, even as she conveyed her concerns for the Indian community living in Kuwait. During that tour Swaraj also visited Doha, where she met the Emir of Qatar, Sheikh Tamim Bin Hamad Al-Thani and discussed ways to move forward on the roadmap set by the top leaders of the two countries.
Ties with Combodia, India's improved relations with Iran, the landmark agreement on the Duqm Port of Oman and Chabahar in Iran will always be remembered as turning points in India's diplomatic relations that impacted a surge in exports. Her power-packed addresses have always had a lasting effect on both India's multilateral and bilateral relations. During her recent visit to Morocco, Swaraj said, "I came here with a heavy heart, but I decided to come here post a deadly terrorist attack on our soldiers. I have done it, as Morocco is fighting with radicalisation and it is my duty to stand together with any such nation which is doing the best of its efforts to fight against the menace of terrorism."
The milestones the ministry surpassed were the outcome of countless policy initiatives. "I'm delighted to tell you that from May 2014 to February 2018 $209.83 billion (Rs 14,05,861 crore) have reached the country," the minister informed the Press recently, emphasising that the flow of foreign investment would be accompanied by technology inflow as well. She distributed a list of nations eager to participate in the Skill India, Digital India and Startup India programmes.
The minister also announced that for the very first time the Department of Economic Diplomacy and the Department of State had been merged. "All the fund that will come, can directly come to the state," she said, adding, "So, we have a Joint Secretary who develops contact with the state and also looks after economic diplomacy. This is a big achievement of foreign policy on the economic front."
She launched a novel programme named SAMEEP that strives to take foreign policy to the grassroots. The initiative encourages MEA officials to go back to their roots, visit schools they had been to for instance, and talk to students there about foreign policies adopted by the government.
Swaraj is the archetypical "complete woman" admired simultaneously by her peers and her family, where she is the perfect wife and mother. She has some unique skills too, like an ability to learn and quickly turn proficient in different languages.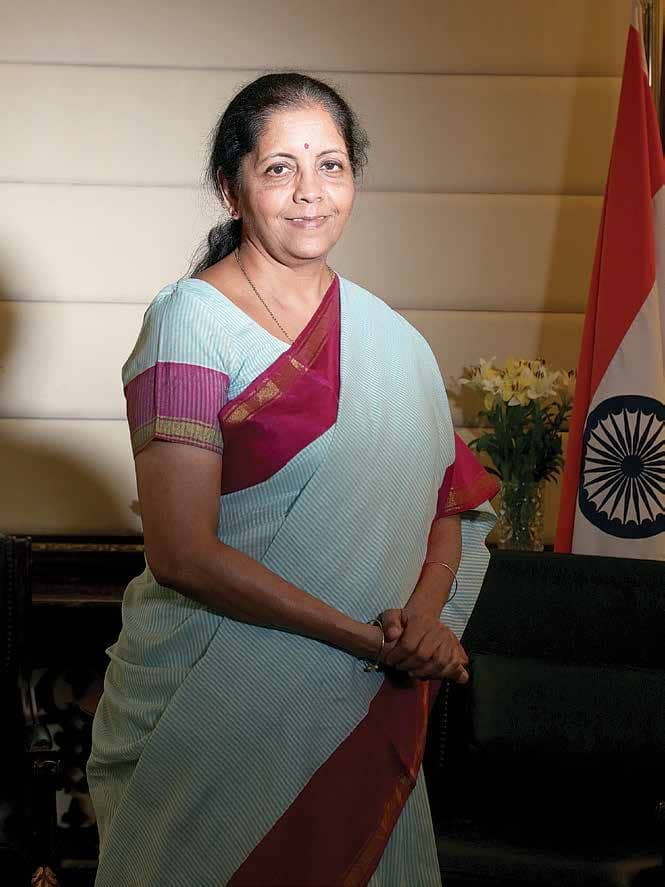 THE GRITTY LADY WITH THE JOSH NOW DRIVES DEFENCE
IRONICALLY, AT A POINT IN HISTORY when Indian fighter jets struck deep into a terrorist hideout and that too on foreign soil, the Union Ministry of Defence was for the first time, headed by a woman. Union Minister for Defence, Nirmala Sitharaman is among the most respected members of the Union Cabinet, not only for the tact she has demonstrated in tackling insurgency along the northern border, but also for having deftly steered through complicated defence deals, ranging from those for guns to fighter jets, of the largest weapons importer in the world.
As Union Minister of State (with independent charge) for Commerce and Industry too, Sitharaman had established many benchmarks. She was in charge of the Ministry of Commerce when the Goods and Services Tax (GST) was rolled out. She made it clear that the government would ensure that the external sector was not adversely impacted by the implementation of the Goods and Services Tax.
Her major initiative as a woman leader will be remembered for the first ever circumnavigation of the globe by an all-women crew aboard the Indian Navy sailing vessel, INSV Tarini. The Tarini was flagged off on 10 September, 2017 and returned to Goa in April 2018. The expedition, given the moniker, Navika Sagar Parikrama, was in consonance with the national policy of empowering women to attain their full potential.
The Defence Acquisition Council, chaired by Sitharaman, cleared a simplified 'Make-II' procedure to enable greater participation of industry in acquisition of defence equipment at its meeting on 16 January, 2018. This process will greatly help import substitution and promote innovative solutions. The simplified 'Make-II' procedure will amend the existing 'Make Procedure' in the Defence Procurement Procedure (DPP)-2016.
Another major achievement of the Defence Ministry under Sitharaman's leadership has been the India-US Ministerial Dialogue, considered a landmark in the foreign and defence trade history of the two democracies. Union Minister of External Affairs, Sushma Swaraj and Minister of Defence, Nirmala Sitharaman, had the inaugural India-US Ministerial 2+2 Dialogue in New Delhi on September 6, 2018 with the United States' Secretary of State, Michael Pompeo and Secretary of Defence, James Mattis. Another feather in the Defence Minister's cap is Mission Raksha Gyan Shakti.
Sitharaman's rise to the position she commands is ascribed to her negotiation skills, an attribute even her political rivals are unable to quarrel with. She will be remembered as the key enabler in the recent unmanned aerial vehicle (Heron) deal with Israel, not to speak of the defence deals with the United States to meet the requirements of the three wings of the Armed Forces.
Almost every deal had given India an edge over China and Pakistan. It will not be an exaggeration to credit Sitharaman with being the enabler in procuring 126 twin-engine multi-role fighter jets to fulfil a long pending requirement of the Indian Air Force. She is the first fulltime woman Defence Minister in India with experience of flying the SU-30.
Looking back, she says, "I envy the girl I once was. Best advice I ever received? Always choose the middle path and try to maintain equanimity. In other words, never go to any extreme – don't be too suppliant because you will lose your dignity, nor be too overconfident and aggressive, or you will eventually lose your ground. Remain balanced. That way you can never fall too far."
Sitharaman was born in Madurai in a family reputed for its learning. Before veering into politics, she served at prestigious organisations like PricewaterhouseCoopers (PwC) and BBC World Service. Sitharaman is an alumnus of the Jawaharlal Nehru University, with a PhD in Indo- European Textile trade.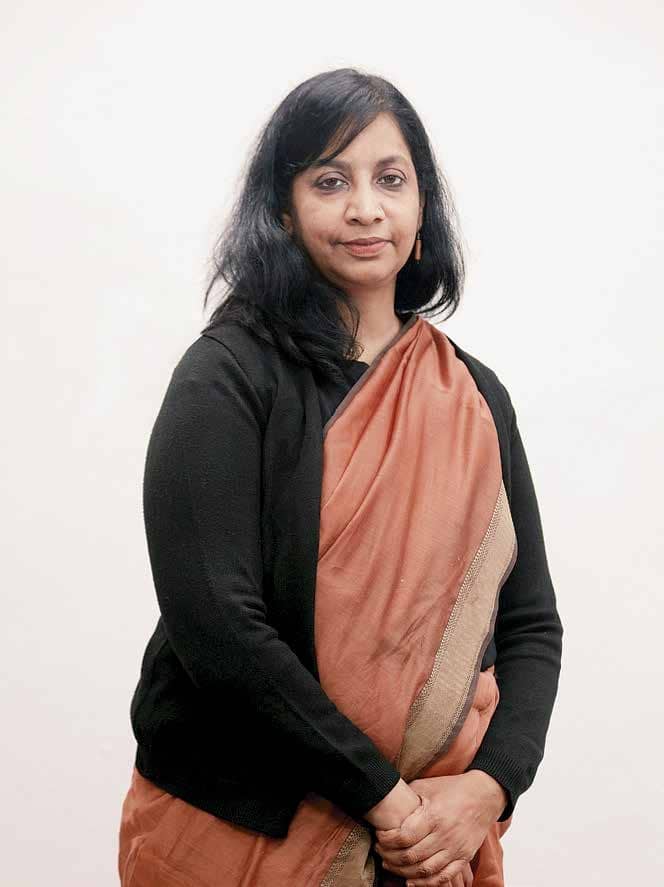 SHE HAS BEEN JOINING THE DOTS IN TELECOM
THE DEPARTMENT OF Telecommunications (DoT) has been among the high performers of the NDA government since it came to power in 2014. The government spending on telecommunications infrastructure and services in the country jumped six-fold from Rs 9,900 crore between 2009 and 2014 to Rs 60,000 crore (actual and planned) between 2014 and 2019.
Under the BharatNet project, which is expected to trigger the era of broadband in rural India, nearly 50 per cent of the 2.5 lakh gram panchayats (GPs) in the country have been connected through high-speed Optical Fibre Cable (OFC) network by October 2018. Till June 2014 only 59 gram panchayats had been connected by OFC. The BharatNet project strives to complete connecting the remaining gram panchayats through OFC by March 2019.
The 51,000 km of Optical Fibre Cable laid in the last four years was the outcome of OFC being laid at the peak rate of 800 km per day and at an average rate of more than 200 km per day. In the last four years digital payment transactions through mobile have grown four times – from 168 million in November 2016 to 600 million now. Foreign direct investment (FDI) inflows into the telecommunications sector have catapulted from $1.3 billion in 2015-16 to $6.2 billion in 2017-18. Through much of this high-speed churning in the sphere of IT and telecommunications, the Department of Telecommunications (DoT) and the Digital Communications Commission (DCC)have been headed by a woman – Aruna Sundararajan.
In a recent interview Sundararajan said, "I feel more like a chess player, thinking for long hours how to make the next move". As Secretary in the Department of Telecommunications, Sundararajan obviously does have to do a lot of "thinking", much of which gets translated into action on the ground.
Sundararajan spearheaded the National Optic Fibre Network Project under the Digital India programme, which adds just another star to her decorated career. The $3 billion project was the largest connectivity project in the world, aiming to provide a minimum bandwidth of 100 Mbps. She is also known for initiatives that took telecommunication to many remote and unserved parts of rural India. She has spearheaded the rural broadband initiative in India.
The post graduate in philosophy, is a 1982 batch IAS officer of the Kerala cadre. Prior to her current stint in DoT, she was Additional Secretary, Telecom and Administrator, Universal Service Obligation Fund and CMD, Bharat Broadband Network Ltd. She has also served as Managing Director of the Kerala State Industrial Development Corporation Ltd.
Sundararajan first attracted attention for Akshaya, Kerala's mass e-literacy campaign, which turned into a phenomenal success with her proactive involvement. Her admirers have credited Sundararajan with the vision of a business person and a multidimensional personality. Her analytical abilities have found reflection in many policy decisions.
Sundararajan believes that it is necessary to increase the participation of women in the workforce and that women should be recognised and acknowledged for good work, since they do it against great odds. We need to educate a lot of parents for positive results, says Sundararajan. "Negotiation, fund and good mentoring also pose a challenge for budding women professionals. Mentoring plays a key role as it will lead to the creation of more entrepreneurs," she says.
"In retrospect," says Sundararajan, "I feel we ourselves have started behaving like men. Not that I have felt anything with my peers, but now when I think about it, I feel if I had thought like a woman, I would have said and done a lot of things differently."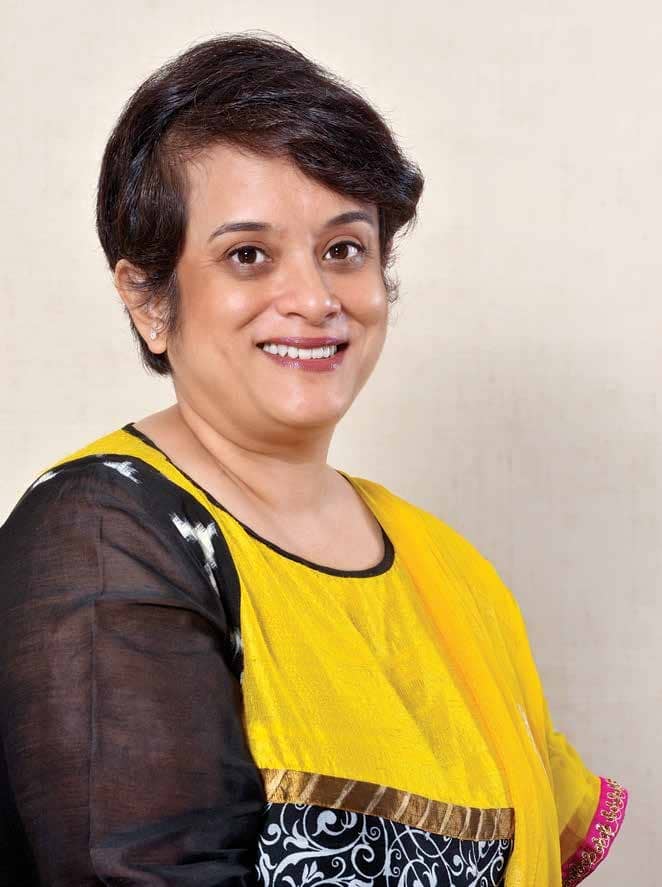 A TECH VANGUARD AT THE HELM
DEBJANI GHOSH, THE FIFTH President of The National Association of Software & Services Companies (Nasscom), who took office on 2 April 2018, is a firm believer in the power of technology in enhancing lives and livelihoods, leveraging it for societal good. She was instrumental in developing Intel's 'Digital Nation' strategy to support India's digital transformation, working with the government to accelerate technology adoption in India, especially as an enabler of inclusive growth and development.
A staunch champion of technology for social good, she has been instrumental in driving initiatives in various roles across her career. She has worked with the government and as a part of the industry to establish policies and accelerate technology adoption in India, especially as an enabler of inclusive growth and development.
Ghosh holds a Bachelor's Degree in Political Science from Osmania University in Hyderabad, and an MBA in Marketing from SP Jain Institute of Management and Research in Mumbai. A veteran of the technology industry, and a staunch champion of gender diversity in corporate India, Ghosh was the first woman to lead Intel India, Manufacturers' Association for Information Technology (MAIT), and now Nasscom. In her illustrious career spanning over two decades, she held diverse leadership roles across geographies in South and Southeast Asia at Intel.
"Debjani is a terrific personality who is very committed, motivated, and extremely focused on ensuring gender neutrality," says Raman Roy, Chairman, Nasscom. "It is her sheer commitment to get the tasks done that is exemplary. She is a role model for other women, who swear by her and look up to her to learn how things can be done in a man dominated world. She has made a huge impact of putting together a team and working with the government and also of making Nasscom more relevant to the government and to our members," he further adds.
Ghosh holds a Bachelor's Degree in Political Science from Osmania University in Hyderabad, and an MBA in Marketing from SP Jain Institute of Management and Research in Mumbai. A veteran of the technology industry, and a staunch champion of gender diversity in corporate India, Ghosh was the first woman to lead Intel India, Manufacturers' Association for Information Technology (MAIT), and now Nasscom. In her illustrious career spanning over two decades, she held diverse leadership roles across geographies in South and Southeast Asia at Intel.
It is interesting to note that Ghosh took office at a time when the Indian IT-BPM industry, currently a $167-billion sector, acting as a catalyst for nation's growth. With the intersection of digital technologies across every business, she aims to continue Nasscom's mission of fostering the digital transformation of the industry and country, embracing new technologies, expanding to newer geographies, and working with governments globally to build stronger trade relationships.
Ghosh has also been a big propagator of gender diversity and equal representation in corporate India, as the first woman to lead Intel India, MAIT, and now Nasscom. She has been instrumental in developing inter India's 'Digital Nation' strategy to support India's digital transformation, focusing her efforts on digital literacy, technology innovation, and building strong partnerships across India's technology ecosystem.
In January 2018, she was felicitated by the President of India under the auspices of the "First Ladies" programme, which honours exceptional female pioneers in their fields. As Nasscom President, she has long term plans to accentuate innovation and skilling to enable individuals and companies to leverage disruptive technologies such as AI.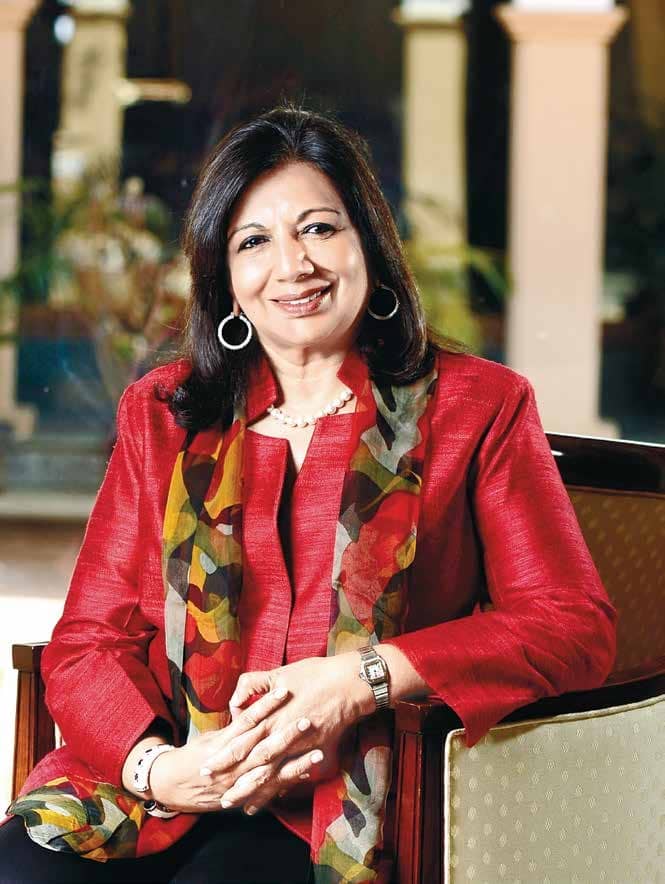 LEVERAGING SCIENCE TO BENEFIT SOCIETY
KIRAN MAZUMDAR-SHAW, ONE OF INDIA'S richest self-made woman and a pioneer of biotechnology industry, founded Biocon, the country's largest biopharmaceutical firm in 1978. Named among Time magazine's 100 most influential people in the world, Biocon CMD Mazumdar-Shaw is recognised as a thought leader who has made her country proud by building a globally recognised biopharmaceutical enterprise, which is committed to innovation and affordability in delivering best-in-class therapeutics to patients across the globe.
"When I started Biocon, I was driven by the desire to create a business that would leverage science for the benefit of society through affordable innovation," says Mazumdar-Shaw. "When we began our pharmaceutical journey, we had a choice to develop low-cost generic pharmaceuticals or complex, capital-intensive premium products. We chose the latter and opted for biopharmaceuticals through disruptively innovative process engineering that could deliver affordable pricing and make a difference to global healthcare," she says.
As a global influencer, she is ranked among 'World's 25 Most Influential People in Biopharma' by Fierce Biotech. She has been featured in 'The Worldview 100 List' of the most influential visionaries by Scientific American magazine and named among the '100 Leading Global Thinkers' by Foreign Policy magazine. She has been ranked No. 1 in the Business Captains category on 'Medicine Maker Power List' 2018, an index of the 100 most influential people across the globe in the field of medicine, where she has been among the Top 10, consecutively since 2015.
Mazumdar-Shaw has also been awarded with the US India Business Council Global Leadership Award at the USIBC India Ideas Summit 2018. She was felicitated with 'Advancing Women in Science and Medicine (AWSM) Award for Excellence' 2017 by The Feinstein Institute for Medical Research, USA. She was also honoured with the prestigious 'Women Leader of the Decade Award' at the India Pharma Awards 2017 organised during CPhI & PMEC India, South Asia's largest pharmaceutical event. She has been named 'India's Most Respected Entrepreneur' for 2017 by the prestigious Hurun Report and felicitated as an exceptional woman achiever by Ministry of Women and Child Development for being the first Indian business woman to reach $1 billion net worth. She has received two of India's highest civilian honours, the Padma Shri (1989) and the Padma Bhushan (2005).
Mazumdar-Shaw holds key positions in various industry, educational, government and professional bodies. She has been appointed as a member of the high-level expert committee constituted by the Biotechnology Department to review the autonomous organisations under the administrative control of the department and more recently as a Governing Council Member of the National Institute of Immunology, an autonomous research institute of the DBT. She has been appointed as Member of the Steering Committee of the National Biopharma Mission, an industry-academia collaborative mission of the DBT. She is also the Non-Executive Chairperson of the Association of Biotechnology Led Enterprises (ABLE), a not-for-profit pan-India forum representing the Indian biotech sector. She is a founder member of Karnataka's Vision Group on Biotech, which she currently chairs. She has also been appointed Chairperson of the Karnataka government's Vision Group to encourage pharma and medical devices units in the State.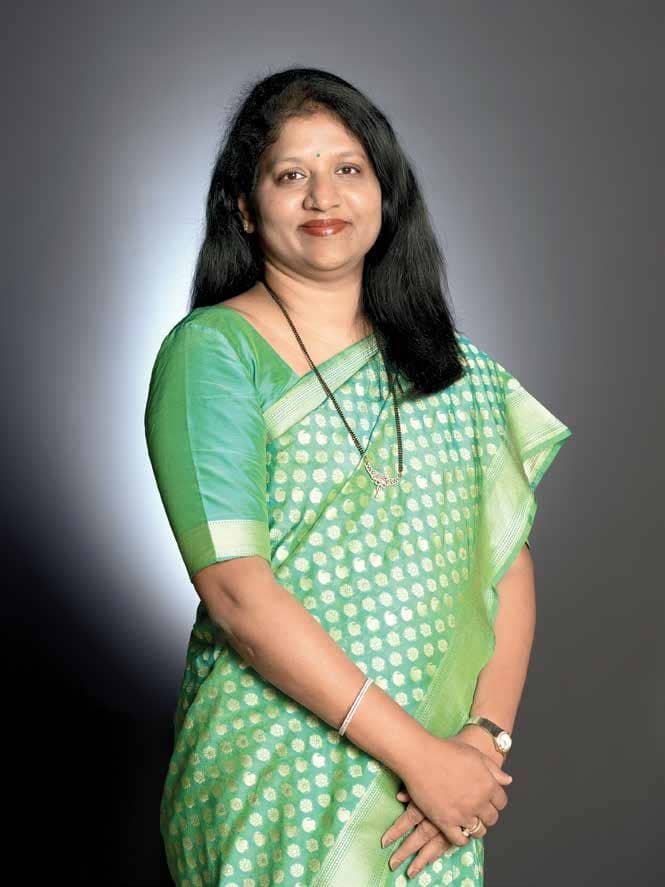 A FORCE TO RECKON WITH IN BANKING
WHEN VISHAKHA MULYE RETURNED to ICICI Bank from ICICI Venture Funds Management Company as its Executive Director in 2016, the macro-economic environment was volatile combined with a negative commodity cycle. This had adversely impacted ICICI Bank's corporate book. However, Mulye was unfazed and took up the responsibility of heading one of the biggest corporate banking divisions among private banks. Today, her team has been able to turnaround its portfolio due to a two-pronged approach of improving the portfolio quality and earnings quality.
As a part of our strategy, the bank focussed on disbursements to high rated corporates. The bank's corporate book (excluding below investment grade in key sectors, restructured loans and NPAs) grew at ~17 per cent in FY2018, while the banking loans to industry sector grew at ~5 per cent.
"We focussed on the resolution of stressed assets. To improve the earnings quality, we focused on non-credit income and syndication business," explains Mulye. "Apart from the focus on meeting our business targets, I emphasised on strengthening our foundation. Effective portfolio monitoring is one such area which I focussed on and ensured that robust processes were put in place," she adds.
A Chartered Accountant, Mulye has been with the ICICI Group since 1993 and she now heads the bank's Wholesale Banking Group. In her career, Mulye has handled several areas such as strategy, treasury and markets, proprietary equity investing and management of long-term equity investments, structured finance, management of special assets and corporate and project finance.
"I emphasised on the role of technology as a business enabler as well as an accelerator. We launched multiple solutions which eased business processes for our customers. We were able to reduce the turn-around time for internal processes and make them simpler and more efficient. In the past few years, I have worn multiple hats as a leader to plan and execute various strategies that will benefit the organisation in the long run," explains Mulye.
Mulye led the team that planned and executed the merger of ICICI and ICICI Bank in 2002. From 2002 to 2005, she was responsible for the Bank's structured finance and global markets businesses, and its financial institutions' relationships. In 2005, she took over as the Group CFO. In 2007, Mulye was elevated to the Board of ICICI Lombard General Insurance Company and in 2009, she assumed leadership of ICICI Venture Funds Management Company as its MD & CEO. Currently Mulye is on the boards of ICICI Lombard General Insurance and ICICI Bank Canada.
She is also a member of Aspen Institute's 'India Leadership Initiative'. Mulye was also selected as 'Young Global Leader' in 2007 by the World Economic Forum. She received the 'India CFO Award' in 2006 from IMA India for 'Excellence in Finance in a Large Corporate' and 'CA Corporate Leader Award' in 2008 from the Institute of Chartered Accountants.
"To leave an impact on an enterprising market as that of today, we need to understand the drivers for our business and have a strong strategy in place. I have formulated a simple but powerful strategy for improving the portfolio and earnings quality for the 'Wholesale Banking' business. We saw tremendous success with this strategy. It was of equal importance to align the team with my strategy. I empowered my business heads and asked them to act as CEOs of their divisions. A confident leader does not hesitate to have a strong second line; I see it as a strength," says Mulye.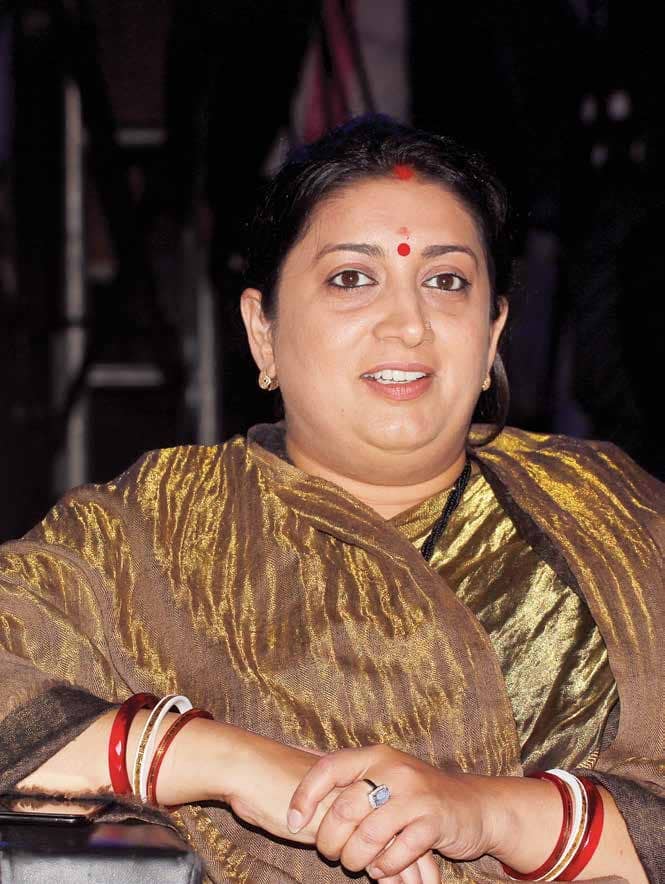 WEAVING A FUTURE FOR SMALL AND MEDIUM PLAYERS
SMRITI IRANI WAS BORN in a middle class Punjabi home in New Delhi, but attained fame early in life as a television star. She was perhaps, best remembered as the long-suffering Tulsi Virani of Ekta Kapoor's soap opera, Kyunki Saas Bhi Kabhi Bahu Thi, before veering into politics. Her real-life role as Union Minister for Textiles is no doubt, equally challenging. Irani also had additional charge of the Ministry of Information and Broadcasting for a while.
Under her leadership the Textiles Ministry has taken some bold initiatives like the Scheme for Production and Employment Linked Support for Garmenting Units, the Scheme for Capacity Building in the Textiles Sector (SCBTS) under the SAMARTH Yojna, the integrated wool development programme and schemes for the power loom sector. The Ministry of Textiles oversees sensitive segments of the Indian economy which directly impact the lives of more than 45 million people and indirectly impact some 20 million households.
When the Goods and Services Tax (GST) was being rolled out, Smriti Irani deftly tackled the transitional phase for the labour-intensive textiles sector. Cotton fabrics for instance, were not taxed earlier, but did attract a five per cent GST. The indirect tax on polyester frabrics too increased from five per cent earlier to 15 per cent in the GST regime.
Through her efforts at the 32nd meeting of the GST Council on January 10, 2019, the GST exemption threshold limit for small industries was raised from Rs 20 lakh to 40 lakh effective April 1, 2019. For the North Eastern states, the threshold has been doubled to Rs 20 lakh from Rs 10 lakh. The GST Council has also raised the existing Composition Scheme turnover threshold from Rs 1 crore to Rs 1.5 crore effective April 1, 2019. Businesses which come within the ambit of the scheme will now pay tax on a quarterly basis, but file returns annually.
Among the cherries on the top of the textiles industry pie are the RoSL scheme, which enhances the value chain by focussing more on manufacturing and exporting value-added products with an aim to create more employment in the textiles eco system. Says Irani, "Today's competitive world demands quick-time response in shaping initiatives to address the challenges of growth and convert them into opportunities. To this end, the Ministry of Textiles has been working relentlessly to ensure a conducive policy environment, facilitating enabling editions for the industry and private entrepreneurs to set up units through its various policy initiatives and schemes."
In 2017 the Union Textiles Ministry pumped Rs 690 crore into sericulture as part of the North East Region Textile Promotion Scheme. The scheme is considered a game-changer for the silk industry in the region and should be able to help refurbish the century-old mulberry farms of Meghalaya. Around 21 garment (ready-made) manufacturing units are also planned for the Seven Sisters of the Northeast.
In 2018 the Cabinet approved an outlay of Rs 2,161.68 crore for the Integrated Scheme for Development of (the) Silk Industry. The scheme aims to increase silk production from 30,348 tonnes during 2016-17 to 38,500 tonnes by the end of 2019-20. Irani had Tweeted then that the initiative aimed to make India self-sufficient in silk production throughR&D, upgrading technology and improving the quality of silk.
During her tenure as Textiles Minister, Irani strove persistently to avert a slowdown in the industry and to protect the myriad small and medium scale enterprises involved in the textiles trade. She kept the industry prepared for the launch of the GST, which in some cases increases taxes on textiles.
As a person, Irani is also known to support the empowerment and emancipation of women.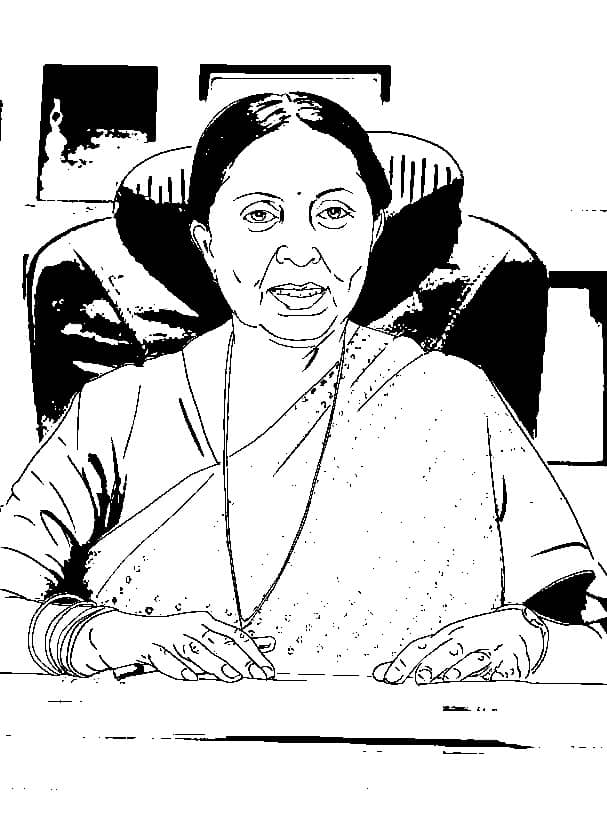 SHE CARRIED SCIENCE TO RURAL INDIA TO UPLIFT FARM FOLK
RENU SWARUP WAS PERHAPS the ideal candidate for the job of Secretary in the Department of Biotechnology (DBT). She has served in the Department of Biotechnology for nearly 29 years and was Senior Advisor/Scientist 'H' till she was appointed Secretary to the Government of India on 10 April, 2018. She is simultaneously Chairperson, Biotechnology Industry Research Assistance Council (BIRAC), a public sector company incorporated to nurture and promote innovation and research in biotech enterprises, with special focus on startups and SMEs.
As an avid supporter of genetic engineering, Swarup has worked for genetic mark-up based innovations. A scientist by profession, with a deep understanding of scientific issues, Swarup is obviously a perfect fit in her current role. After a PhD in Genetics and Plant Breeding, Swarup completed her postdoctoral studies at The John Innes Centre, Norwich UK, under a Commonwealth scholarship and returned to India to take up an assignment as a Science Manager in the Department of Biotechnology, in the Ministry of Science and Technology in 1989.
As a Science Manager, she was responsible for policy planning and implementation. She was actively engaged in the formulation of the Biotechnology Vision in 2001, the National Biotechnology Development Strategy in 2007 and Strategy II 2015-20 as the Member Secretary of the Expert Committee. Her major achievements range from maternal healthcare devices to developing vaccines, but her most remarkable achievement has been in the field of agriculture.
The Agriculture Biotech-KISAN scheme impacts the lives of farmers through science. The farmer-centric programme was intended to and did create a major impact on livelihoods in rural India. The objective of the programme is to demonstrate, scale up and address water, soil, seed and marketing issues that farmers face, with validated technologies. This programmeis expected to create a strong interaction platform between scientists and farmers and includes thematic fellowships in science laboratories, located across agro-climatic zones.
Another milestone surpassed by Swarup's department was the launch of 'Brucella Free Villages' on a pilot scale in 50 villages covering ten states. Brucellosis is a zoonotic disease, seen in animals and causes economic losses of about Rs 28,000 crore a year. Three new Brucella diagnostic kits were launched as a part of the programme.
Swarup has also been closely involved in programmes and activities related to women and science. She was responsible for getting the DBT Scheme on Biotechnology Career Advancement for Women Scientists or Bio CARE implemented. She was also a member of the Task Force on Women in Science,constituted by the Scientific Advisory Committee to the Prime Minister.
Swarup has held charge as Managing Director, Biotechnology Industry Research Assistance Council (BIRAC), a public sector company incorporated to nurture and promote innovation and research in biotech enterprises, with special focus on startups and SMEs, till she took charge as its chairperson.
Through biotechnology translational research and industry-academia partnerships, she has supported more than a thousand startups and entrepreneurs and nearly 500 small companies in innovation, research and product development.
She is a member of the National Academy of Sciences (NASI) India, and a member of the Governing Body of National Institutes, Universities and Centres. She was awarded the BioSpectrum Person of the Year Award in 2012. Swarup has also been awarded the National Entrepreneurship Awards 2017, which is a special jury recognition for a government mentor.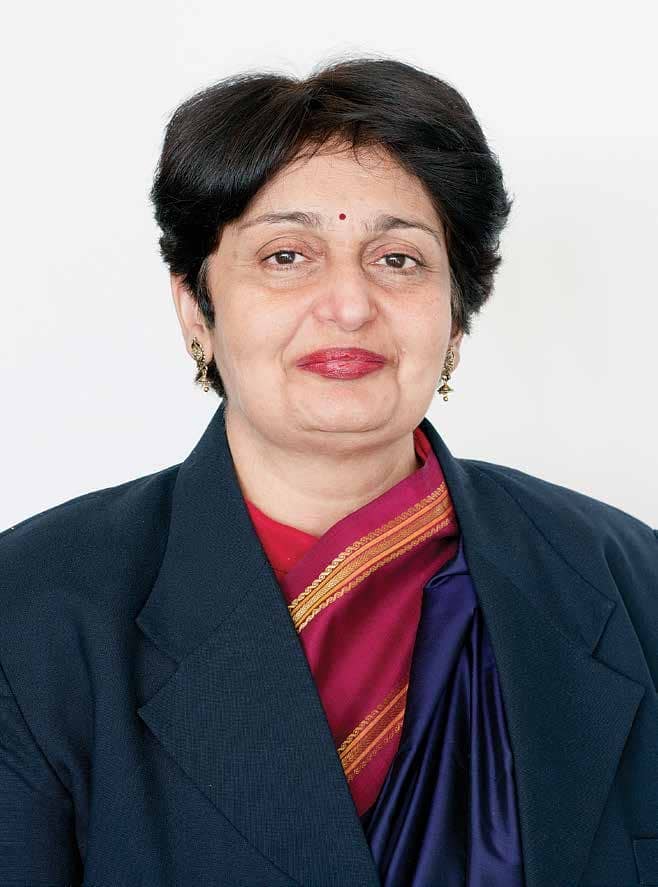 SHE STEERED BETI BACHAO BETI PADHAO & AYUSHMAN BHARAT
TWO SIGNATURE PROGRAMMES of the Narendra Modi-led National Democratic Alliance government, namely Beti Bachao Beti Padhao (BBBP) and Ayushman Bharat, were rolled out by a woman in bureaucracy – Preeti Sudan. Now Secretary in the Union Ministry of Health and Family Welfare, Sudan's administrative skills are much admired.
She is in the league of women who have proved their administrative acumen in a male-dominated system. The 1983 batch IAS Officer of the Andhra Pradesh cadre was earlier Secretary in the Department of Food and Public Distribution in the Ministry of Consumer Affairs, Food & Public Distribution. During the floods that devastated Kerala in August 2018, she was responsible for taking care of thousands of civilians housed in relief camps. The post- flood disease control operations she initiated, proved highly effective and saved thousands of lives in Kerala.
"There have been numerous instances when, in small ways, I have felt enriched at the opportunities given to me to make a difference as policy maker / influencer," muses Sudan. "I would, however, like to name two of them. As Additional Secretary, in the Ministry of WCD, I got an opportunity to work on the Beti Bachao Beti Padhao scheme – a scheme that not only aims to set right the adverse child sex ratio but also addresses issues of empowerment of women on a life cycle continuum. I led the team that designed, rolled out the initiative and monitored it for about two years after its inception."
Sudan is also one of the key pillars in the world's largest health protection programme, the Ayushman Bharat Yojna. "The Ayushman Bharat Scheme – India's journey towards universal health coverage – started with the Prime Minister's vision of Ayushman Bharat – a holistic programmatic intervention that encompasses promotive and preventive health care through health and wellness centres and gives a cover of Rs 5 lakhs per family for hospitalisation expenses to about 5.74 crore families through the Pradhan Mantri Jan Arogya Yojana (PMJAY)," says she. "As Health Secretary, I had the opportunity to work out the details and roll out the scheme," Sudan adds modestly.
During her tenure in the Indian bureaucracy Sudan has served as Special Secretary, Ministry of Women & Child Development and Joint Secretary in the Ministry of Defence. She has a distinguished track record in departments like Finance and Planning, Disaster Management, Tourism and Agriculture. She has served in the Union Ministries of Defence, Revenue, Agriculture Cooperation, Tourism and Industry and in the Disaster Management Department in the state government of Andhra Pradesh.
"It has been an excellent and fruitful journey," says Sudan, adding, "I feel very fortunate to have contributed or at least tried to make a difference to the lives of people through the positions that I have held." Sudan hails from Haryana. She has an M. Phil in Economics, with a post-graduation in Social Policy and Planning from the London School of Economics. Sudan's repertoire of skills includes a training in Public Finance management from Washington, United States. She has also served as a consultant at the World Bank in Washington.
Sudan's message to women is simple: "India is at a turning point where women have proved to be leaders wherever they have chosen to function. In my view, a homemaker is also a leader. I would say that the inherent qualities of fairness, inclusiveness and team work, make women leaders impactful and the tasks they accomplish are more sustainable. So my best wishes to the upcoming young women leaders – now is your time!"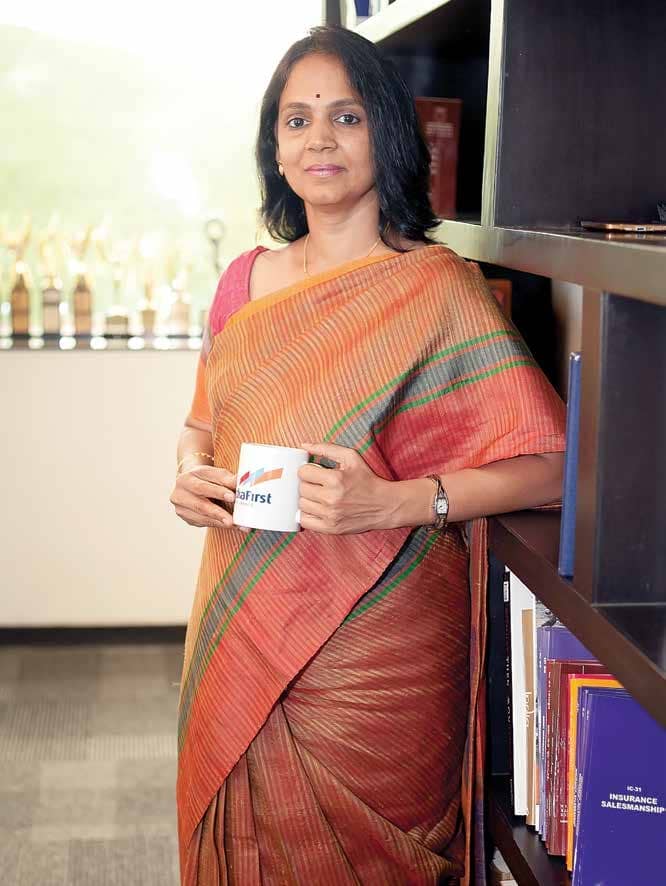 A STICKLER FOR RESULTS
RM. VISHAKHA, MD & CEO, IndiaFirst Life Insurance is known for her result-oriented leadership approach towards challenging assignments including startups, restructuring and reorganisation. She was previously associated with IndiaFirst Life as the company's Chief Business Officer. Vishakha's constant endeavour is to maintain a critical balance of functional and company objectives, and to constructively manage employee, manager, distributor and shareholder expectations. Her ability to drive strategic growth through effective implementation has many achievements to its credit.
"Insurance has always been considered as a noble profession, as it is the financial friend that comes to an individual's aid in times of certainties and uncertainties," says Vishakha, who successfully developed bancassurance models within public and private sectors as well as foreign banks and brought into being the first-ever retail bancassurance model. Her wide-ranging experience also comprises building and developing Group Insurance business.
"Ensuring customer-first in designing products and processes, product fitment at time of sales and maintaining a continued relationship of credibility with the customer are the principles with which we create the differentiator in the business. The focus is not on the 'what' of what we do ad the 'how' of what we do," says Vishakha. "Have created innovative products to meet requirements of that customer segment and are engaged to realize the vision of 'Insurance for all'," she further adds.
Vishakha's diverse career spanning bore a special focus on bancassurance. Prior to IndiaFirst Life, she was with Canara HSBC Oriental Bank of Commerce Life Insurance Company as the Director of Sales and Marketing.Recognising the achievements through her three-decade-long journey in the Indian insurance domain, industry body Assocham honoured Vishakha with the Individual Achievement Award. The ICAI (Institute of Chartered Accountants of India) bestowed her with the CA Business Leader – Woman Award.
Having ascended the corporate ladder, Vishakha has been fulfilling her role as a thought leader – voicing opinions on myriad areas of professional excellence – as a veteran member of the BFSI fraternity. Vishakha is a commerce graduate and a Chartered Accountant. She is a Fellow of the Insurance Institute of India and holds a Post Graduate Diploma in Computer Systems.
"The hallmarks of a true leader are about the balance between making a decision and empowering a decision; being democratic and taking charge; being result oriented and caring; leading from the front and providing support at the backend; the conviction that there is mutual dependence between the leader and her team for the realisation of the objectives and sharing of the realisation and vulnerability with my team. I also believe that each of us has a role to play and hierarchy does not give anybody the right to disrespect any individual," explains Vishakha on ethics and leadership qualities.
"The third belief is reputation of the organisation is built by the multitudes of interactions that every employee has with customers, partners, distributors and not by the leadership team alone," she says.
Despite all the laurels, Vishakha is aiming for more. She says, "The demographic profile of customers is changing dramatically. The diaspora of the Indian customer, the income divide, the rural-urban divide are all contributors to creating multitude customers with different requirements. An ability to customise our products to offer solutions to meet the burgeoning requirements of a "segment of one" is the framework that I would like to create."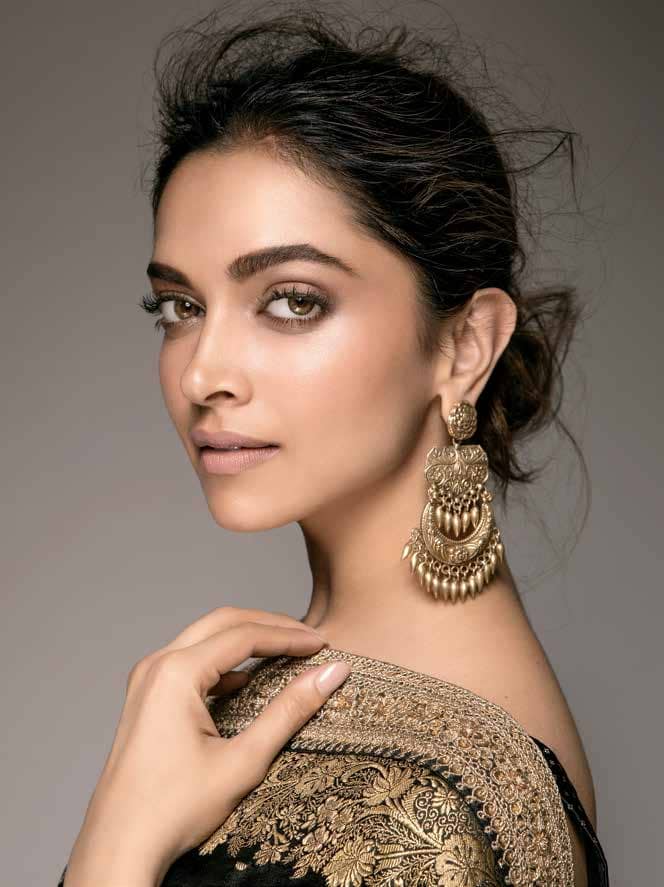 'CARVE YOUR OWN WAY TO THE TOP'
IN THE MAGICAL WORLD of Bollywood, the odds have always been heavily stacked against newcomers trying to enter its portals. And if you are someone who is coming from outside the industry, life can be indescribably difficult. But Deepika Padukone beat the odds with sheer grit, hard work and panache in her journey to the top. "From a young age, I had a few traits like strong will power along with clarity of thoughts, willingness to take risks, learn from mistakes and honesty," she says while talking of her journey.
As a teenager, Padukone played badminton at the national level and pursued modelling before turning to Bollywood. She credits sports with shaping her personality and helping in her journey. "I have always derived inspiration from athletes. They have qualities such as extreme discipline, creating your own path, being more competitive while seeing things in right spirit, etc. Sports has taught me to accept both success and failure unabashedly!"
She is at the pinnacle of her career today having worked with Bollywood's best directors, given some of the biggest hits in Bajirao Mastani and Padmavat, and won critical acclaim, awards and recognitions for her work. She puts it all down to courage. "Courage comes from the belief in your own actions. I believe that there is always a supreme power or an energy guiding you throughout while dealing with the obstacles," she says.
She credits hers directors with an equal hand in her success. "Of course, a large part of me being fearless in my choices and performances comes from Sanjay Leela Bhansali. Also, Homi Adajania helped me to completely unleash myself while doing Cocktail."
Her box office success has sent herbrand equity soaring making her the best paid female actor in Bollywood in terms of endorsements as well as films. "We work in a very powerful medium and our work impacts many. What matters is your track record of successful films, industry's acknowledgement along with appreciation from your audiences. Everything else follows."
She is all praise for her co-stars in the success of her films: "I have been very lucky to have supportive and generous co-actors as it boosts your performance. Like Ranveer Singh's versatility and our onscreen chemistry did a lot to the success of the films and the roles we did together."
You can read up to 3 premium stories before you subscribe to Magzter GOLD
Log in, if you are already a subscriber
Get unlimited access to thousands of curated premium stories, newspapers and 5,000+ magazines
READ THE ENTIRE ISSUE
February 2, 2019