Pierce Bainbridge and Littler Mendelson: Two Law Firms in the Same Deceitful Pod?
Legal Desire
|
April 10, 2020
Christopher N. LaVigne (Pierce Bainbridge), S. Jeanine Conley (Littler Mendelson) and Denver G. Edwards (Pierce Bainbridge) have been accused of dishonesty and deceit in the lawsuits filed by Don Lewis, an ex-partner at Pierce Bainbridge Beck Price & Hecht LLP.  Littler served as outside counsel for the firm, until compelled to withdraw when Conley and the firm became defendants themselves.  Lewis claims he blew the whistle on illicit financial activity, and, in response, Pierce Bainbridge, a slew of its partners, along with the firm of Putney Twombly Hall & Hirson LLP (Michael D. Yim) weaponized the #MeToo movement to demonize and discredit him. According to Lewis, Conley and Littler were hired by Pierce Bainbridge to finish the job against him, and in doing so employed deceitful litigation tactics more typical of their client.
The impact of the lawsuits, and related revelations of a bevy of ugly realities about firm founder John Mark Pierce, certain of  his partners, as well as firm operations, has turned the Pierce Bainbridge carousel into a "not-so-merry" ride; thirty-five attorneys have quit in the last several months. Be that as it may, the firm apparently continues to represent a high-profile clientele: Rudy Giuliani, Michael Avenatti, Lenny Dykstra (two of them convicted felons; the third with potential criminal headaches of his own), Tulsi Gabbard, as well as one of the largest cryptocurrency exchanges in the world Kraken, Inc. d/b/a Payward.
The conduct of Conley is particularly odd, however.  Through events at the Federal Bar Association, the NYC Society For Human Resource Management, and the Metropolitan Black Bar Association, Conley has advocated for the "elimination of bias," "lawful investigations in the Wake of #MeToo," and "interrupting racism and inequality within the profession."  Lewis says:  "S. Jeanine Conley has supported the deeply depraved and misogynistic John Pierce, race-based discrimination led by Pierce and a sham #MeToo investigation conducted by Michael D. Yim of Putney Twombly who flatly stated I was not entitled to 'due process.' Conley's conduct, particularly given who she publicly holds herself out to be, was shocking to me."
It appears, that Conley "bet on the wrong horse."
Deceitful Litigation:  "The Norm, not the Exception at Pierce Bainbridge"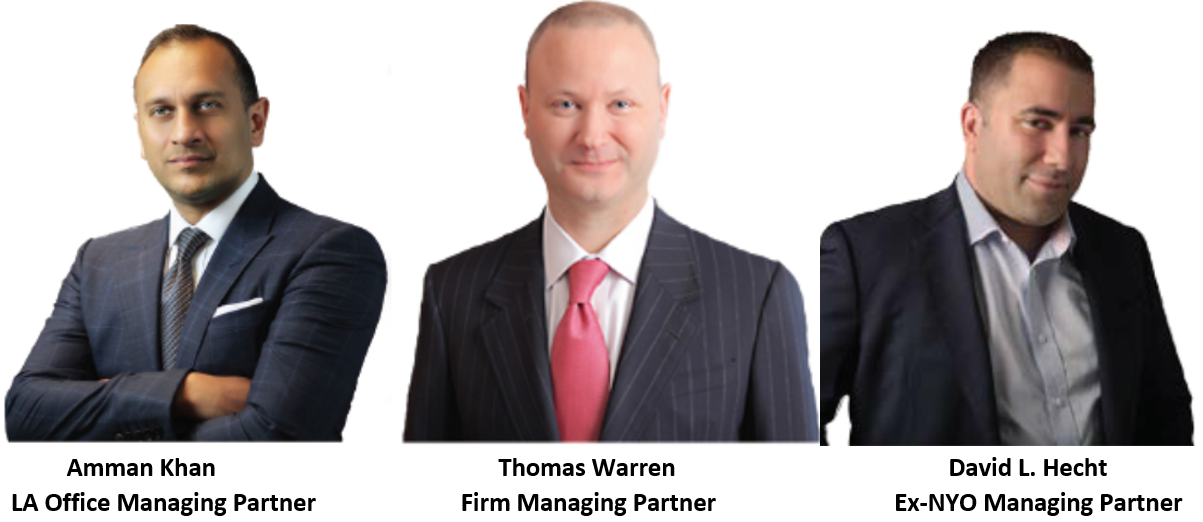 Boasting About Violating the Ethical Rules
Lewis provided the quote above, but there seems to be a good deal of history lending support.  It apparently starts right at the top.  As a glaring example, the recently departed long-time Managing Partner of the Pierce Bainbridge New York Office, David L. Hecht, foolishly boasted publicly about violating the ethical Rules of Professional Conduct.  It was not just a garden variety violation; Hecht was found to have violated Rule 8.4, which the federal court noted:  "prohibits conduct involving dishonesty and misrepresentation;" the opinion invoked the words "trickery" and "deceit." Hecht apparently took pride in the decision, because the court stopped short of disqualifying the firm.  Indicative of the Pierce Bainbridge culture, other so-called leaders "liked" the post:  Firm Managing Partner John Mark Pierce and Los Angeles Managing Partner Amman Khan.
$27,500,000 Malpractice Claim and Accusation of  Intentionally "Bungling" a Client's Case
Khan's reaction to Hecht's post is arguably unsurprising; he is no stranger to controversy concerning his litigation practice.  A Law360 report indicates that while a partner at Glaser Weil, Khan was a defendant in a $27.5 million malpractice suit.  Khan was accused of "intentionally bungling a legal action," "breaching his fiduciary duties to his client," and forming a "plan, scheme and conspiracy," to foul up the litigation.  The case dragged on for almost three years, before an apparent resolution was reached.
New Managing Partner Tom Warren:  Sanctions and Violation of Ethical Rules
Thomas David Warren was chosen to succeed John Mark Pierce as Pierce Bainbridge Managing Partner, and it appears the firm intends to not skip a beat on its unethical litigation conduct. Warren, who has had his own recent ethical issues with courts, is named as a defendant in a proposed amended defamation complaint Lewis filed in October 2019.
******************
Additional new current and former partner defendants in Lewis's proposed complaint are Brian Slater (formerly of Kramer Levin), ex-partner Conor McDonough (formerly of Paul Weiss) Christopher N. LaVigne (formerly of Success Academy Charter Schools), ex-partner David L. Hecht (Hecht Partners), Gregory Sephton (formerly of Kramer Levin), Jeff Alexander (Wachtell Missry), Jonathan Kortmansky (BraughnHagey & Borden), Michael Pomerantz (formerly of Grais & Ellsworth), Susan Winkler (Winkler Law LLC) and Ted Folkman (Folkman LLC). The nature of the claim is a conspiracy to defame. 
Pictured below are the four new defendants who Lewis says: "conspired with Pierce in one of the most heinous defamatory lies one could make about a person; it is disgusting; Kortmansky, Warren, Pomerantz and Hecht all endorsed and promoted the most depraved of Pierce's misconduct, as well as his outright public lies about the firm's relationship with litigation funder Pravati and litigation funders generally, as well as Pierce's baseless public attack on Bloomberg Big Business Law reporter Meghan Tribe.")
*****************
In September 2018, while Warren was a partner at BakerHostetler, his client was hit with a motion for sanctions by Dostart Hannink & Coveney LLP.  The sanctions request accused Warren and his client of "scurrilous accusations," engaging in "totally improper" conduct, and deploying a "motion-by-ambush tactic."  The court granted monetary sanctions against Warren's client for over $20,000.
Warren joined Pierce Bainbridge three months later, and it did not take him long to get back to unethical work.  Just months after Hecht's fiasco, Warren – while representing convicted felon Lenny Dykstra – was found by Los Angeles State court judge to have violated the ethical Rules of Professional Conduct, with the judge noting that such issues are "simply the purview of the State Bar . . ."
Yet Another Sanctions Motion
Incredibly, shortly after Warren took the Iron Throne for House Bainbridge in late February; the ethical problems for the firm seamlessly continued.  On March 5, 2020, in a case where Pierce, Jim Bainbridge, ex-counsel Matt Rand (formerly of McKool Smith) and Michael Eggenberger appear on the signature block, Pierce Bainbridge was on the receiving end of sanctions motion to "avoid further fraud upon the court."

Fraud on the Court and Destruction of Evidence
The "fraud on the court" motion dovetails well with recent events in the Lewis lawsuits.  As Legal Desire previously reported, Marc Mukasey, of Mukasey, Frenchman & Sklaroff LLP recently filed to withdraw as counsel for Pierce Bainbridge citing ethical concerns with continued representation.  In response, Lewis' counsel filed an affidavit which states:  "we have strong reason to believe — based on information provided to us by former and current employees and partners of PB — that PB . . . has corrupted these proceedings"; and continues: "we have been led to believe . . .that the PB Defendants have destroyed pertinent and material evidence; have manufactured false 'evidence'. . . and mislead the Court as to when they were aware of the arbitration provisions that were part of the recent motions before the Court."
The pairing of Littler and Pierce Bainbridge was perhaps a match of kindred litigation spirits; Littler has a history of sanctions of its own.  Indeed, it is exceedingly rare that a reputable law firm receives monetary sanctions for "frivolous" court filings and "violations of rules".  Lewis says: "a quick review reveals that Littler has been a culprit at least four times, and at least twice the 9th Circuit Court of Appeals supported such sanctions."
John's Pierce's Three Musketeers of Dishonesty, Deception and Deceit
The apparently troubling issues surrounding Lewis's ousting from the firm, with Michael D. Yim of Putney Twombly riding shotgun with Pierce Bainbridge, have been well documented.  Conley appears to have been brought in to help finish what Yim failed to accomplish, silencing Lewis or destroying his credibility through lies.  Conley, along with Pierce, Edwards and LaVigne are alleged to have hatched a conspiracy to defame Lewis on a nationwide scale to mute his soon to be filed complaint.
Lewis had provided Pierce Bainbridge a deadline to agree to private mediation.  It appears that in order to buy more time, Conley claimed she misread a one-page letter with the deadline.  Lewis gave her the benefit of the doubt and extended the deadline, but when two days later Pierce Bainbridge still did not agree to the conditions to mediation, Lewis moved forward with the filing of his complaint.
Conley, however, deceived Lewis's New York counsel by continuing a charade of settlement negotiations in bad faith. Conley – by e-mail – asked Lewis to withdraw his complaint in New York so that the parties could continue negotiations, thanked him – by e-mail – for doing so, yet four hours after it was withdrawn, Pierce Bainbridge filed a complaint in California against Lewis and, most incredibly, alleged that Lewis filed and withdrew his action in New York as "part of a scheme to extort."
Even worse, three months later, Lewis learned that Pierce Bainbridge and Conley were not only being deceitful to beat Lewis to the court with a sham complaint in California, but on that same day, Pierce Bainbridge was also filing a lawsuit in New York under seal; a filing in which firm partners Denver G. Edwards and Christopher N. LaVigne, according to Lewis, both demonstrably lied in supporting affidavits.
Lewis said:  "The deceit, dishonesty and outright lies over a three-day period – by Christopher N. LaVigne, John M. Pierce, S. Jeanine Conley and Denver Edwards are actually incredible.  Like I said in my complaint, stuff like this does not happen over the course of most lawyers' careers."
The White-Collar Partner Exodus
As for the financial misconduct that Pierce Bainbridge sought to cover-up, interestingly, the firm itself has conceded that the financial misconduct alleged by Lewis (which has been validated by recent events): "if true….would amount to criminal activity." LaVigne, according to Lewis, made a very telling statement months after Lewis was no longer with the firm:
"John hired a bunch of white-collar lawyers; he thinks they'll help when the Feds come knocking; they will be the first one's out the door." ~ Christopher N. LaVigne
Since LaVigne's purported statement, at least eleven white-collar partners have hit the Pierce Bainbridge escape hatch:
Caroline Polisi (Armstrong Teasedale, formerly of Creizman LLC)
Deborah Renner (Renner Law, formerly of BakerHostetler)
Eric Creizman (Armstrong Teasedale, formerly of Creizman LLC)
Franklin Velie (formerly of Sullivan & Worcester)
Jeffrey Alexander (Wachtell Missry, formerly Kasowitz Benson)
Jonathan Kortmansky (BraunHagey & Borden LLP, formerly of Sullivan & Worcester)
Joan Meyer (Thompson Hine, formerly of Baker McKenzie)
Melissa Madrigal (Armstrong Teasedale, formerly of Creizman LLC)
Michael Winograd (Brown Rudnick, formerly of Ropes & Gray)
Susan Winkler (Winkler Law, United States Attorney's Office, Winkler Law)
Thomas Frongillo (formerly Fish and Richardson)
We are reminded of an attorney who warned Pierce in Fall 2018:  "Trying to do what you are doing – build a major NYC firm overnight is hugely risky. . . The last person who tried it in NY was Mark Dreier.  He ended up in jail."
Brazen Lies and Brazen Deceit
Christopher N. LaVigne
Notwithstanding LaVigne's blistering written criticism of firm founder John Mark Pierce as a "lunatic," "bully," and "snake," who "loses track of his lies," "talks out of every side of his mouth," and is "probably deep into the sauce [alcohol] and coke [cocaine]," LaVigne, according to Lewis, "lied under oath" to protect Pierce.
In court filings, Pierce Bainbridge claimed Lewis – who has played ice hockey socially with LaVigne for over ten years – never played with LaVigne from November (when he was ousted) until April (when LaVigne claims Lewis extorted him during a conversation after a game).   The clear objective was to create a (false) narrative of Lewis going out of his way in order to allegedly "extort," LaVigne.  Hard evidence supports that Pierce Bainbridge and LaVigne were untruthful in court filings.
Below are photos from a February 13, 2019 championship game at Chelsea Piers Sky Rink Arena; LaVigne and Lewis are identified in the first, in the second they are side-by-side in the middle. In addition, a screenshot from a March 6, 2019 exchange between the two about another game is below.  "OMW" means "on my way."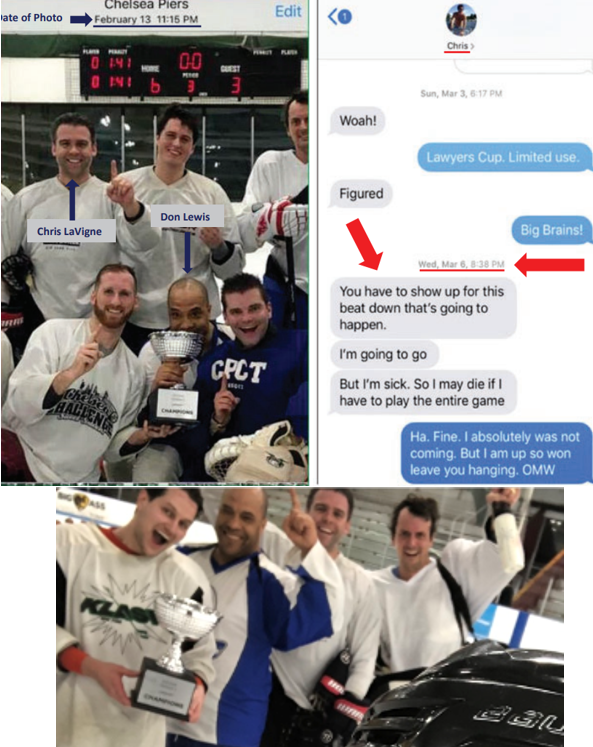 Both February 13, 2019 and March 6, 2019, fall between November 2018 and April 2019.
Denver G. Edwards
Denver G. Edwards is on the Board of Trustees at Middlebury College.  He has previously worked as a partner at Bryant Rabbino LLP and Bressler, Amery & Ross LLP.   Edwards claimed in court filings and a sworn affidavit that Lewis blew confidentiality by publicly naming the firm's litigation funder Pravati Capital LLC.  To the contrary, the relationship was already the subject of media coverage, a press release from Pravati (the firm's original name was Pierce Sergenian) and, even worse, publicly filed UCC lending documents in Denver Edwards's own name, disclosed the relationship.  (Below is an image from a March 8, 2019 UCC  filing.)

The Conley "Withdrawal Stunt"
The third musketeer, Conley, is, according to Lewis: "as deceitful as the others."  The "Withdrawal Stunt" covered earlier, is detailed below.
Lewis Withdraws the Complaint at Conley's Request, She Thanks Him
May 15, 11:40 a.m. – Lewis filed his complaint in New York.
May 15, 12:12 p.m. – Conley e-mailed Lewis's counsel to request that he withdraw the complaint stating: "[PB] could get to Lewis' number if you provide more time."
May 15, 2:12 p.m. – Lewis's counsel withdrew the complaint, Conley wrote to thank him and ask for a copy of the withdrawn complaint with the filing-stamp affixed.
May 15, 6:12 p.m. – Pierce Bainbridge filed a complaint in Los Angeles against Lewis which was never mentioned during the Conley-led negotiations.  The complaint included the filed-stamped copy of the withdrawn complaint Conley requested.
Pierce Bainbridge Says Lewis Withdrew as "Scheme to Extort"
Incredibly, Pierce Bainbridge then alleged in LA: "[Lewis] deleted the filing as a tactic, furthering his scheme to extort [PB]." Seeing what had happened, Lewis's counsel immediately took Conley to task:

Conley avoided these pointed questions,  Pierce Bainbridge then labeled Lewis an "extortionist" and "terrorist," S. Jeanine Conley failed and, eleven months later, continues to fail to come forward with the truth.
Know When to Hold 'Em, Know When to Fold 'Em
For months, Pierce Bainbridge has been on a downward spiral towards full implosion.  Thirty-five lawyers have jumped the sinking ship.  Pierce was finally stripped of his Managing Partner title after his alleged Ponzi-Like financial foul play, which Lewis reported to the partnership well over a year ago.  Now Pierce Bainbridge's own attorney, Marc Mukasey, citing ethical concerns, has asked to withdraw as outside counsel.  Attorneys who were or are with Pierce Bainbridge have apparently broken the wall of silence, as Lewis recently reported to the court, and reportedly have divulged information concerning Pierce Bainbridge manufacturing and destroying material evidence, and engaging in fraud on the court.
With respect to his former partners, who largely only started leaving when the firm was already in meltdown mode, Lewis says, "they are like rats fleeing a sinking ship; each of them turned a blind eye to issues I pointed out in written communications over a year ago; they did not care; their greed outweighed their integrity."  Lewis continued:  "It is crystal clear to any reasonable person what has happened here, yet none of my former partners has ever reached out to apologize or attempt to make this right; they remained concerned with themselves only, fueled by selfishness and greed."
The reports of substance abuse, the lies, the illicit financial dealings, the misogyny, Mukasey filing to withdraw, thirty-five lawyers quitting Team Pierce: none of this, however, has deterred Conley, LaVigne and Edwards.   They remain committed to John Pierce and the firm, like the musicians on the Titanic.   Beloved country western singer Kenny Rogers recently passed, but his lyrics in "The Gambler" are timeless words of wisdom; perhaps it's time for the "Three Pierce Musketeers" to pay them heed.
The post Pierce Bainbridge and Littler Mendelson: Two Law Firms in the Same Deceitful Pod? appeared first on Legal Desire.