ON A RECENT AFTERNOON, Kanishk Shah sat in a jeep scouring an island for two players that hid somewhere. "There," he shouted, referring to a window in a house far away, where he had somehow miraculously seen some movement. Within a few seconds, two small spots of blood burst on the screen. Shah had shot one player; the other was finished by his teammate.
It was a grisly, but somewhat tame, end to an over hour-long game on the popular mobile version of the first-person shooter game PUBG (PlayerUnknown's Battlegrounds).
"Kya boring game tha [What a boring game]," Shah shouted, presumably into the headset.
For the over 15,000 gathered watching this match live on YouTube, this was far from boring. The comments stream was bursting with 'oh my gods' and 'good mornings', and with requests for tips such as the correct technique of throwing grenades.
All through the game, Shah had entertained these queries with enthusiasm, responding to compliments with 'oh, thank you', even when they ceased to surprise.
But right now, he was in no mood. "Kya boring game," he repeated again.
Shah, who goes by the alias 'Slayer', is considered to be among the top professional players of this game in India. When he streams his matches, usually late in the nights, hordes of youths log in. Some come in the hope of picking up tricks that they can implement in their own games, many just come with a request to be acknowledged by their idol during a game, but the vast majority, Shah says, just come to watch a match unfold like one would switch on a cricket game.
In the last few months, ever since the lockdown, Shah has noticed that the numbers logging in have spiked. "Usually there is a time slot, it's usually night-time, when you get like 15,000 people watching your game. But right now, anytime you start playing, doesn't matter what time in the day or night, man you find that kind of number always there," he says.
The mobile version of PUBG has been something of a phenomenon ever since it arrived in India about two years ago. According to various reports, out of the estimated 500 million-plus who have downloaded this game on their phones, between 140-150 million of those have happened in India alone, points out Sidharth Kedia, the CEO of Nodwin Gaming, the Indian esports company that organises PUBG Mobile's professional tournaments in India. "That makes India the No 1 territory for the game," he says. "If you ask me about DAU (daily active users) and MAU (monthly active users), there are no official figures. But last I heard, between 30 to 40 million play the game daily. About 60 to 80 million on a monthly basis."
At one end of this phenomenon is the casual gamer. Individuals, usually a group of friends, who play this incredibly addictive game, where they must—like the premise of the Japanese film Battle Royale—survive on an island by killing opponents. But this game is not built only to play. It is equally thrilling just to watch. And here, we come to its other end. As the game's popularity has increased—a new breed of professional players like Shah, celebrities in this gaming world, have come forth.
A subculture just a year ago—often viewed with suspicion by adults—has now burst forth into the mainstream. Mainstream brands, such as cola and mobile companies, now sponsor events, Bollywood actors tap into celebrity gamers to promote their films. Most of the matches in tournaments are streamed on online platforms, such as YouTube (one tournament is also streamed on Hotstar), but some of them are even making its way to TV (MTV telecasts condensed versions of long games).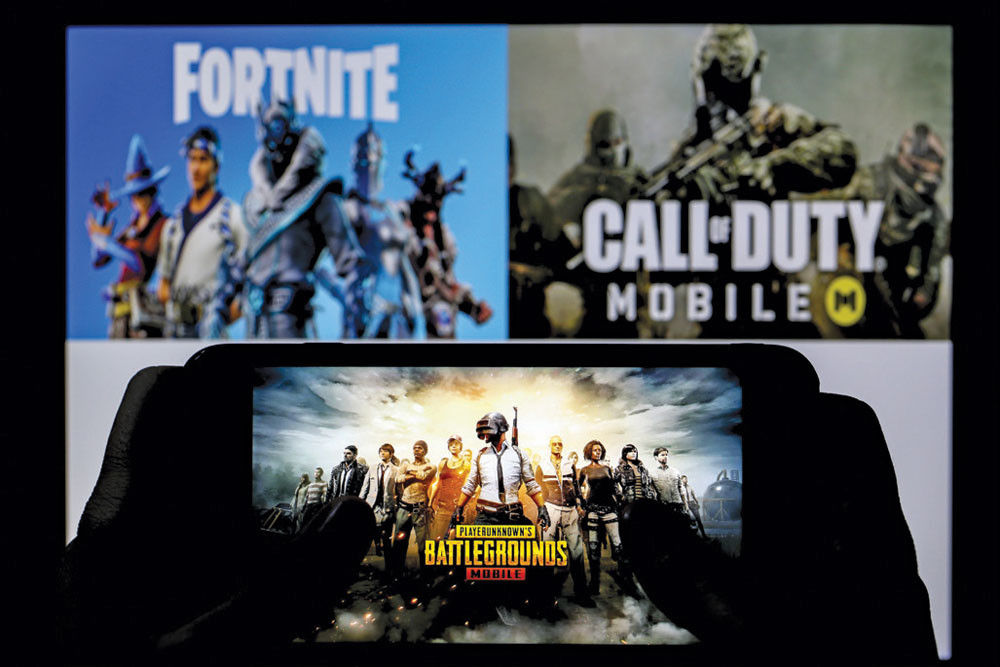 An entire ecosystem has now come up around this game. There are professional teams and players, a majority of them still in colleges or schools; many established foreign esports companies are now entering the Indian market and setting up their own teams; there are managers, coaches, social media influencers in the gaming world who stream PUBG matches as a source of livelihood, casters or commentators who analyse and break down what is going on in the game, and a crowded audience of passionate and mostly adolescent fans.
A game already growing rapidly over two years has now exploded with the Covid-19 outbreak and the resulting lockdown. "We're seeing 400 to 500 per cent kind of growth in watch-time, play times, interactions, registrations. Everything. It's like exploding right now," says Akshat Rathee, the co-founder and managing director of Nodwin Gaming. "It's become crazy."
IT WAS SOME TIME around 2015, says Siddhant Joshi, when he realised it was pointless to pursue gaming professionally. "I figured I wasn't good enough at the world level. And there was no point just being the best in India. You couldn't make enough money that way," he says.
Joshi had spent what appeared like a lifetime playing games by then. Although he had done so casually throughout his childhood, it was in London, where he was pursuing a Business Administration degree, that he got introduced to the world of professional esports and realised how this passion could be taken up professionally. Six months into a sales job in a chemical manufacturing company in Muscat, Joshi resigned and returned to India to become a full-fledged professional gamer. "I didn't like the job. Besides, the internet connection was so poor, you couldn't play games," he says.
Most professional players tend to be in their teens. This is also when their gameplay skills and reflexes are sharpest
When Joshi quit playing, he reoriented his career to become a manager instead. "I already had all this experience. So I figured I could use it to help others," he says.
The esports scene was changing around that time. New teams were being formed, young players were coming up the ranks, professional players were drawing salaries, and some like Joshi were becoming managers. At some point, Joshi began to manage two teams for a newly-formed Indian company Entity Esports—one that played Defense of the Ancients 2 (DOTA-2) and the other for Counter Strike: Global Offensive (CSGO).
In about a year's time, this scene was going to explode. And it wasn't going to be with DOTA-2 or CSGO. It was going to be with PUBG Mobile.
Rathee likes to compare this moment with how cricket became popular in India after the country's 1983 World Cup win. How colour TV sets, made widely available a year ago after Indira Gandhi nationalised picture tube companies so people could watch the Asian Games held in Delhi in 1982, resulted in Indians getting hooked to cricket after they watched the 1983 World Cup campaign on TV. "It's quite the same right now," he says. "Every kid now has a phone, and PUBG Mobile has become so big that everyone now plays and watches it."
His colleague, Kedia, also uses a cricket analogy when talking of the popularity of the game. Esports has the world over traditionally been a console or personal computer-led medium. "In India, this was like the Test format of esports, something for the purists. When PUBG Mobile came, esports in India became mobile-based. And we entered the T20 phase," he says.
"We've only scratched the surface, I think," says Varun John, a caster (or commentator) who analyses and hosts discussions around the game on various platforms. A former sound engineer who casually played games, he became a professional caster a year ago, because he understood gaming and could talk a lot about it. "People still don't quite appreciate how rich and complex this game is. If you ask me, it is made for TV like other sports," he says.
Entity Esports now is one of the top professional teams in India right now. Earlier this year, when the well-known US esports company TSM (or Team SoloMid) entered the Indian market, they partnered with Entity Esports. And Entity (which now goes with the name TSM-Entity) has neither a DOTA-2 or CSGO team, but one only of PUBG Mobile (consisting of four players and a coach).
When the Covid outbreak occurred and upended the lives of so many, for Joshi's TSM-Entity PUBG Mobile squad, their lives remained unaltered. They awoke at noon at their bootcamp in Mumbai—where the team lives together before tournaments—and apart from a few small breaks, sat in front of their mobile phones till three in the morning.
Most professional players tend to be in their teens. This is also when their gameplay skills and reflexes are sharpest. By your mid-20s, a gamer's skills begin to deplete. TSM-Entity's coach Abhijeet Andhare, a professional player until a year ago, Joshi says, moved to coaching because at 29, he found himself not sharp enough.

Shah, who is 23 years old, realises he says that he might have about four or five years as a professional gamer left in him. He used to play occasionally in the PUBG Mobile squad run by Naman Mathur, arguably India's most well-known PUBG Mobile gamer who goes by the name Mortal', before a spot opened up in another team (Team Ind).
"The way I look at it, I'll play four or five years. Then maybe, if I can make a strong online presence, I can move full-time into streaming games," he says.
The explosion in the popularity of this game among youths—a majority of them tend to be male and still in school—and the sharply divided loyalties among fans, however, has a flip side. It tends to be very toxic.
"There is a lot of constant abuse. So if a [professional] player says something that people watching don't like, or they say kill another fan favourite in the game, people go overboard. They abuse, create pages to troll people. There have even been instances where family members [of a player] have been threatened online," says Joshi. "It's just very, very toxic."
Payal Dhaare, a 19-year-old gamer who is pursuing her college degree in Jharkhand, says it is particularly difficult to be a female gamer. "Nobody takes you seriously… The gaming fraternity is nice but the audience can be terrible sometimes. When you achieve something in the game—say a new record or a new level—they will say someone else is playing for you or they will link you constantly with someone else. They will create new pages with your name or troll you," she says. "They don't appreciate, we are gamers too."
The post What' in a Game? appeared first on Open The Magazine.