How Is He Still Alive?
Reader's Digest US
|
February 2020
The skewer that impaled Xavier Cunningham below his eye must have sliced into vital arteries. Which left doctors asking ...
The stainless steel skewer that Xavier Cunningham found in his backyard two Septembers ago was about a foot and a half long and the width of his pinkie. One end had four sharp prongs, and the other had a single point—it was the kind of rod used to cook rotisserie chicken over a grill. It also made the perfect spear, and Xavier and his friends Silas and Gavon, all ten years old, took turns seeing who could chuck it the farthest. When they got bored, they ditched the skewer near a neighbor's tree house, sticking the four prongs in the ground as an anchor. They then climbed up the tree house's ten-foot ladder.
Apparently, the boys hadn't seen the large wasp nest wrapped around the back of the tree, for once they were in the hut they were under attack. The swarm was so aggressive that Silas kneeled in the corner and started praying.
"I'll get my mom!" Xavier said as he descended the ladder. About halfway down, a wasp stung his left hand. Xavier swatted at it with his right, lost his balance, and fell, facedown. Before breaking his fall with his arms, he felt a sting just under his left eye. Was that a wasp? he wondered.
In fact, it was the skewer. About six inches of it was now buried in his head. Screaming, he got up and ran to his home, some 50 feet away.
Gabrielle Miller, 39, was upstairs folding laundry in the house she shared with her husband, Shannon Miller, and their four children. Shannon, a teacher, had taken two of their kids to an arcade, while Gabrielle, who manages a title-insurance business, stayed home with Xavier and his 14-year-old sister, Chayah. She heard her son screaming and thought, When will he grow out of this stuff?
Xavier—called Bear by his family, after a story Shannon had told him as a toddler—always made a fuss over the smallest scratch. If one of their two dogs jumped up on him, he'd start screaming; he was too scared to walk Max, the coonhound he'd gotten as a puppy, because the dog pulled on the leash.
Gabrielle was almost down the stairs, Chayah right behind her, when Xavier pushed the front door open, shrieking, "Mom, Mom!"
Chayah took one look and fled back upstairs in horror. Gabrielle was trying to make sense of what she was seeing. "Who shot you?!" she said. It looked like there was an arrow through her son's face, and a single trickle of blood ran down from it. On the back of his neck was a lump—the tip of the skewer that hadn't pierced the skin. "Chayah, go find the boys. I'm taking Bear to the hospital!"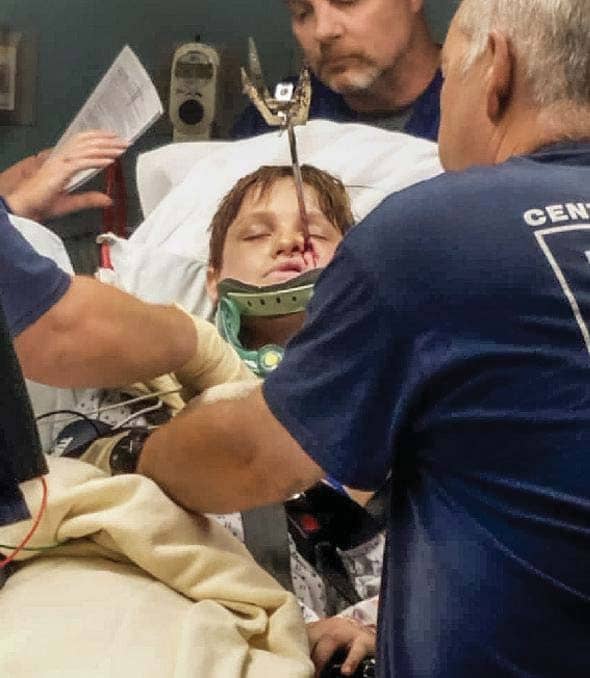 As Gabrielle backed the car out into the road, a neighbor watching them thought, That boy's not coming home.
Emergency room personnel acted quickly when Xavier walked in, giving him painkillers and sending him for X-rays. The skewer didn't appear to have hit his spine, but an X-ray can't show tissue damage. They had to send him somewhere with more advanced imaging equipment— Children's Mercy Hospital in Kansas City, Missouri, about 40 minutes north of the family's home in Harrisonville. To prevent Xavier from moving his head, hospital staff put a plastic cervical collar on his neck, and they wrapped his entire head in white gauze to help stabilize the skewer. The only thing left exposed besides that mud-caked metal rod was his mouth.
At Children's Mercy, doctors performed a computed tomography (CT) angiogram to see whether the skewer had pierced one of his major blood vessels. They were amazed to find that it had barely missed every vital artery when it penetrated his head. It was like the proverbial threading of a needle, only with life-and-death consequences.
You can read up to 3 premium stories before you subscribe to Magzter GOLD
Log in, if you are already a subscriber
Get unlimited access to thousands of curated premium stories, newspapers and 5,000+ magazines
READ THE ENTIRE ISSUE
February 2020