There are essential sounds that every duck-master must learn. Whether it is the basic quack, the greeting call, the feed call, the hail call, the comeback call, the call of a lonesome hen, or the pleading call—avid duck hunters should have these in their repertoire.
Josh Raggio, owner and creator of Raggio Custom Calls, has mastered them all with the help of his own one-of-a kind handcrafted duck calls made in his Raymond shop. Located just steps from his home, guests are welcomed into his memorabilia-filled shop where the names of visitors are scrawled over the walls. Each call he creates is nicely packaged with a thank-you note, a mission statement, and an invitation to sign the wall of his shop.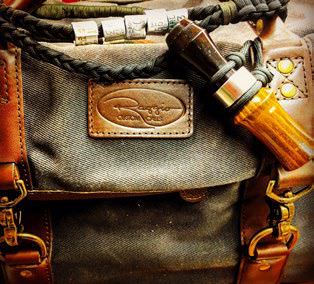 Duck calls have been a constant in Raggio's life. He was inspired to create duck calls by his father who would make duck-call noises in the background for his friends to overhear during his phone calls. His path changed one day when a friend, who made duck calls, turned one in front of him. Raggio caught on quickly. "I saw some things that I liked, and I saw some things that I didn't like, but I made the design my own," says Raggio. It took him eight hours to make his first duck call, and when he finally made his first sound, it was music to his ears.
Those first calls were gi