Konkona Sen Sharma: Time For Change
In conversation with Konkona Sen Sharma​, Rubina P. Banerjee​ is thrilled to find an amazing transformation in her perspectives on acting, motherhood and her new role as director.
It was three in the afternoon and the sun was at its blazing best as I made my way to Konkona's vanity van in Rangsharda for the precious one hour I had with her.
Even as she welcomed me there was this tingle of change in the air. This was not the Konkona I had met three years ago at her residence.
There was none of that reluctant actress. She was now sensationally thin and looking every bit the successful actress she is.
The actress, who began her career as a four-year-old child actor in the Bengali film Indira in 1983, has indeed come a long way. The tousled, gum- chewing teenager of Ek Je Ache Kanya (2000) who hated going to the gym, has truly transformed.
The transformation is perhaps a resultant of her talent and her transparent acting which has won her accolades all the way!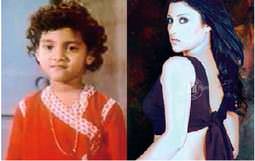 From her mother Aparna Sen's award winning film Mr. And Mrs. Iyer where she played the Tamilian wife Meenakshi to such perfection that it won her the National Award; to the vivacious Indu in Omkara which won her, her second National Award for Best Supporting Actress and another popular award.
Her role as Shruti and her tremendous chemistry with Irrfan Khan in Anurag Basu's won her yet another award for Best Supporting Actress.
Reluctant or otherwise, the actress in Konkona had proved her mettle.
No one watching Konkona can deny her natural talent. As Irrfan once told me, "She is always reacting to the camera and has an extremely mobile face."
It reflects when she says, "Earlier I used to be like a shy kid with acting but now I'm not like that anymore; I enjoy acting."
That is the difference that tingled in the air… no longer was she the talented but reluctant actress. Today's Konkona is raring to go and it is this determination that shows in her gleaming eyes, as she puffs away at a beedi. Noticing me looking at her, she says hurriedly, "I had given it (smoking) up when I was pregnant but at times you need it!"
Her anxiety does show in her peaked face and it makes me wonder how, despite the stress, she can make it all look so effortless on screen!
You can read up to 3 premium stories before you subscribe to Magzter GOLD
Log in, if you are already a subscriber
Get unlimited access to thousands of curated premium stories, newspapers and 5,000+ magazines
READ THE ENTIRE ISSUE
December 2015