Mali
TRAVEL JOURNAL This is the journal of the trip I did to Mali, in Western Africa. It doesn't intend to be a complete guide of the place, but an extract of my personal impressions in this exotic country.
Day 1
Mali is the seventh-largest country in Africa and is situated in the Sahel, the border between the Sahara and tropical Africa. It has always been a transit country for caravans between Black Africa and Arab Africa, besides having hosted some of the greatest civilizations of the continent: the rule of Ghana, Mali, and Songhai. In the nineteenth century, it was a French colony, and it became independent in 1959.
Senou Bamako airport is small, and there are many taxis in which you must bargain in advance for the price. I took one to the Mission Catholique hostel, where I had reserved a bed in a bedroom of six. This humble accommodation in the heart of Bamako is one of the cheapest and safest in the city. It is run by nuns and, although originally intended to accommodate religious personnel passing through the capital, they fill gaps with occasional secular travellers. You get a key and you can go out and in freely, as there is no lobby at the place.
On the first day, I saw around Bamako city which is home to about 1.7 million people. It is noisy and chaotic, with a lot of activity at all hours, stalls and markets on every corner, traffic, bikes, and very few traffic lights, and of course, no zebra crossings. There are not many paved roads and street lighting at night is rather symbolic.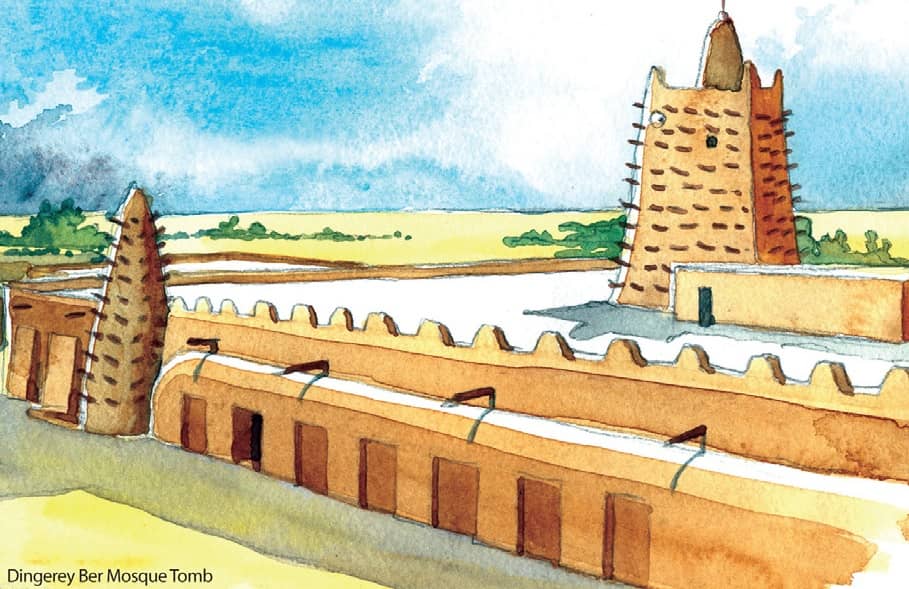 Day 2
I began my journey eastwards, towards Djenne, Mopti, and Timbuktu. At 6:30 I took a shared taxi van to get to the Sogoniko bus station. It was a vast wasteland full of buses, minibusses, and food and drink stalls. I had some time left. So I sat on a bench and observed the daily life around. Some vendors sold flipflops, others toothbrushes, shirts or medicines (in proper cases, but of dubious origin), others phones and accessories (cards, memory, batteries...), while some others sold beverages, fruit, bread and toys, all of them passing by you offering their wares.
Finally, instead of 9:30 the bus left at 11 am. Here schedules are very flexible, and it is extremely rare that a bus leaves with empty seats, so they wait until they are full, no matter what time it takes. On African buses it is not customary to open the windows (in the unlikely event that they work), the passengers don't like the wind in their faces, and if you open one, they ask you to close it. And if you add the music blaring from the speakers, the journey becomes a bit unbearable. Fortunately, the bus stopped often, fifteen to twenty minutes each stop.
You can read upto 3 premium stories before you subscribe to Magzter GOLD
Log-in, if you are already a subscriber
Get unlimited access to thousands of curated premium stories and 5,000+ magazines
READ THE ENTIRE ISSUE
November 2019