A Look At The Cities Under Lockdown
Touriosity Travelmag|March 2020
We're offering this story for free to read so that you can stay updated on the COVID-19 outbreak
The travel and tourism industry currently accounts for 10% of global GDP. Things looked perfect for the industry until the pandemic struck.
Of all the sectors hit by the coronavirus pandemic globally, tourism is beyond doubt one of the worst affected. The World Travel and Tourism Council has warned that during the COVID-19 pandemic as many as 50 million jobs could be cut globally in the travel and tourism industry. Out of these they say Asia is expected to be the worst affected. Further they have mentioned that once the outbreak is over, it could take up to 10 months for the industry to recover, which essentially would mean the whole of the financial year 2020-21 will be gone.
However, these are estimates and the impact would depend on how long the pandemic lasts and whether or not a cure can be found sooner. If the pandemic gets over soon and a cure is found, the last months of 2020 could look much better in terms of global GDP.
As of now, one may note that tourism is under a worldwide ban and most of the countries have imposed some sort of lockdown, whether total or partial. This has definitely resulted in the most touristy places wearing a deserted look today. But there is a good side to it as well. For some time now media has been reporting that dolphins and swans are back in Venice canals, herds of deer were seen relaxing on the road in the Nilgiris and so on. While some of it may not be true, some definitely are. And the biggest advantage that the touristy cities have earned now is probably in the form of respite from incessant pouring of crowds for the time being. The air is clearing up as automobile pollution has drastically fallen and cities are much cleaner than they normally are when tourists are around.
Amidst the global travel ban, while our readers cannot travel to any part of the world, in this article we thought of bringing pictures from different cities and regions of the world in order to give you a virtual tour of the places. Most of these photos have been sent to us by our readers, writers and subscribers and each one has a story to tell.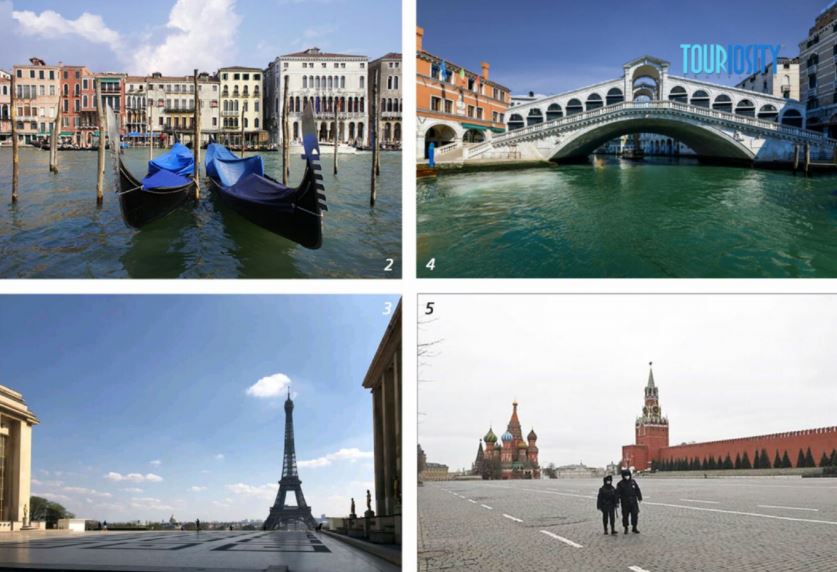 In this page are photos from iconic tourist attractions from major European cities like Paris, Moscow, London, Venice, Milan and Germany. In most of the European countries there is partial lockdown now and with travel and visa restrictions, quite expectedly, roads are empty, there is no queueing to go up the Eiffel Tower, no tourists to take a romantic ride on the Gondola on the canals of Venice, no hanging around or meeting people at the Pariser Platz in Berlin, a Red Square devoid of mortals and sound and a silent Thames passing by near the iconic Big Ben in London. The Hop-on-Hop-off buses are not in sight anywhere and a never before experienced calm and tranquility has taken over all these otherwise touristy cities.
1. Duomo di Milan (Milan Cathedral) and Piazza del Duomo (cathedral
Square) in Milan, Italy;
2. Gondolas parked on the silent waters of the canal in Venice;
3. View of the Eiffel Tower of Paris from a deserted Place du Trocadero;
4. Rialto Bridge in Venice devoid of tourists;
You can read up to 3 premium stories before you subscribe to Magzter GOLD
Log in, if you are already a subscriber
Get unlimited access to thousands of curated premium stories and 5,000+ magazines
READ THE ENTIRE ISSUE
March 2020