SKYDIO 2
RotorDrone
|
August/ September 2020
THIS NEW DRONE GOES ALL-IN ON BEING A FLYING ACTION CAM
AT A GLANCE
Name: Skydio 2
Manufacturer: Skydio (skydio.com)
Type: Autonomous Aerial Imaging Platform
Size: 223 x 273mm
Weight: 775g
Flight time: 15 min.
Camera: Sony IMX577 12.3MP CMOS, 4K/30 FPS Video
Price: $999.00 (basic package)
WHAT WE LIKE
Extraordinary autonomous collision avoidance capabilities
Camera captures vivid imagery with wide dynamic range
App uses augmented reality to define maneuvers
Low price for robust capabilities; made in the USA
THE BASICS
The Skydio 2 has six 4K cameras, each with a 200-degree field of view. Together, they create a complete picture of the operating environment in every direction, generating 45 megabytes of data 30 times per second to drive its remarkable collision avoidance system. In short, it literally sees everything, and yet the Skydio 2 is so narrowly focused on the single goal of being a perfect flying action camera that comparisons with other small, civil UAS are problematic.
An honest review of the Skydio 2 must actually be two reviews: one that compares the aircraft with its own potential, and the other that compares it with other aircraft that can be had for a similar price to perform general aerial imaging missions. Whether the Skydio 2 is an astonishing success or a quirky outlier actually depends more on the goals of the end user than it does the characteristics of the aircraft itself.
Regardless, the basic facts are the same, so here they are: the main camera—the one that actually captures video and still images—incorporates a Sony IMX577, capable of shooting 4K video at 30 frames per second (FPS) or HD video at up to 120 FPS in addition to 12 megapixel stills. On paper, that is a fairly typical set of specifications for a drone at this size and price point. However, Skydio wrings the most out of every pixel. The images are vibrant, and even without activating the camera's high dynamic range (HDR) capability, it does a remarkable job of balancing the lighting across a scene. For example, if you put the horizon line across the center of the frame, you will immediately notice that both the sky and the ground are still visible, without being over- or under-exposed.
The camera is slung on a front-mounted gimbal—like the Parrot Anafi—so that no part of the aircraft hangs over it. However, it does the Anafi one better by providing three-axis stabilization. With this configuration, the Skydio 2's camera could, in theory, pitch all the way from zenith to nadir. However, it stops at 45 degrees above the horizon, limiting its use inspecting the underside of a bridge deck, for example. That isn't a problem if what you want is a flying action camera, not a general purpose small, civil uncrewed aircraft system (UAS).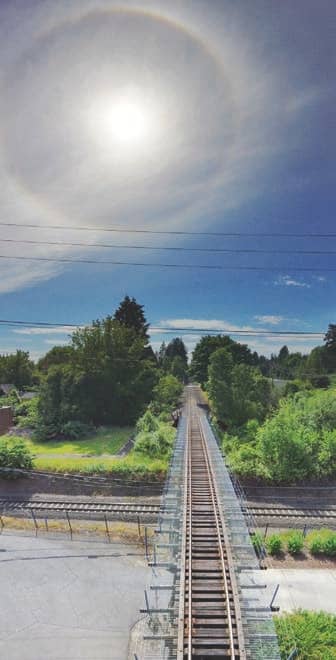 The airframe feels very sturdy, no doubt because of the magnesium skeleton beneath its distinctive blue and black plastic skin. It gives the aircraft a refined feel in the hand, like a high-end laptop, but the real reason for this choice is to support the collision avoidance system. In order to function, the system must know the precise distance between each of the cameras. The flex in a plastic airframe, for example, would be enough to degrade its performance.
That's why the Skydio 2 does not fold down for travel or storage, like virtually every other UAS in its size category: an airframe movable limbs, for example, would not provide sufficient rigidity and precision to make the system reliable.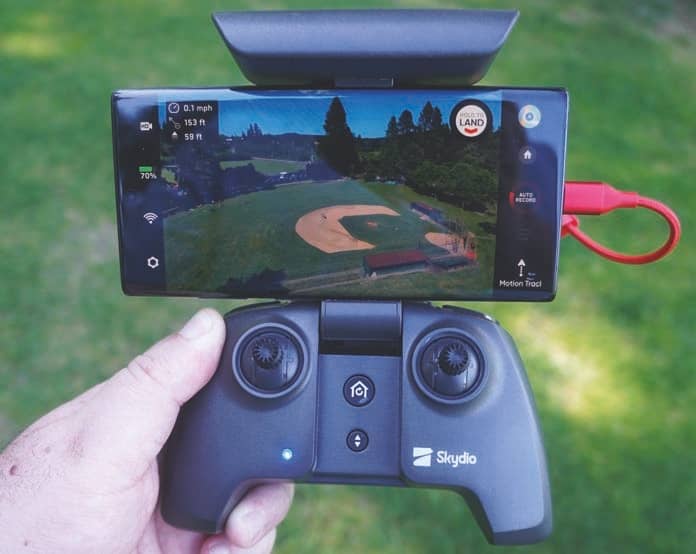 HOT! HOT! HOT!
The technical specifications for the Skydio 2 read like a gaming laptop, with a main processor, 256-core GPU and a CPU, as well as four gigabytes of 128-bit RAM. That much computational firepower is required to push through one million data points in threedimensional space every second and, like a gaming laptop, it builds up a lot of heat in the process.
After each flight, the body of the Skydio 2 is very nearly too hot to handle comfortably. That's enough to make me worry about losing the aircraft to overheating. However, the company claims a maximum operating temperature of 104 degrees Fahrenheit—comparable to other drones in its class. So, I suppose we'll have to take them at their word on this point.

Power is supplied by a rechargeable, three-cell, 4280mAH LiPo battery which in real-world testing delivered about 15 minutes of flight time. That isn't bad, but it is a little below average for an aircraft of its size and performance. The battery bears further consideration for several other reasons, as well.
First among these is the magnetic retention system, which is extremely cool. Position the battery near the cavity on the belly of the aircraft and it snaps into place with a satisfying click and reassuring certainty. Why other manufacturers have not embraced this approach is a mystery, because it's awesome.
You can read up to 3 premium stories before you subscribe to Magzter GOLD
Log in, if you are already a subscriber
Get unlimited access to thousands of curated premium stories, newspapers and 5,000+ magazines
READ THE ENTIRE ISSUE
August/ September 2020