Flight Of The Navigator
Very Interesting
|
September/October 2020
In a space exploration first, NASA is preparing to deploy a chopper on the Red Planet. Flying in a fraction of Earth's gravity, it should be a sight to behold…
Whether disrupting air traffic, returning glorious vistas of Earth from above, or just spying on the neighbours (if that's your thing), drones have become a familiar sight in our skies. Now, for the first time, the US space agency NASA is poised to fly a drone-like helicopter in the atmosphere of another planet.
The craft, named Ingenuity, will hitch a ride to the Red Planet aboard the one-tonne Perseverance lander, NASA's latest wheeled robotic rover mission to drive across the planet's rugged surface. Perseverance will launch from Earth soon, with a touch down on Mars scheduled for 18 February 2021.
Flying in the alien atmosphere of another world is a feat that poses a unique set of engineering challenges and yet, if this small technology test mission is successful, it will furnish scientists with a new and highly effective way to explore the planets and moons of our solar system. That's because flying is a much faster way to get around than ground roving. Aircraft can gather aerial imagery that's much sharper than pictures returned by spacecraft. They can also serve as scouts to identify potential targets for ground-based rover vehicles, and they can even gather samples and bring them back to a central lander station for analysis. And, of course, they can go where other probes simply can't.
"Larger Mars rotorcraft in the 5-20kg class with small science payloads could access areas not reachable by rovers, and support wide-area surveys in shorter times," says Dr. Bob Balaram, Ingenuity's chief engineer, based at NASA's Jet Propulsion Laboratory (JPL) in Pasadena, California. "There is also a NASA mission to explore Saturn's moon Titan, with a flying lander that will arrive in the early 2030s." The Ingenuity craft is 50cm high with four blades – one pair above the other – mounted on twin, counterrotating rotors, each spanning 1.2m. The size of the rotors (which need to be this big for the helicopter to fly in Mars's thin atmosphere) is the main reason why a more familiar drone-like quadcopter design was rejected – such a vehicle would be simply too large to fit on the rover. Ingenuity is stowed beneath the body of Perseverance, from where it will be dropped onto the surface of Mars, probably a couple of months into the mission. The rover will then drive 100m away, to minimize collision risk, and the two will exchange radio signals to 'pair up' – a bit like pairing wireless earbuds to your phone – before the rover sends the command for Ingenuity to make its inaugural flight. This will likely be what Balaram calls a 'mutual selfie' – the two vehicles taking pictures of one another as the helicopter rises to a low hover and then lands again.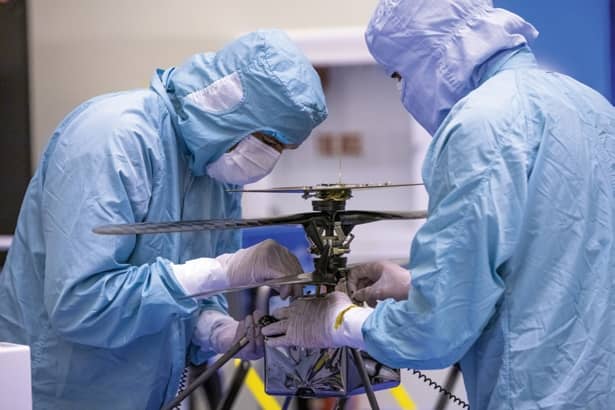 Mars explorer
Ingenuity carries a blackand-white navigation camera and a 4,208 x 3,120-pixel colour camera, comparable to what might be found in a mobile phone. Images are beamed by short-range radio link to Perseverance, which then relays them to one of a number of NASA spacecraft in Mars orbit, from where they are transmitted back to Earth. "Multiple images may be stitched into a panorama at some point using ground software tools," says Balaram.
The helicopter isn't going to make any actual scientific observations, however. Instead, the focus is to return engineering data from the test flights that will, it's hoped, validate the technology or, at the very least, provide valuable feedback to refine future designs.
You can read up to 3 premium stories before you subscribe to Magzter GOLD
Log in, if you are already a subscriber
Get unlimited access to thousands of curated premium stories, newspapers and 5,000+ magazines
READ THE ENTIRE ISSUE
September/October 2020