Dell Precision 7920 Tower (2020): A Dual-CPU Monster
PC Magazine|May 2020
The Dell Precision 7920 Tower is one of the world's most powerful desktop workstations. Dell sent it to us in a supercomputer-like configuration with not one but two Intel Xeon Platinum 8260 processors (24 cores and 48 threads each), 96GB of memory, five storage drives, and a 48GB Nvidia Quadro RTX 8000 graphics card.
"Specialized" is the word to describe this monster, as its hardware is only as good as the software that can leverage it. Case in point—the Precision 7920 didn't always excel in our benchmark tests, since most of them don't scale to use all its hardware. Its heavy lifting potential is best used in data-science and machine learning scenarios where maximum performance and long-term reliability are key, for which the 7920 gets our highest recommendation. In scenarios where only a single CPU is needed, the Dell Precision 5820 is more economical and nearly as expandable, and the HP Z2 Tower G4 can provide a lot of pep in a smaller and even more affordable form factor. But when push comes to shove, the Precision 7920 stands tall as one of the fastest workstations that money— and a lot of it—can buy.
SCALABLE TO THE NINES
The components in our Precision 7920 review unit that contribute the most to its $20,000-plus price are dual 2.4GHz Xeon Platinum 8260 CPUs (a $6,529 uptick over the single base 1.9GHz Xeon Bronze 3204) and the 48GB Quadro RTX 8000 GPU ($4,203 over the base 2GB AMD Radeon Pro WX 2100). Behind those, 96GB of DDR4-2933 error-correcting code (ECC) memory rings up at $1,300, and its storage drives—a single 512GB solid-state drive for Windows 10 Pro for Workstations and four 4TB, 3.5-inch SATA hard drives for data—add about the same. The hard drives are configured in a RAID 10 array via a MegaRAID SAS 9460-16i storage controller, which adds another $411. A three-year warranty with onsite service is standard fare, though I wouldn't hesitate to recommend the available five-year warranty for a machine this expensive.
Believe it or not, this Precision 7920 isn't maxed out; just a few more clicks will take you into the six-figure range. For instance, the processor options climb up to dual Xeon Platinum "L" suffix chips that support high memory ceilings, a required upgrade should you decide to fork over about $60,000 for the workstation's 3TB maximum. (That's with a "T"; it would be 24 128GB RDIMMs.) Dual, triple, or quad graphics cards are also available, as well as up to ten traditional storage drives and numerous M.2 SSDs. All told, it's a remarkably scalable and configurable system.
The Dell's mainstream competition comes from the HP Z8 Tower and Lenovo ThinkStation P920, both formidable dual-CPU workstations with equivalent hardware. I kitted out the HP to $28,858 with roughly the same loadout, and while Lenovo's configuration tools didn't allow me to select the Dell's exact parts, it's a safe bet that its price would be within a few thousand.
There really isn't an Apple side to this equation, since the Mac Pro is only offered with a single CPU. Nonetheless, I priced it at $16,799 with the fastest it offers (a 28-core Intel Xeon W-class) and an AMD Radeon Pro Vega II GPU.
LARGER THAN LIFE
The Precision 7920 is a goliath tower, measuring 17 by 8.6 by 22.3 inches (HWD) and weighing a whopping 56 pounds in this preview version. The metal carry handles on its front and back are supremely sturdy and a godsend for moving it any distance.
This tower shares its design theme with the Dell Precision 5820. The construction is almost entirely steel. Honeycomb front panels allow airflow for the system's numerous fans; four are stacked behind the left-side grate, another two-point out the rear, and a seventh slots between the CPU coolers.
There are numerous smaller fans in the power supply and graphics card, and several dedicated to the various storage drives. The Precision doesn't get annoyingly loud despite all those fans, giving off just a low background hum for most tasks. The fans spooled up slightly while I was running our benchmark tests, but I had to listen for them.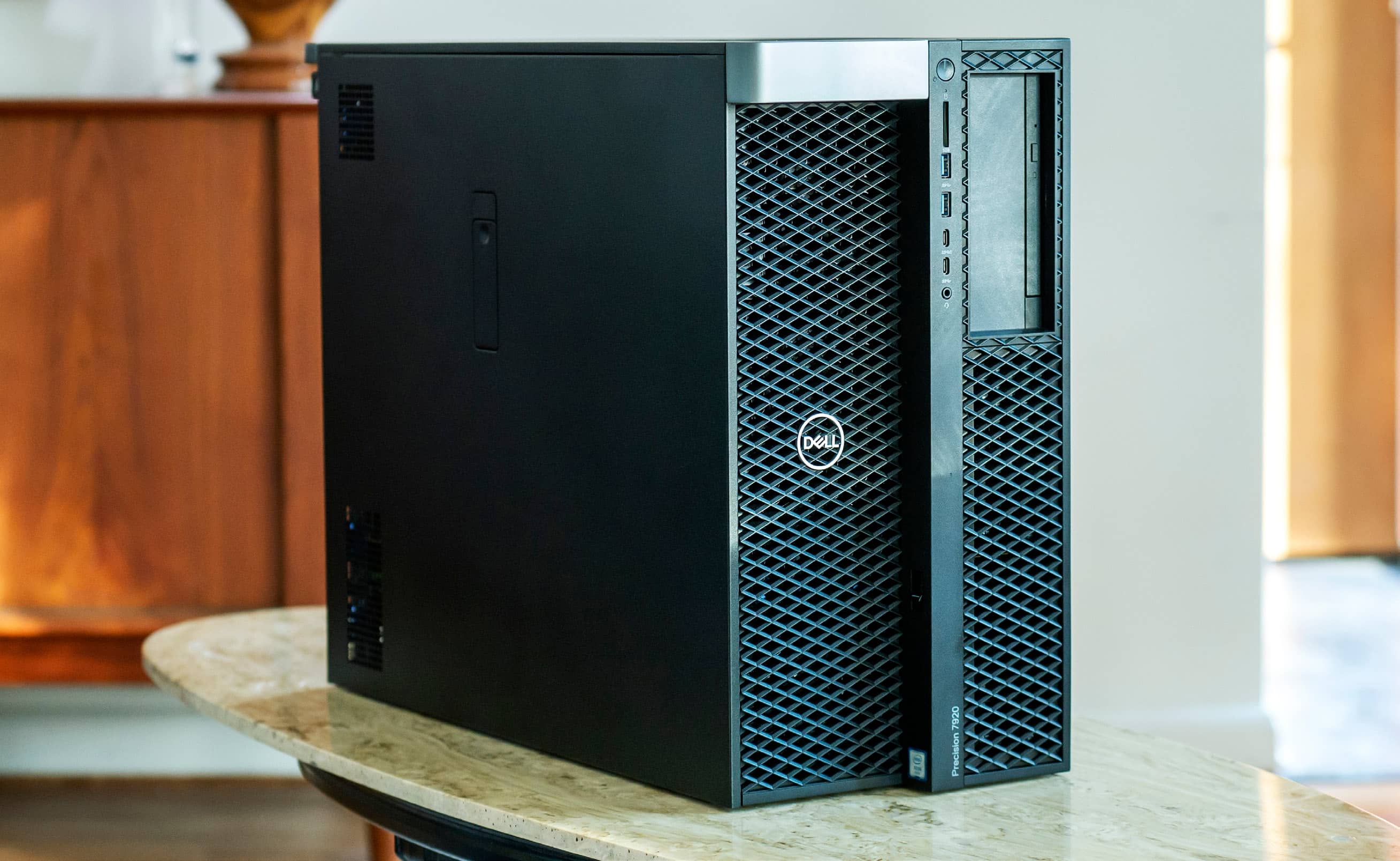 This tower's excellent front-panel connectivity includes a full-size SD card reader, two USB 3.1 Type-A ports, two USB Type-C ports, and an audio combo jack. The optional slimline DVD writer sits off to the right. A switch on the dividing line between the front panels releases the right-side grate for access to the four lower 3.5-inch drive bays. Each bay is populated with a 4TB SATA drive in my unit. Swapping drives is a toolless operation; simply press the release button and use the pop-out handle to slide out the caddy. Two fans behind the drive bays keep them cool.
The right chamber of the chassis is dedicated to storage drives and power. My Precision 7920 test unit has a 1,400-watt server-style power supply. For the ultimate in serviceability, it can be replaced in less than a minute without even opening the chassis. Pressing the release tab allows it to slide out. This power supply has no attached wires, instead plugging via a PCI Express-like connector into a power control board. The replacement simply slides in.
IMPRESSIVE INNARDS
A release latch on the left panel provides tool-less access to the Precision 7920's interior. The inside looks plain at first, since much of the action is hidden behind a plastic shroud that routes airflow over the CPUs and memory slots. Removing the shroud (which doesn't require tools, though it does require disconnecting a fan cable) reveals serious hardware.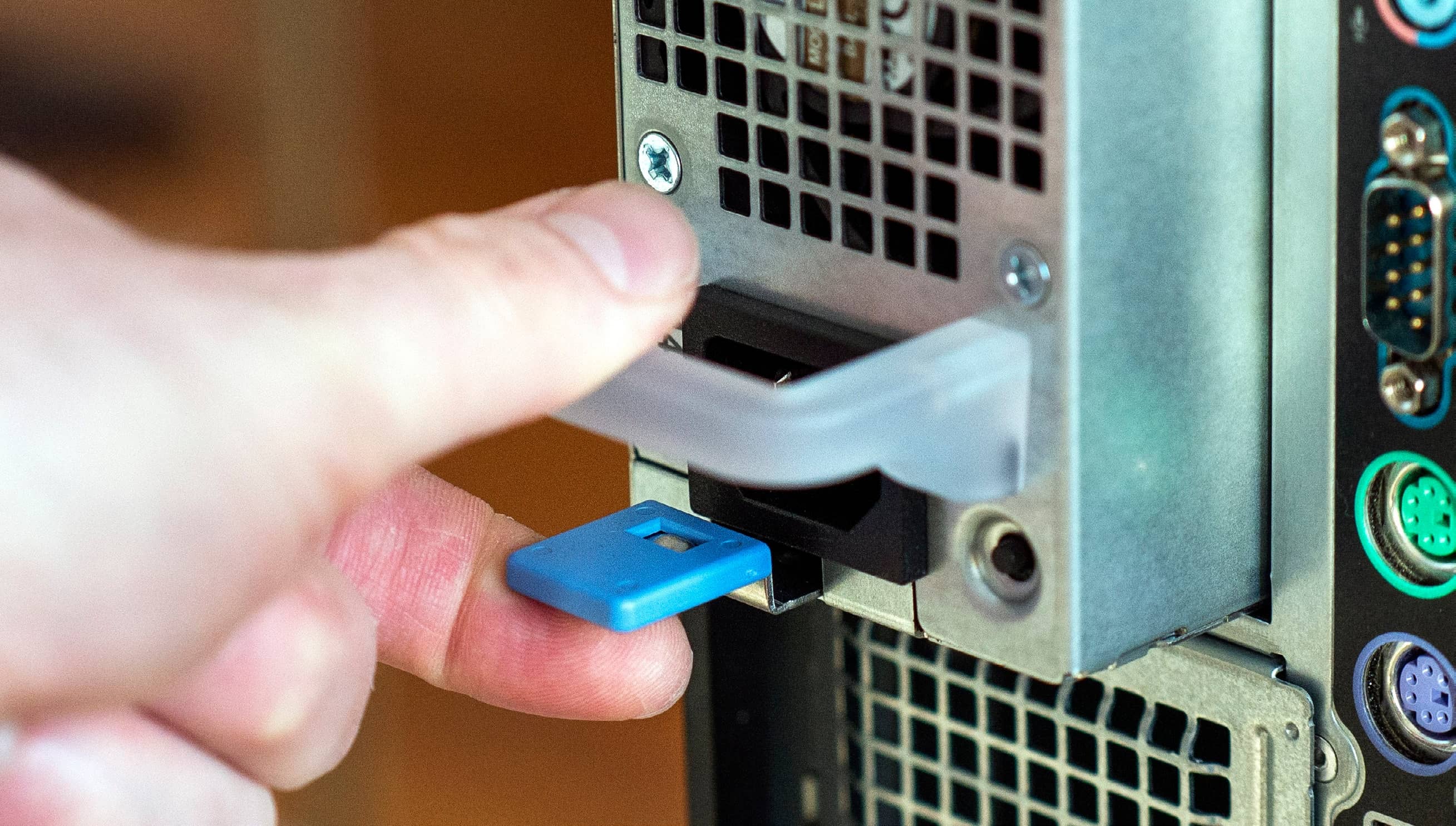 The server-style motherboard is massive, at about 16 by 16 inches, and covers almost every square inch of the interior. Dell prints a handy diagram of its ports, slots, and connectors on the access panel door. The tall, aluminum-finned CPU coolers sit between 24 memory slots, 12 of which are allocated to each CPU. The 96GB of memory in my tower consists of a dozen 8GB DDR42933 ECC RDIMMs running in six-channel mode.
You can read up to 3 premium stories before you subscribe to Magzter GOLD
Log in, if you are already a subscriber
Get unlimited access to thousands of curated premium stories and 5,000+ magazines
READ THE ENTIRE ISSUE
May 2020