Alienware Aurora R10 Ryzen Edition: A Performance Monster
Following a complete refresh of its laptop line this year, Alienware has revamped its Aurora gaming desktop in the same style.
The Aurora R10, which comes in a Ryzen Edition variant, is a performance beast as configured, thanks largely to its Nvidia GeForce RTX 2080 Ti graphics card and the brand-new AMD Ryzen 9 3950X processor. The latter is virtually unmatched in CPU-heavy tasks such as content creation, but while it's effective, it offers diminishing returns on gaming. We would recommend a less expensive chip for those who will be mostly gaming on this desktop, and Alienware's wide array of configuration options has you covered. With its striking and efficient case design and powerful performance, we can happily recommend the Aurora R10. If you're not set on the look, though, competitors such as the Maingear Vybe and Velocity Micro Raptor Z55 offer similar advantages.
BOLD SCI-FI STYLING
When I previewed the Aurora R10 earlier this year, I was taken by its sci-fi-inspired design. I think it's fair to say not everyone would want this desktop sitting in their living room or office. But despite its bold look, I like its vibe. Taste is subjective, but Alienware nailed a futuristic, spaceship-like style that wouldn't be out of place in the world of Mass Effect.
Our test model is the Lunar Light color—the only color scheme that Alienware offers with the vertical, LED-lit Alienware text on the side. It also comes in a color scheme called Dark Side of the Moon, which is, fittingly, a darker-gray palette. The front LED ring is customizable with 16.8 million colors on both models, and the backlit text on the Lunar Light model is also customizable.
So many desktops look the same or try for an overly aggressive design that it's nice to see a gaming desktop nail a unique and specific aesthetic vision. Clearly, some real thought went into it in terms of both engineering and visual design. And it matches the style of Alienware's redesigned laptop line, creating a unified, modern look across the company's PCs.
A SURPRISINGLY SMALL INTERIOR
The Aurora R10 chassis is moderate in size—and it could justify being bigger, considering the power inside. The chassis measures 18.9 by 8.8 by 17 inches (HWD), so it's not too tall or deep; it's thinner in front and widens toward the back. You'll see smaller desktops in this price and power tier: I would describe the HP Omen Obelisk as compact at 17.1 by 6.5 by 14.1 inches, and the Corsair One Pro is downright small, at 15 by 6.9 by 7.9 inches. There are also larger desktops with more traditional shapes (such as the Maingear Vybe and Velocity Micro Raptor Z55 mentioned earlier).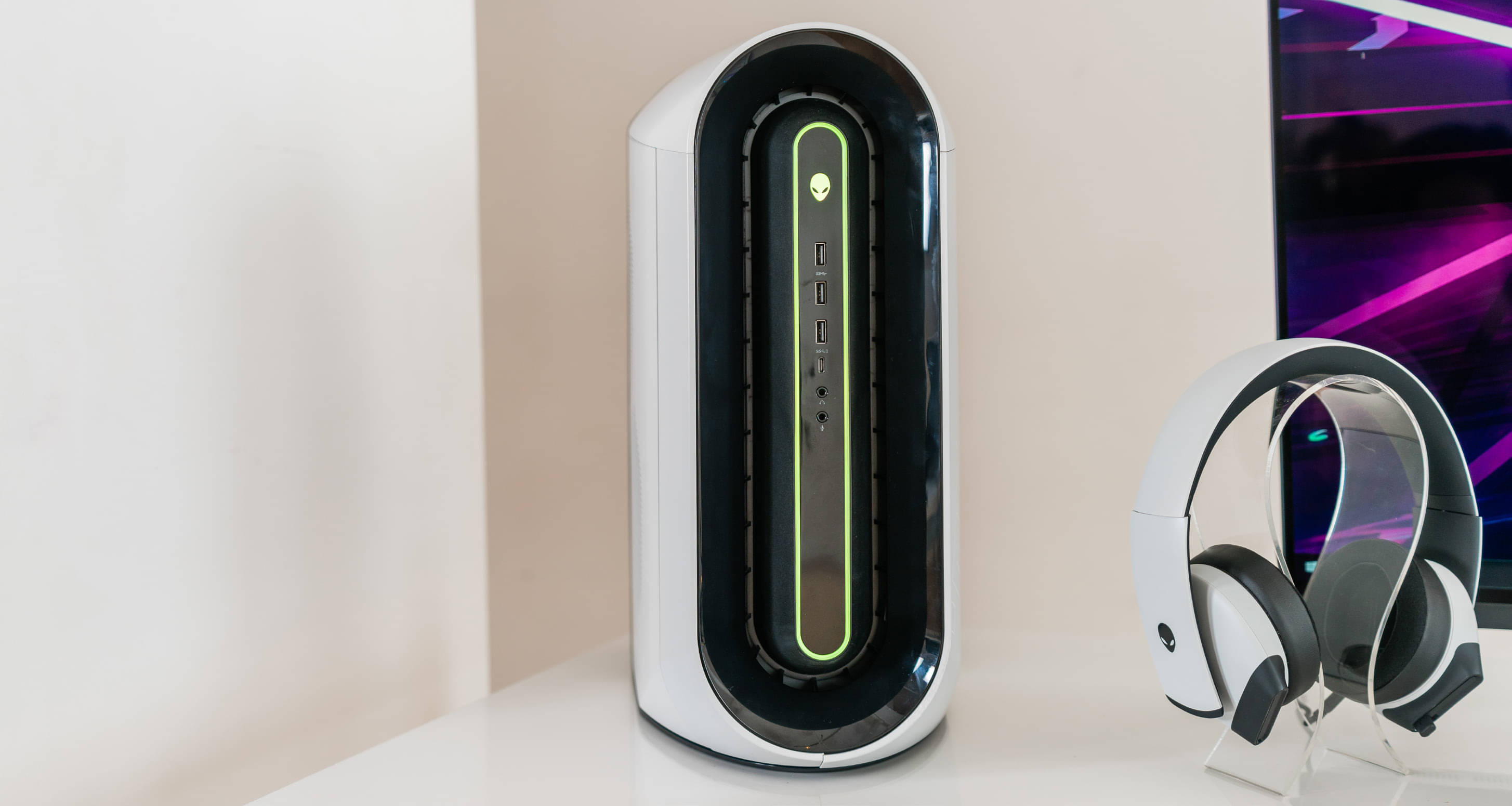 The left-side panel pulls away via a rear lever, so no tools are required to get inside the shell. With space semi-limited, Alienware got creative with the internals. We've seen this design before: The power supply is mounted on a swinging arm that locks into place. When locked in, it covers up access to the motherboard and other components, but unlocking two small rear switches lets you swing the arm out and away from the motherboard. You then get full access to the other internal components.
The interior is impressive in content but underwhelming to view. The layout with the arm is clever, and a lot of power is packed inside. But a datedlooking yellow-and-blue MicroATX motherboard is home to some function-first heat spreaders and basically no bells and whistles. (It is clearly new, though, based on the X570 chipset to support the platform's cutting-edge components and features such as PCI Express 4.0.) An Alienware-branded liquid cooler is installed over the CPU, with a 120mm radiator connected on the top panel. That's a surprisingly small radiator for this CPU, but it clearly works.
In fact, I would describe the whole interior as surprisingly small. As I said, the case isn't especially big, but the internal compartment makes up little of the entire case size. Several inches of "empty" space on the top and bottom of the chassis make it look like the components don't have to be packed so tightly. The top and side panels are used for ventilation, and the system runs quietly, so perhaps this free space is necessary.
PORTS, EXTRAS, AND CONFIGURATIONS
Rounding out the physical build are plenty of ports. Several are aligned vertically on the front panel, including three USB 3.1 ports, a USB Type-C port, and headphone jacks. Peripherals hanging from this panel look a little silly and mar the style, so I'd recommend plugging them into the rear ports. There, you'll find six USB 2.0 ports, four USB 3.1 ports, and a USB Type-C port, as well as an Ethernet jack and an array of audio ins and outs.
On the software side, a quick note on the aforementioned Alienware Command Center, which was rebuilt a few years ago to be the standard control panel for all Alienware PC products. It wraps all of the usual gaming software—gamespecific profiles, lighting options, audio settings, component tuning, system monitoring, and even a game library and launcher—into one program. Most useful for gaming, you can flip the PC's thermal profile among presets (five, ranging from quiet to full speed) and set overclock profiles to boost your graphics card. Command Center is one of the better, if not the best, of these built-in manufacturer software packages.
You can read upto 3 premium stories before you subscribe to Magzter GOLD
Log-in, if you are already a subscriber
Get unlimited access to thousands of curated premium stories and 5,000+ magazines
READ THE ENTIRE ISSUE
January 2020