HEAD TRIP
Double Fine takes our brains to another dimension in the psychedelic Psychonauts 2
The shock of the new is important to Tim Schafer. "The challenge when making a Psychonauts level is coming up with something that makes you feel like you haven't seen it in a game before," he says. In that regard, we'd say what we've played is a qualified success. It begins at a music festival called Feast For The Senses, and that's a tacit promise on which Double Fine fully delivers. Via a kaleidoscopic transition, we're transported to a woozy, substance-fuelled brain space that makes us feel lightheaded. With a psychedelic rock-inspired soundtrack noodling away in the background and shrewd use of chromatic aberration giving the world's angular lines and edges a fuzzy, soft-focus feel, it's a trip in more ways than one. But though we might not have been here before, at the same time there's an undercurrent of homecoming: a strange, comforting sensation that steadily washes over us. Now we feel transported in a different way, back in time to 15 years ago, and another game that took us to places where real-world rules no longer apply. Psychonauts 2 certainly does offer something new, but it also gives us something equally precious: more Psychonauts.
A degree of continuity is exactly what Tim Schafer and Double Fine are aiming for. Not least since the story begins pretty much where we left off – or exactly where it left off, if you played two-hour VR adventure Rhombus Of Ruin, which itself ran on from the end of the first game. "It's like the third day in this story," Schafer says. As before, we're controlling Raz, a former circus acrobat with psychic abilities who can astrally project himself into another person's mental world. The level we play kicks off at Psychonauts headquarters when Raz finds a brain in a jar abandoned in a storage room. "It's been alone for 20 years, which has caused it to shut down a little bit," Schafer explains. "So when Raz goes inside, he finds it's all blackness except for a tiny little mote of light who can't remember anything." To restore the memories of this brain, Raz finds a convenient body for it to inhabit, causing a flood of sensory information. As the frontman anxiously waits in the wings while a baying audience throws tomatoes at the empty stage, Raz must reunite the rest of the group – each member representing one of the five senses – before the crowd gets really angry.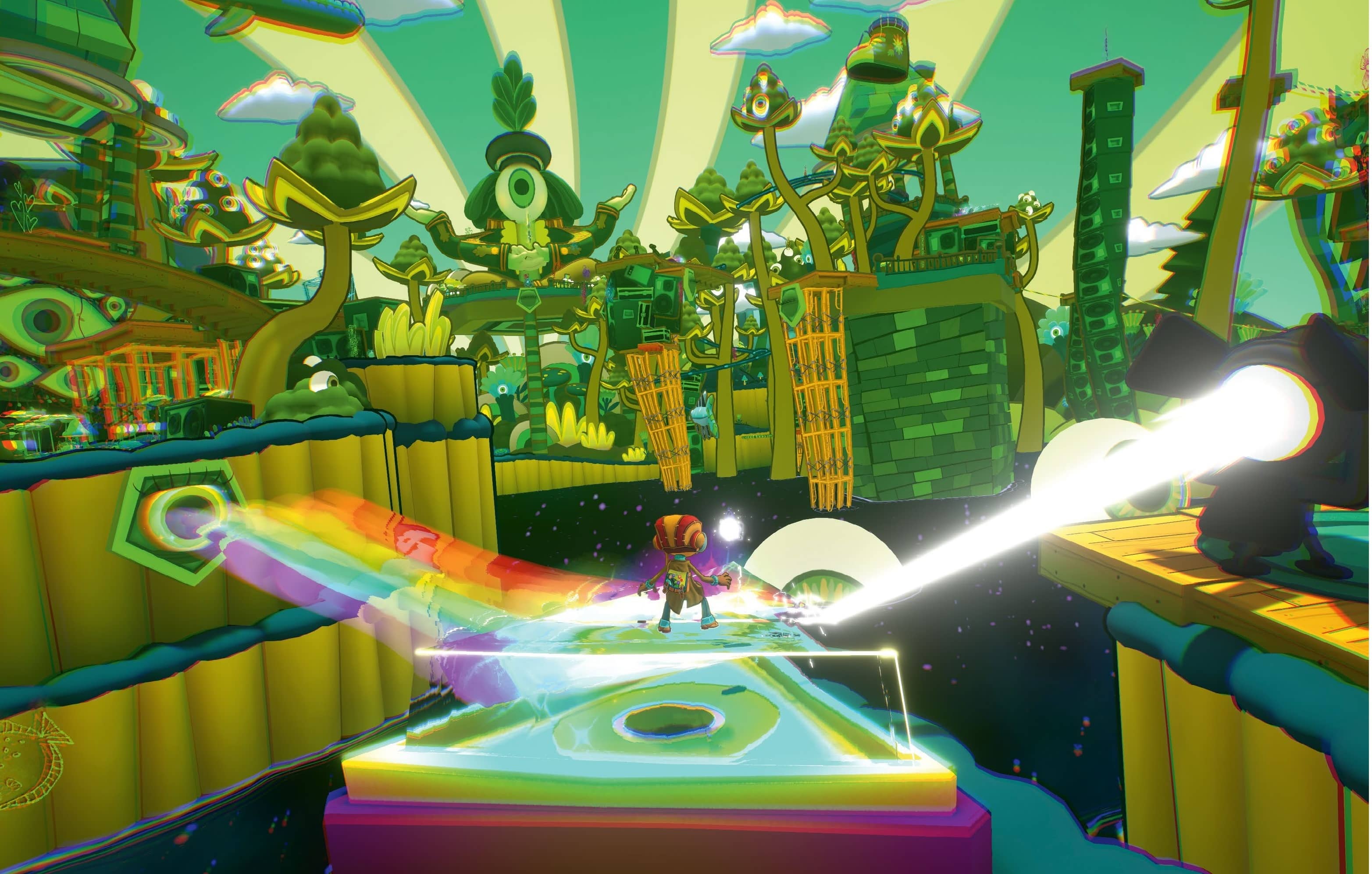 That suggests an urgency that's lacking from the first part of the equation at least, which involves frontman Vision Quest, a humanoid figure with a giant eye for a head. Naturally, we're soon subsumed into that same eye, and we emerge blinking into a green-tinged world of stacked amps, scattered microphones, spotlights and other stage props. Around those we find extended mic stands that double as grind rails as well as spinning fans, on which you'll find phrases like "perception is reality", alongside fish swimming through the air and – of course – clusters of mushrooms to jump across.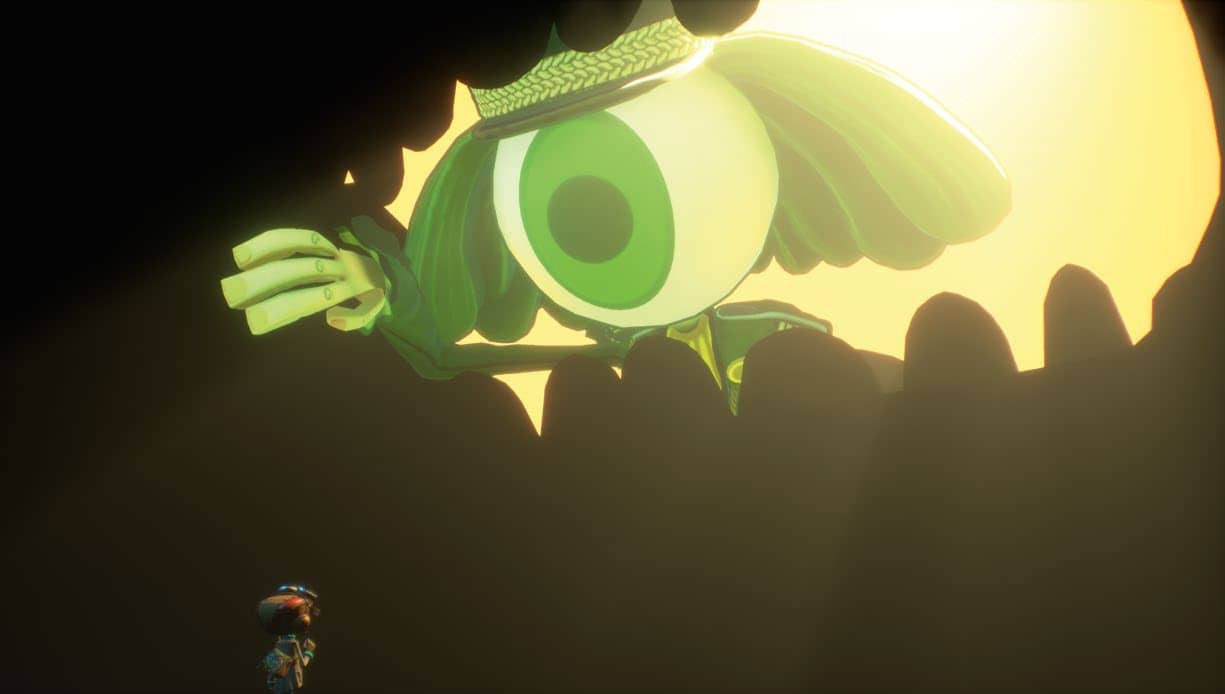 Even without stimulants it feels like a consciousness-expanding experience. What follows is, for the most part, an easygoing delight. It's quite early in the game ("Not the first level, not the second level," Schafer muses; "It's right in the middle – well, early middle.") and it's all fairly relaxed. The original game's Censors are present, those fragments of a person's psyche that try to maintain order in a chaotic mind. Yet as they scamper up with their little stamps, they seem more harmless than usual, and are easily dispatched with a swipe or two of Raz's basic melee attack. That there's little to be afraid of is in keeping with the mellow mindset of the host, naturally, but when we mention its lightweight challenge to Schafer – as an observation, not a criticism – he quickly insists that this won't be the case for every level. "It feels like the right amount of combat for where you are, just like, a little bit of it here and there. But it definitely ramps up throughout the game."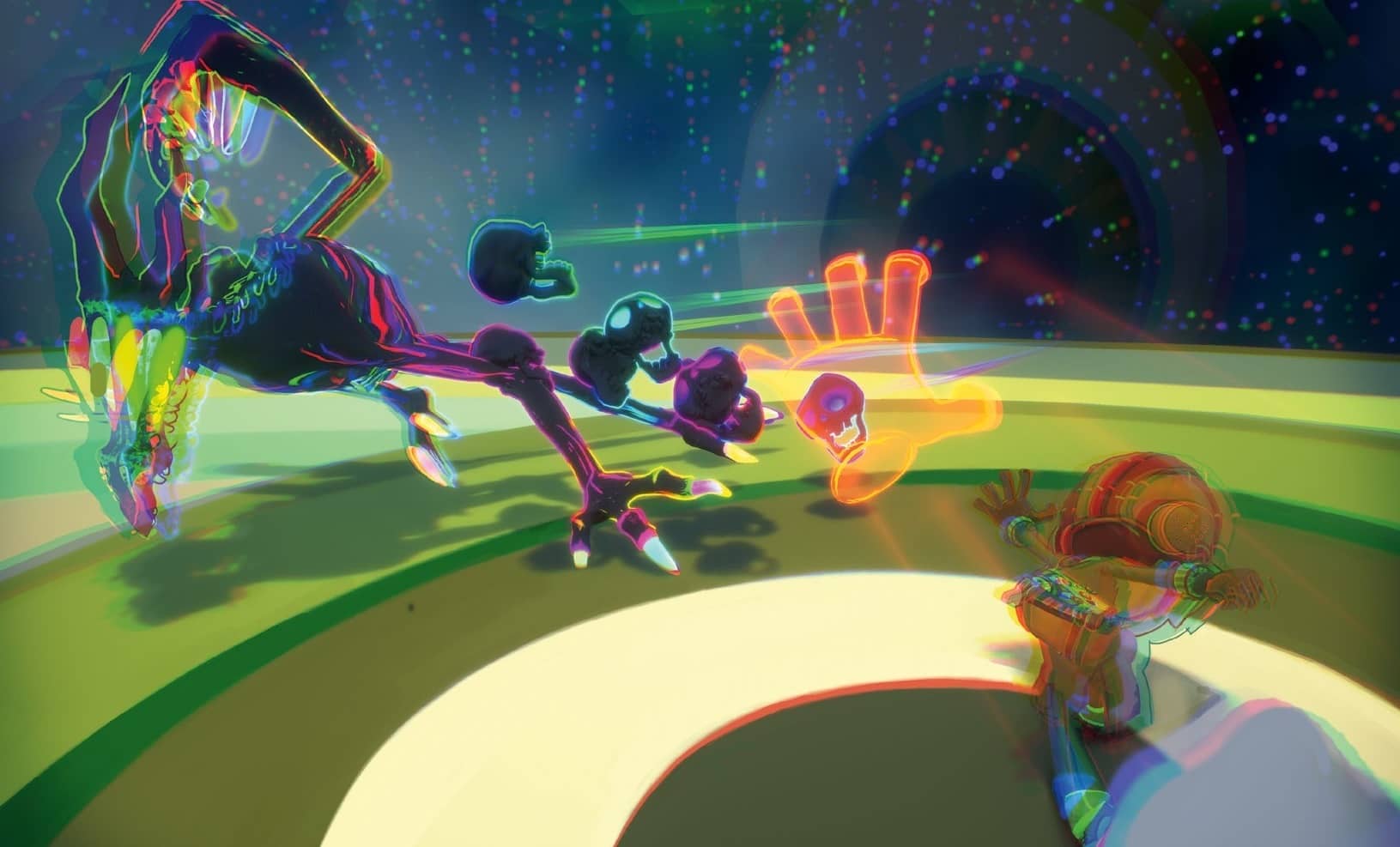 Here, instead, you can focus on exploring and platforming, which feels appreciably tighter than it did in the original – as, 15 years on, you'd hope it would. Raz still has several of his original Psi powers, which are bound to the bumpers and triggers, though there's little call for many of them here. Psi Float carries us across a few larger gaps that a double-jump alone isn't enough to reach, though some require use of a brand-new ability: Time Bubble. As your glowing partner explains, he's been alone for so long that time no longer has any meaning. "He basically has the ability to form time to his perception of it," Schafer explains. "Which, in practical terms, means you get to slow things down in the world." And so we use it on a rapidly spinning fan to leap between its blades while one of those flying fish becomes a stepping stone to a distant platform.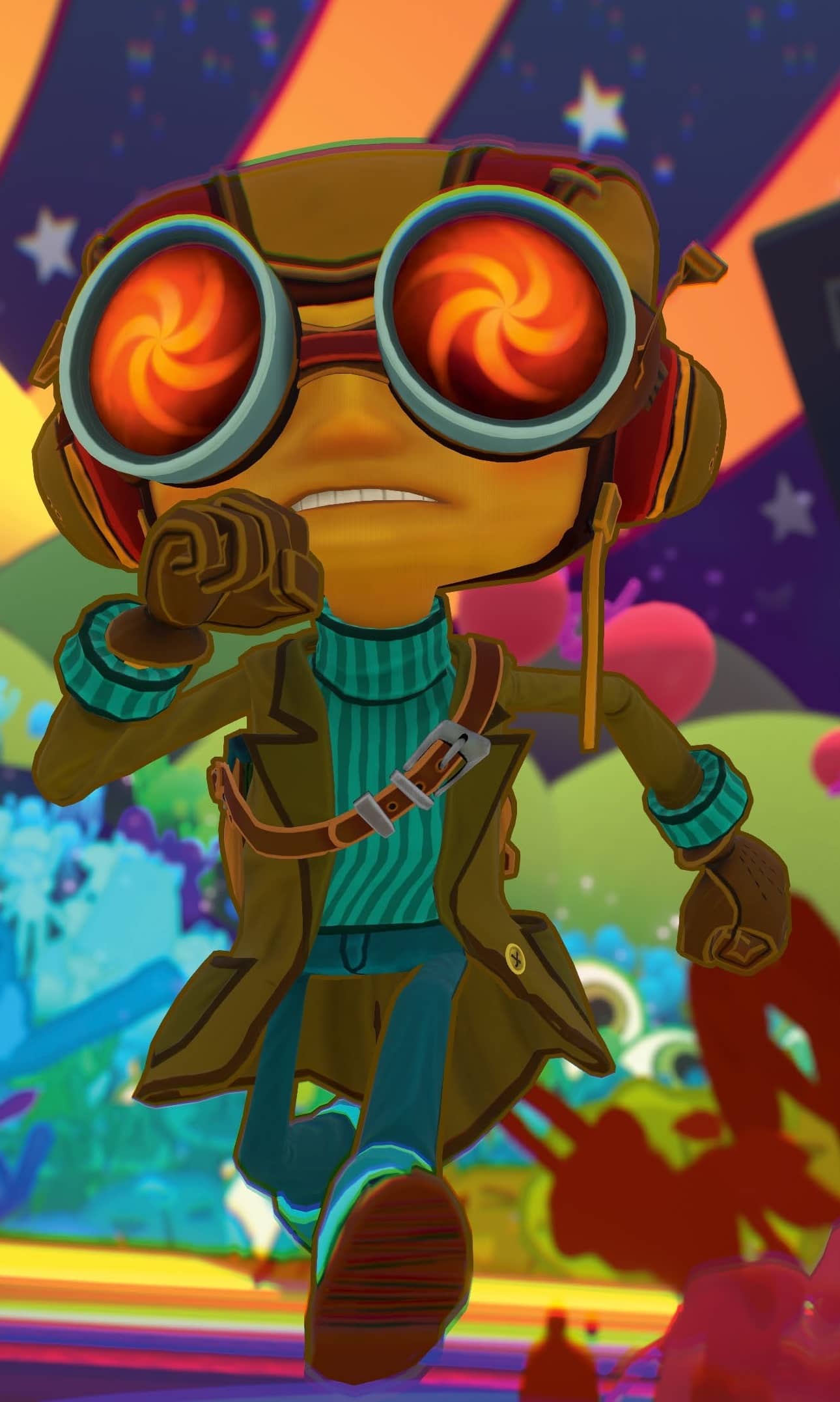 You can read up to 3 premium stories before you subscribe to Magzter GOLD
Log in, if you are already a subscriber
Get unlimited access to thousands of curated premium stories, newspapers and 5,000+ magazines
READ THE ENTIRE ISSUE
October 2020