SKINNER SIGHTS
Rifle|July - August 2020
MOSTLY LONG GUNS
In 2010, Andy Larsson purchased Skinner Sights and in the past decade has worked continuously to improve the design, quality and has developed many new products. Andy becoming the owner of Skinner Sights was a perfect match. For example, he has been a serious shooter and hunter all of his life and has won many Bullseye matches, including the Indoor Open Sectionals National Championship in 1998. Being a shooter, Andy knows what good sights are and what features are necessary to shoot small groups or take game in the field. Skinner is currently supplying aperture sights and a new ladder sight for Marlin Firearms, Henry and others.
Skinner offers too many sight variations to discuss them all, so here are a couple of the peep versions that I use most, along with the company's latest offering, a modern ladder sight that is handsome, fun and practical.
Skinner's most popular sight is what it refers to as the "Peep," which is offered in Reliable and Express configurations for Marlin Models 336, 1895, 1894, 39, etc. They are available for many other rifles that include muzzleloaders, Remington's 740 and 760 series, Henry rifles, Winchester's 94AE, Ruger's No. 1, 10/22 and American. Others include select Rossi models, along with Brownings, CZs and Thompson/Center.
The Express is a lengthened version of the Reliable. The former is lighter in weight and costs less, but the latter features greater distance between the mounting screws and spans the full length of the receiver top. It is visually appealing and has become especially popular. Both mount directly to the top of the Marlin receiver and correspond with the drilled and tapped holes that are normally used for scope mounting. The sight base is machined from solid bar stock, which along with the support of the Marlin flattop receiver, results in unusual strength and durability.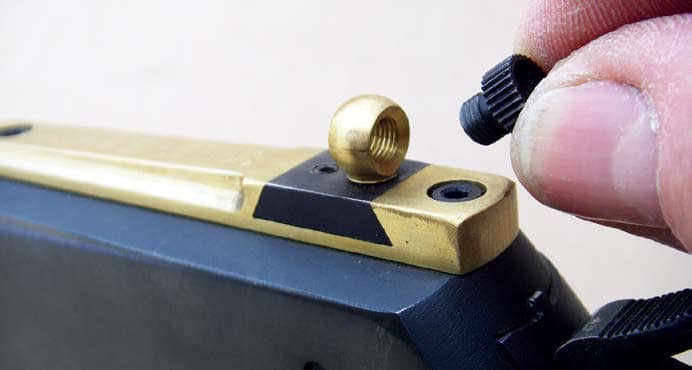 You can read up to 3 premium stories before you subscribe to Magzter GOLD
Log in, if you are already a subscriber
Get unlimited access to thousands of curated premium stories and 5,000+ magazines
READ THE ENTIRE ISSUE
July - August 2020