Ruger's Mini-14 And Mini Thirty
Rifle
|
January - February 2020
Handy Rifles that Get Better with Age
Development of the Ruger Mini-14 began in 1967, three years after the official U.S. adoption of the M16 service rifle, but it wasn't until 1971 that prototypes were built and tested. Production began in 1974, and the new rifle quickly gained popularity among sportsman, law enforcement and recreational shooters. It even caught the attention of U.S. military brass, particularly those who had battle experience with the M1 Garand and M14 service rifles. In the past 45 years the Mini-14 has undergone several design changes and improvements, which combined with tightened quality control has resulted in notably improved accuracy. Additionally, submodels and new calibers have been introduced to broaden its appeal.
The Mini-14 action is similar to the M14; however, there are significant design changes. The breech bolt locking principles and appearance are based on the M1 Garand design but scaled down to correspond with the .223 Remington/5.56 NATO cartridges. The receiver is investment cast, heat-treated and has proven to be especially durable. It contains a fixed piston gas system with a self-cleaning moving cylinder that effectively sweeps residue and unburned powder out with each shot. The firing pin retracts as the locking lugs begin to unlock. The trigger unit and detachable magazine design resemble that of the M14 rifle and share a similar takedown procedure that only takes a few seconds, without tools, is simple and allows easy cleaning.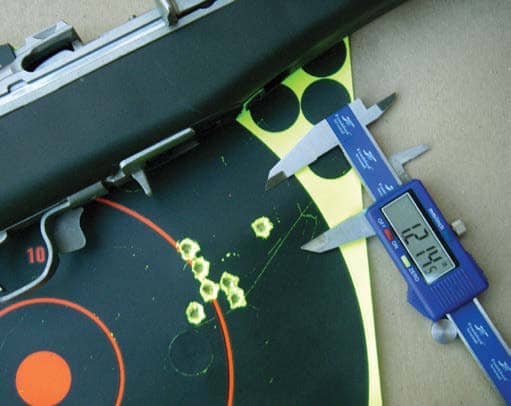 While space will not allow a detailed discussion of the Mini-14 design departures from the M14, suffice to say it is much more than a scaled down version. Rather, it has many improved features, including the important elimination of slam-fires. However, due to the overall function, it will feel more or less identical to the average shooter.
The original Mini-14 series had some shortcomings that are important to mention briefly in an effort to show how current variants are greatly improved. These comments are geared toward pre-Ranch Rifles produced from 1974 through 1982.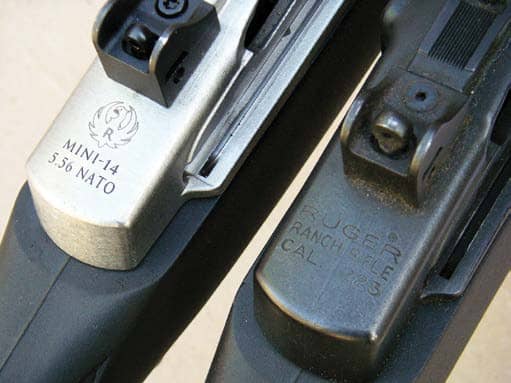 First, they were not really suitable for mounting a scope. Even if an aftermarket mount was installed, the Mini-14's gas system would destroy a quality scope within a few dozen rounds, or sooner. The aperture rear sight was less than ideal while the front sight was "unprotected." For several reasons, their accuracy was rather poor, with many rifles only producing groups of 4 to 5 inches at 75 yards; however most would stay within 3 inches with select loads.
The first major improvement came around 1982 with the introduction of the Ruger Ranch Rifle that was based on the Mini-14. A folding aperture "ghost" style rear sight appeared and the receiver was modified to accept Ruger's rugged integral steel rings (included with the rifle) to readily permit scope mounting. The gas system was also changed to feature a recoil buffer system to prevent damage to scopes. The ejection system was also reengineered to eject fired cases out the side to better accommodate scope mounting.
The next major change occurred in 2003 when Ruger made a significant overhaul to the Mini-14 product lineup. These changes began with serial prefix 580; the updated rifles began to ship around 2005. The overall styling was improved, including the stock; however, there was a great emphasis to increase quality while developing new manufacturing methods to help keep production costs down. The sights were improved to feature a non-folding aperture rear and wing-protected front sight blade mounted in a barrel band. The single largest emphasis was to improve accuracy.
You can read up to 3 premium stories before you subscribe to Magzter GOLD
Log in, if you are already a subscriber
Get unlimited access to thousands of curated premium stories, newspapers and 5,000+ magazines
READ THE ENTIRE ISSUE
January - February 2020