Ross Rifles
Rifle
|
January - February 2020
Exploring Rumors and Realities
In the 1890s a wealthy Scotsman, Sir Charles Henry Augustus Frederick Lockhart Ross, Ninth Baronet of Balnagown, developed a straight-pull bolt-action rifle he promoted both for hunting and as the ultimate military rifle. This was the early days of smokeless rifle powder, when the armies of the world were rushing to equip their soldiers with newfangled firearms.
Ross ended up in the U.S., where his first factory rifles were built in Connecticut; afterward some were also made in England. In 1897 Ross emigrated to Canada, and around the time of the Boer War of 1899-1902 (where he served as a lieutenant) the Dominion of Canada and Great Britain had a diplomatic spat. As a result, Britain refused to license the manufacture of Lee-Enfield .303s in Canada. In 1903 Ross persuaded Canada to accept his rifle, partly by offering to build a factory in Quebec City.
The Canadian Expeditionary Force used Ross rifles during World War I, and Britain also acquired some due to a shortage of Lee-Enfields. However, the Ross rifles proved unreliable in trench warfare, frequently jamming – and even when they did not jam, the bolt occasionally blew out of the rear of the action, maiming or killing soldiers.
Eventually the Quebec government took over the Ross plant, the last rifles appearing in 1918. Sir Charles wound up in Florida, according to one report sometimes wearing pajama pants in public (long before Walmart made them fashionable) before passing away in 1942.
For rifles that appeared relatively briefly and died notoriously, interest in Ross rifles still abounds, as does misinformation. Many shooters who have never read anything on the subject "know" a Ross should never be fired, since the bolts will randomly blow out of the action.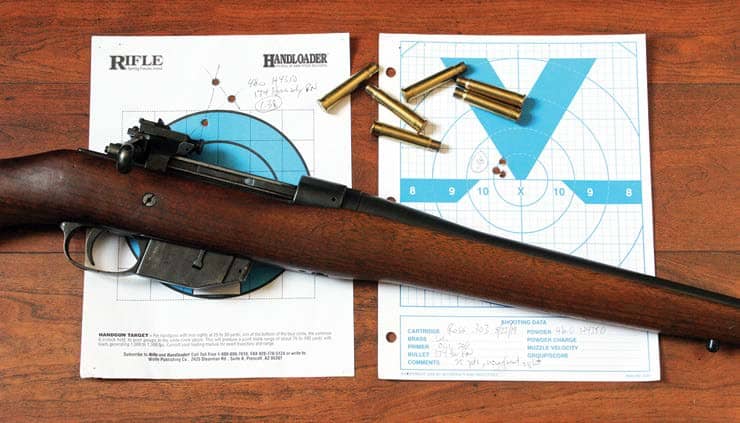 This primarily occurred with the very last model of Ross rifle, which was used extensively in World War I. It was indeed possible to take the bolt apart – say for cleaning during muddy trench warfare – then reassemble it wrong so it never locked yet could still fire. Eventually the problem was diagnosed, and many of the bolts were modified to prevent incorrect reassembly, but no, it was not an inherent and random flaw in all Ross rifles.
Many shooters also believe all Ross rifles were chambered for the .280 Ross, a rimless "magnum" that appeared in 1907 using bullets .287-inch in diameter. The .280 was the first commercial centerfire round to push bullets over 3,000 fps, but early jacketed softpoints did not hold up well to such velocities on big game.
The most famous instance firmly implanted the .280 Ross in hunters' minds: In 1911 George Grey was chasing lions on horseback in Kenya with several companions. Standard procedure was to ride after a lion until it turned and charged, whereupon the hunter would dismount and shoot the lion, quite sportingly.
Unfortunately, despite Grey using the straight-pull bolt to quickly shoot an oncoming lion twice, first at 20 yards and again at five, the bullets failed to penetrate and the lion mauled Grey so severely he died a few days later. Ross rifles and the .280 Ross cartridge thus became inseparable in the public mind.
However, a total of around 600,000 Ross rifles were built, but around 420,000 were chambered for the .303 British military round. These were mostly military rifles, though not all. Ross hunting rifles also appeared in .303, some stamped ".303 Ross," and target models also appeared in both .280 Ross and .303 British.
I knew some of this history before running across a Ross .303 in 2018 at Capital Sports & Western Wear in Helena, Montana. It was not a pristine "collector" rifle, but what turned out to be a somewhat mysterious mixture, modified after leaving the factory, perhaps more than once.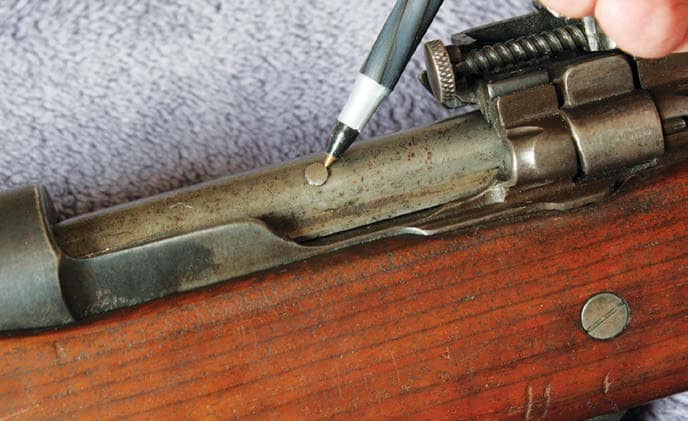 When discussing Ross rifles, which model designation is used often depends on whether the rifle is a military or sporting version – or the whims of the person doing the discussing. The Canadian military designation of the last version of Ross rifles, known commercially as the Model 1910, was the Mk. III. As a result, Ross enthusiasts often refer to sporting rifles as 1910s and military rifles as Mk. IIIs.
The rifle in Capital Sports appeared to be a "sporterized" military rifle, but the receiver ring is stamped "ROSS RIFLE COMPANY CANADA M-10 PATENTED."
You can read up to 3 premium stories before you subscribe to Magzter GOLD
Log in, if you are already a subscriber
Get unlimited access to thousands of curated premium stories, newspapers and 5,000+ magazines
READ THE ENTIRE ISSUE
January - February 2020