.44 Magnum Powders And Bullets
Handloader|August - September 2020
BULLETS & BRASS
Q: I am handloading for a Ruger New Model Super Blackhawk .44 Magnum with a 10.5-inch barrel. In selecting loading components and data, I would like to use Oregon Trail Laser-Cast, 240-grain SWC bullets with a target velocity of 1,000 to 1,200 fps.
My dilemma is that I have not found a load that appears to be compatible in any of the handloading reference materials that I have. In other words, their data is for much shorter barrels. What would the corresponding pressure be? Is there a general rule of thinking that guides in this case?
Now to my second question: I have a box of Hornady FTX 265-grain (part No. 4305) that I am hoping to use for hunting, but I may have obtained the cart before the horse because the overall length may be too long for this handgun no matter what. If that is the case, then the obvious choice to me would be to use the Speer 300-grain Plated SP or similar Hornady 300-grain XTP.
Can you suggest some points that I can use to get started correctly? I greatly appreciate your expertise and your articles. Thank you in advance for your assistance.
C. G., Klamath Falls OR A: Fully answering your first question would require a feature length article to discuss it with any degree of accuracy or reasonable insight. Interestingly, there has been very little data or information published on this subject. Suffice to say that when dealing with cast bullets (not applicable to jacketed bullets), common magnum revolver cartridges loaded with Alliant 2400, Accurate No. 9, Hodgdon H-110 and other powders with a similar burn rate, velocities will increase around 35 fps per inch of barrel.
Handgun powders with a medium burn rate, such as Alliant Power Pistol, Accurate No. 5, Hodgdon Longshot, etc., will produce a much smaller velocity increase per inch of barrel length. Fast burning powders, such as Alliant Bullseye, Accurate No. 2, Hodgdon Titegroup, etc., will show only small velocity increases with longer barrels.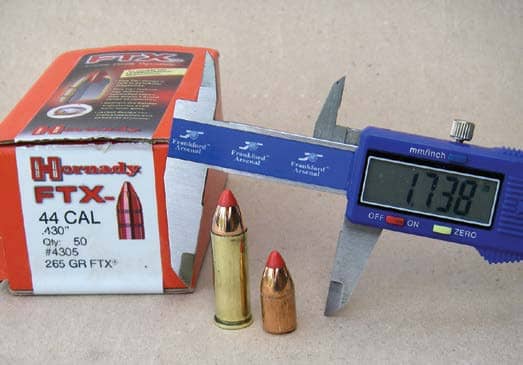 As to a load that will reach 1,000 to 1,200 fps from your Ruger with a 10.5-inch barrel with the Oregon Trail Laser Case SWC bullet, try 8.5 grains of Alliant Power Pistol for around 1,100 to 1,150 fps, 10.5 grains of Hodgdon Longshot for 1,200 fps or 11.0 grains of Accurate No. 5 for 1,100 fps. For best accuracy, use a standard primer such as the CCI 300 or Federal 150.
The Hornady 265-grain FTX bullet is designed for the .444 Marlin and features a nose length that is too long to work in most .44 Magnum revolvers. (It is noteworthy that .444 cases need to be trimmed to compensate for the longer nose of this bullet.) However, you can trim .44 Magnum cases to 1.210 inches, and crimp the FTX in its cannelure for an overall cartridge length of 1.738 inches, which is about maximum for the Ruger New Model Super Blackhawk – at least if allowing for some bullet creep during recoil and assuring reliability.
Should you opt for a 300-grain bullet, the Speer Plated SP has been discontinued. However, the Hornady XTP is an excellent choice for hunting.
I hope this information helps to get you "started," and good luck hunting.
You can read up to 3 premium stories before you subscribe to Magzter GOLD
Log in, if you are already a subscriber
Get unlimited access to thousands of curated premium stories and 5,000+ magazines
READ THE ENTIRE ISSUE
August - September 2020