Jesse James: The Birth of a Killer
True West|April 2020
Born into the Missouri-Kansas border war over slavery, teenaged Jesse James was destined to live a violent life.
The wails, the babble of words, the murmuring of the crowd suddenly stopped as two young men appeared. They stepped past the body, approached a town marshal who stood close by, and offered to surrender. They had killed this man, one of them declared, and now they expected their reward. The lawman looked at them in astonishment. "My God," he said, "do you mean to tell us that this is Jesse James?"
"Yes," the pair replied in unison.
"Those who were standing near," the reporter wrote, "drew in their breaths in silence at the thought of being so near Jesse James, even if he was dead."
Robin Hood or Hooded Bandit?
Jesse James was not an inarticulate avenger for the poor; his popularity was driven by politics—politics based on wartime allegiances—and was rooted among former Confederates. Even his attacks on unpopular economic targets, the banks and the railroads, turn out on closer inspection to have had political resonances. He was, in fact, a major force in the attempt to create a Confederate identity for Missouri, a cultural and political offensive waged by the defeated rebels to undo the triumph of the Radical Republicans in the Civil War. His robberies, his murders, his letters to the newspapers, and his starring role in ex-Shelby Brigade cavalry Officer John N. Edwards's Kansas City Times columns all played a part in the Confederate effort to achieve wartime goals by political means (to use historian Christopher Phillips's neat reversal of Clausewitz's dictum). Had Jesse James existed a century later, he would have been called a terrorist.
Terrorist? The term hardly fits with the traditional image of him as a Wild West outlaw, yippin' and yellin' and shooting it out with the county sheriff. But he saw himself as a Southerner, a Confederate, a vindicator of the rebel cause, and so he must be seen in the context of Southern "outlaws"—particularly the Klan and other highly political paramilitary forces. Even more important, he was not simply a puppet of John Edwards, but an active participant in the creation of his own legend. Edwards's glorification of the bushwhacker bandits only began after the publicity-minded James rose to leadership and began to demand attention on his own. An avid student of current affairs, he sometimes outdid his editor friend in his public attacks on the Radical Republicans (to Edwards's evident alarm). Was he a criminal? Yes. Was he in it for the money? Yes. Did he choose all his targets for political effect? No. He cannot be confused with the Red Brigades, the Tamil Tigers, Osama bin Laden or other groups that now shape our image of terrorism. But he was a political partisan in a hotly partisan era, and he eagerly offered himself up as a polarizing symbol of the Confederate project for postwar Missouri.
There remains, of course, the straightforward power of his story. His is a tale of ambushes, gun battles, and daring raids, of narrow escapes, betrayals, and revenge. Even his oddly alliterative name seems to have been conjured up by a novelist of overripe adventures. But an accurate understanding of his world can only add to the drama. When we look at his life in its proper setting—if we see it as did that crowd that held its breath around his body on Thirteenth and Lafayette—we see that the life of Jesse James was as significant as it was thrilling.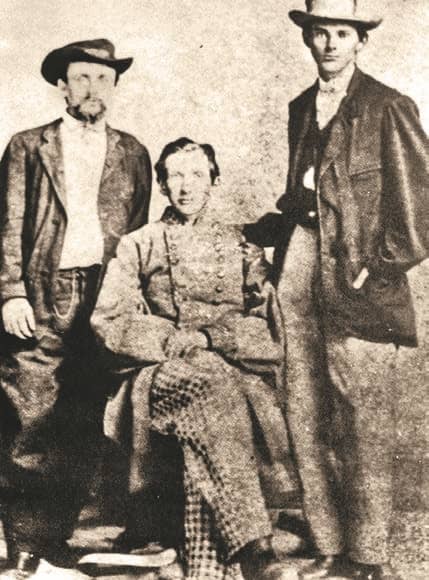 Clay County Plowboy to Missouri Marauder
You can read up to 3 premium stories before you subscribe to Magzter GOLD
Log in, if you are already a subscriber
Get unlimited access to thousands of curated premium stories and 5,000+ magazines
READ THE ENTIRE ISSUE
April 2020