THE BEST TURBO EVER?
Motor Trend|July 2020
HYPERBOLE ASIDE, WE WEREN'T EXPECTING THIS
"So, back and to the left, as Jonny does. He had just driven the 992-generation 2021 Porsche 911 Turbo S to our photo location on Los Angeles' favorite twisty bit, Angeles Crest Highway. He lives a few miles from the base of the hill, so he knows this stretch of road by heart.
"Unreal! How did they do that? It's a blend of what the 991.2 Turbo S was and a GT3 RS," I said. "It's sharp, delicate, precise, talkative, but fast, too. I wasn't expecting this at all. This is a driver's car."
"Yeah," Jonny said. "This car should definitely be headed to our 2020 Best Driver's Car." What was I expecting? Before driving the new Turbo S, I had blasted up ACH and arrived at that turnout in a 992 Carrera 4S, grinning and giggling the whole way up. That version of the 911 has a fluidity and sense of always being there for you. It's a lovely driving partner, cornering as fast as you dare and able to build and shed speed with confidence. The C4S and Turbo S both come armed with carbon-ceramic brakes, rear-steering axles (both optional on the Carrera), and all-wheel drive, but that's where the similarities end.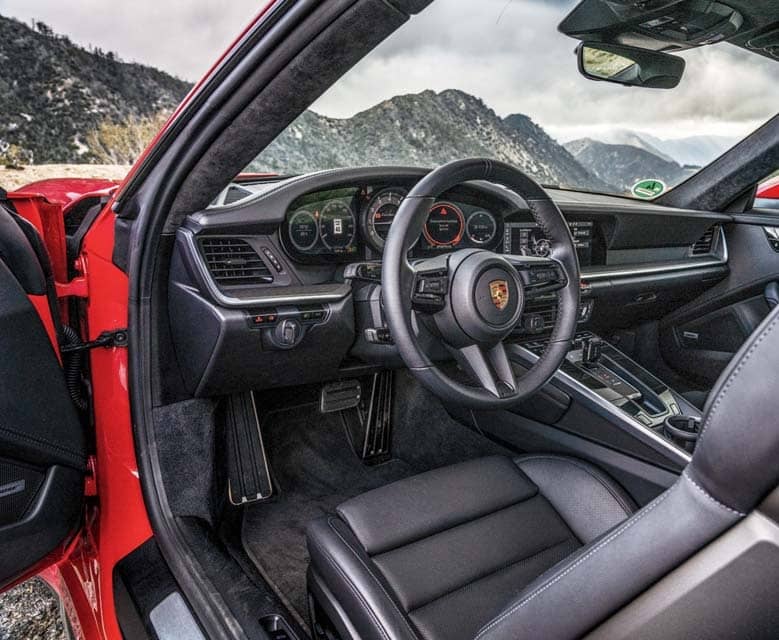 Climbing into the Turbo S, I was expecting that same C4S hand-in-glove experience. But with 200 more hp (197, if you want to get technical), the Turbo provides an added urgency that erases straightaways. But there's so much more to a Turbo S than squirt-between-corners acceleration. It's as if during its development, the Turbo spent time in Flacht before being released into the wild.
Flacht, for those who don't know, is the state-of-the-art motorsport complex adjacent to the main Porsche development center in Weissach, Germany. It's where every Porsche race car and also the hardcore, lightweight, track-intended GT2 RS and GT3 RS versions of the 911 are born.
My instincts turned out to be correct. Frank-Steffen Walliser, who was responsible for GT racing at Porsche, became head of the 911 and 718 model lines in 2019. In an interview, Walliser explained the balancing act and ultimate priority of the 911 Turbo: "Day-to-day usability, for sure. This quality distinguishes the 911 Turbo from all other high-performance sports cars. At the same time—and this was the second development goal—it has to render you speechless from time to time."
You can read up to 3 premium stories before you subscribe to Magzter GOLD
Log in, if you are already a subscriber
Get unlimited access to thousands of curated premium stories and 5,000+ magazines
READ THE ENTIRE ISSUE
July 2020