THE RIPSAW
A DURAMAX-POWERED LUXURY TANK BUILT FOR ANY TERRAIN
Thousands of off-road enthusiasts hit the desert, the trail or head up the mountain every day, but how many do it in a tank? The answer is very few. Better yet, how many do it in the fastest tank in existence? Only one that we can think of. It's called the Ripsaw by its manufacturer, the Twister by its owner, and it's practically unstoppable. Developed by Howe and Howe Tech (now under the Textron umbrella), the Ripsaw EV series platform was originally designed for military use, but has been available in consumer-based form the past several years. As for this civilian version's off-road performance, it doesn't stray very far from those initial battle-ready roots or in its offroad capability. With nearly two feet of ground clearance, 16 inches worth of suspension travel, 112-inches of track on the ground, a diesel-fired Webasto heating system, and an 800hp Duramax capable of propelling the 6-ton mini-behemoth to 65 mph, it's the ultimate play toy.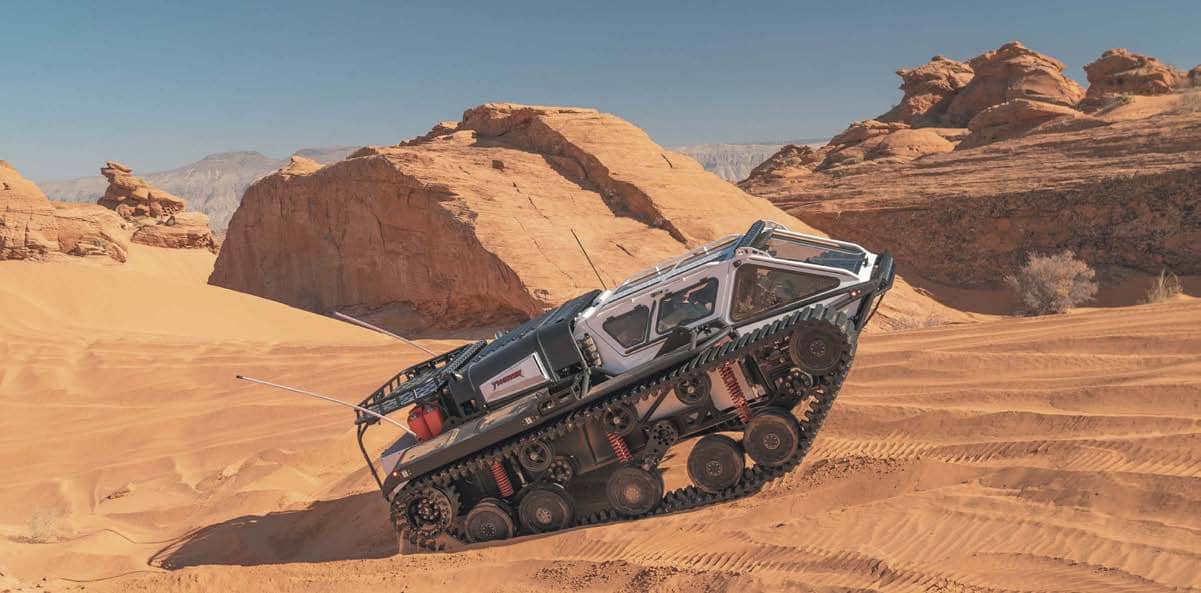 THE RIPSAW'S 800HP HEART
How exactly does this near-12,000-pound tank feel so light on its feet? It starts with the 800hp 6.6L Duramax Engineering, a company that's long familiarized itself with high-horsepower versions of GM's common-rail V-8, the Duramax is overbuilt in virtually every way. Carrillo rods, valve-relieved, 15.5:1 compression Mahle pistons, and one of its Stage 1 camshafts reside in the shortblock. Above the head gaskets sit a set of PPE's Stage 1 heads, complete with CNC porting, a 5-angle performance valve job, and beehive valve springs.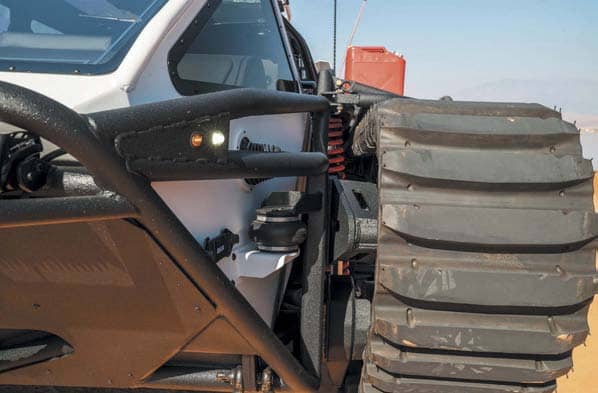 SINGLE TURBO & DUAL FUELERS
A single Garrett turbo is tasked with building boost for the engine, and a ball bearing center section aids its responsiveness. Compressed air routes through an application-specific intercooler, fabricated by Ron Davis Racing, before entering the heads. A duo of CP3's ensure rail pressure is maintained at all times thanks to PPE's Dual Fueler system, with ported fuel rail fittings and one of the company's race valves also being part of the equation. Oversized injectors built to PPE's specifications conduct in-cylinder fuel delivery. A stand-alone engine harness handles communication duties, while an Xcelerator Hot +2 ET Race tuner holds the key to overall power output, with seven custom-tailored ECM calibrations to choose from.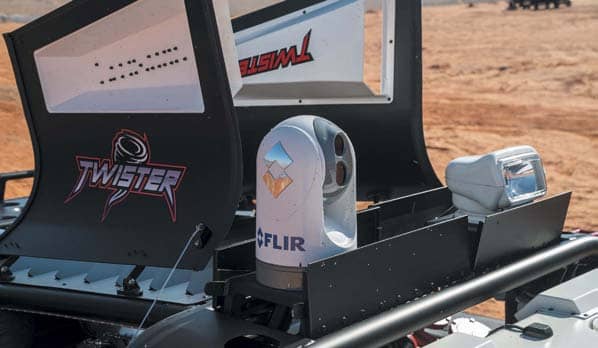 BATTLE-READY TRANSMISSION
You can read up to 3 premium stories before you subscribe to Magzter GOLD
Log in, if you are already a subscriber
Get unlimited access to thousands of curated premium stories, newspapers and 5,000+ magazines
READ THE ENTIRE ISSUE
August 2020