Search For AN-32: The Heroes With Climbing Gear
Everester Taka Tamut and his friends endured all kinds of hardship in an effort to rescue the personnel on board the AN-32 aircraft.
On June 3, 2019, all regional media TV reports focussed on the news of the missing AN-32 aircraft. With 13 air personnel on board, it took flight at Air Force Station, Jorhat, Assam and was en-route Mechukha. The disappearance of the routine flight caused quite a buzz, because experts couldn't figure out the reason behind the same.
During the three week long rescue mission, a remarkable story of human endurance, heroism, and courage was brought to the limelight. Mountaineer Taka Tamut showcased the goodness in people, and the lengths some will go to save lives.
June 6: The Decision
Taka Tamut, a civil engineering graduate and an adrenaline junkie was at the Miao adventure camp when he came to know about the crash through a viral message on Facebook and Whatsapp. 'The next morning, I grabbed a newspaper where it was reported that the IAF plane's wreckage could not be located, even after three days of the disappearance.' He immediately contacted another mountaineer, Tagung Tamut, who he met at Miao and rushed back to Itanagar. They went to the Director of Youth Affairs office and collected three climbing ropes.
Without any monetary aid from the Department of Disaster Management or from any other government source, Taka spent all of his 4Ì€0,000 (allowances) received during the Miao training camp to purchase basic climbing equipment for at least 5 mountaineers. By evening, the duo reached Pasighat and alerted DC, East Siang District, Rajiv Takuk about their willingness to participate in the rescue operation. That same night, they travelled to Roing to get two sets of binoculars from a friend and then drove back to Pasighat.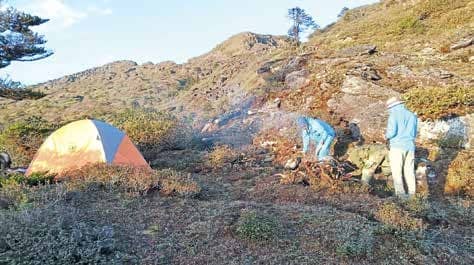 By now, the disappearance of the plane has led to a host of theories, and no one could say for certain where the plane crashed, and whether there were any survivors.
June 7: Gearing up for Rescue
Next morning, Taka and Tagung set out for Kaying. ' Kishon Takseng,an Everester himself, and mountaineers Talik Darung, and Okena Mize were waiting for us there. On our way, we dropped a letter at DC Siang PA office, Boleng, intimating the authorities of our decision,' informed Taka. Around noon, Taka and Tagung reached Kaying and were accompanied by five local porters carrying food, and equipment required for the trek, deputed by the DC, East Siang.
Meanwhile, at Kaying Army Camp, the mystery behind the missing AN-32 aircraft continued to baffle the Army, IFS and district administrators who have been searching the left bank of Siyom River for five days. However, Taka brought a much-needed fresh perspective to the rescue during a meeting with the IAF later in the evening. Acting on inputs provided by locals and ESC, Kaying, he theorized a new search area of manageable size, with a reasonable chance of success.
'As per local sources, it was made clear that the AN 32 could be in the complete opposite direction from Tato, a circle in Shi Yomi district, where the IAF investigators have been searching,' Taka shared. 'The IAF search team apparently misunderstood that the aircraft turned towards the left bank, where despite engaging all of its available manpower, including locals, they could not find the whereabouts of the aircraft.'
Continue Reading with Magzter GOLD
Log-in, if you are already a subscriber
Get unlimited access to thousands of curated premium stories and 5,000+ magazines
READ THE ENTIRE ISSUE
September 2019