Malls are doing everything they can to engage children this summer vacation. Here is a roundup of some of the most engaging activities across regions…
Community Connect At Junction Mall, The City of Joy
Some malls have taken a giant step forward when it comes to displaying a platform for promoting events. Such is the case of Junction Mall, Kolkata wherein promotional and innovative activities were held recently. An event titled, POILA PARBON - "celebrating 1st", was organized mainly as a "Community-Connect" with its denizens. The entire set-up, event planning, creatives for the campaign and the overall decor plan was executed keeping in mind the upcoming Bengali New Year ahead. Over and above, special attention was given to Bengali traditional fashion shows, dance performances, recitations from the past years, Bengali folk bands and a Celebrity folk performance referred as Baul was performed for the general public. These performances have said to bring out the real enthusiasm from the audience and they look forward to seeing more of it in the years to come.
A whopping 4.5 lakhs was the total cost involved in organizing this festive themed event, of which 2.75 lakhs was spent just on the decor segment. It was created by the local artists to imbue an actual flavor of the regional festival and to imbibe a sense of belongingness.
Anchors, Ethnic Fashion Brands, Footwear, F&B were some of the retail players that got recognization for their work during this period.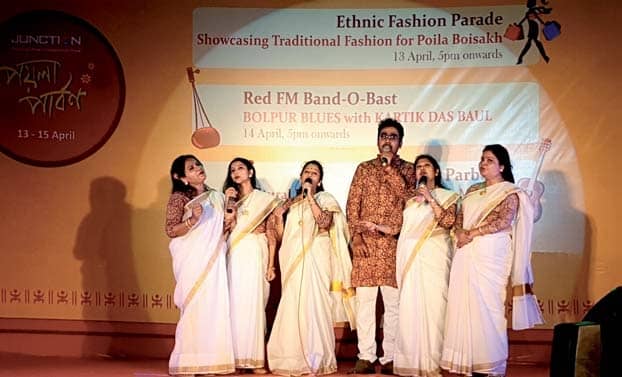 'Asli Happyness Wala' Sale kick starts at Seawoods Grand Central Mall
Continue Reading with Magzter GOLD
Log-in, if you are already a subscriber
Get unlimited access to thousands of curated premium stories and 5,000+ magazines
READ THE ENTIRE ISSUE
July 2019
Malls & Warehousing: Chennai Cracks The Code
Shopping Centre News
Shopping Malls In Turkey On The Radar Of Asian & Arab Investors
Shopping Centre News
KW Delhi 6: An Essence Of 'Freedom Shopping'
Shopping Centre News
Indian Malls: Selling Experiences To Engage Consumers
Shopping Centre News
Viviana Mall Increases Rooftop Solar Installation Capacity
Shopping Centre News
Tracking Investments In The Indian Retail And Real Estate Sector
Shopping Centre News
Malls Awe Visitors With Installations That Are Works Of Art
Shopping Centre News
MALLS HIRE MANAGEMENT TEAMS FOR END-TO-END CONSUMER EXPERIENCE SOLUTIONS
Shopping Centre News
INDIAN REITS – WHERE THEY ARE NOW (AND WHERE THEY NEED TO GO)
Shopping Centre News
HAPPY PLANET: DESIGNING BEST FEC EXPERIENCES FOR CONSUMERS
Shopping Centre News
Calendar 2019-2020 - Fall/Winter
Where Tucson
8 Great Things This Month
Where Miami
10 Great Things This Month
Where New York
Vancouver - The Ideal Venue For Eco-friendly Events
Global Traveler
10 Of The Best Fireworks Events
Berkshire Life
Digitising Power For Future-ready Plants
Manufacturing Today
Networking Advice That Works
Her World Singapore