Expats' Guide to Renting in Singapore
Ready to rent an apartment in Singapore? Feeling a little overwhelmed by the steps and paperwork required? Hang in there! This handy primer will get you sorted.
Mizah Salik andTara Barker
1 Prepare the Essentials
Before diving right into the househunting, it's essential to prepare necessary documents for your trusted realtor. You'll need a photocopied passport, photocopied employment pass, and at least one month's rental for the "good-faith deposit".
2 Find a Trusted Realtor
You just need one because most property companies share the same database of property listings in Singapore. If you approach many realtors at the same time, they may show you the same property. It also helps to have a list of "must-haves" and "don't-cares".
If you want an open balcony and space of at least 800 square feet, but are not concerned if there's a swimming pool or an incondo gym, say so up front. You can often check apartment sizes and specs online via websites before visiting with the realtor, and before you even go see a place, ask about how many of the must-have's it has.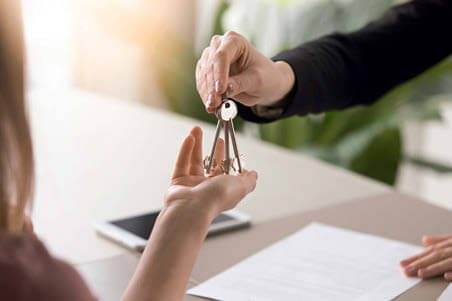 3 Decide Your Type of Home
Housing & Development Board
HDB (Housing & Development Board) flats are government-built apartments. Some 80 percent of Singaporeans live in HDB housing – and now foreigners and expats can also rent some of the units.
One major benefit is having great facilities close by, such as shops playgrounds and medical clinics. You'll also get to experience Singapore life in a very real way, from enjoying festivals and food, to shopping at bustling local wet markets Many modern HDB flats are also as gorgeous outside and inside as any private apartment, equipped with modern fitments, and yet be more economical to rent.
Cluster Houses and Condominiums
Combining privacy and spaciousness of landed properties, cluster houses offer security and facilities such as swimming pools and gyms. Condominiums, on the other hand, offer the same gated community and amenities, but with the enjoyment of living life in high-rise units instead.
Conservation Homes
Indulge in the rare chance to live in Singapore's iconic shophouses. You'll be able to spot these quirky and colourful rows of houses scattered across conservation areas in Singapore. These buildings are preserved by the authorities to maintain its rich architectural style and historical value. To maintain the ambience and physical character of the districts which most of these buildings are located, strict conservation guidelines have been put in place.
Black and White Houses
Continue Reading with Magzter GOLD
Log-in, if you are already a subscriber
Get unlimited access to thousands of curated premium stories and 5,000+ magazines
READ THE ENTIRE ISSUE
Issue 299
A Touch Of Class
The Finder Singapore
Eating Is Believing!
The Finder Singapore
Best Of The Boutiques
The Finder Singapore
Asian Treasures
The Finder Singapore
5 Best Local Artists In Singapore
The Finder Singapore
Timelessly On-trend
The Finder Singapore
World-Class Gastronomy
The Finder Singapore
The Perfect Travel Service
The Finder Singapore
12 Places Perfect For A Lazy Day And A Mimosa
The Finder Singapore
Nurturing Young Minds
The Finder Singapore
Millennial Money: Make Renting Work For Your Financial Goals
AppleMagazine