Marcia LANGTON - SAINT OR SINNER
The Australian Women's Weekly|July 2020
She's gone to war with Andrew Bolt, been criticised for cosying up to right-wingers and miners, and she's changed the face of Australia. Samantha Trenoweth gets personal with Marcia Langton.
Marcia Langton is chic. Black leather jacket, knee-length skirt, musk-pink scarf, trainers and that curtain of silver-white hair that falls across eyes that have rings like Saturn, from brown through green to blue. She cuts a striking figure, standing in the MCA cafe, Sydney Harbour sparkling behind her, drawing friends, colleagues and extended family into her orbit until tables have been pushed together and a long, animated lunch is in progress.
Love her or hate her, for 40 years, Professor Langton AO has been a formidable and controversial force in Australian public life. We're used to seeing her on television, despatching critics with a lethal mix of academic rigour and withering scorn. I jumped in a cab this morning, expecting a quick and potentially intimidating interview with one of Australia's most incisive thinkers. I was not expecting this glorious gathering of friends, nor Marcia's warmth radiating at the centre of it.
"I'm glad you're seeing me in this context," she says when we finally find a quiet moment to chat. "You're seeing the real me."
Though I suspect the real Marcia Langton is a complex package.
The great-great-granddaughter of survivors of the frontier massacres and a descendant of the Yiman people of central Queensland, Marcia inherited generations of personal grit and fortitude. She was born in 1951 in Brisbane, and lived there until her mother, Kathleen Waddy, married a Korean War veteran, Douglas Langton.
"He was a severe alcoholic, clearly had a very bad case of PTSD and was a totally unpleasant person," Marcia reports matter-of-factly.
"We travelled through south-west Queensland," she recalls. "I counted up once that I went to nine primary schools altogether. The schools were horrible, racist hellholes. The teachers were the kind of people who still advocated killing Aboriginal people," and the kids weren't much better. In the little town of Dirranbandi "all the kids from school chased me home and threw rocks at me".
Marcia found the safest place to avoid the rock throwers and her stepfather was the library.
"Nearly every town had a library," she says. "I was usually the only reader. The librarian would let me get a book and I would sit at the table. Occasionally I was allowed to take a book home, and then I would find a really quiet place, like I would climb a tree and read up there."
From time to time, at school, there was a lesson about "Aborigines". "At first, I thought, who are these Aborigines? I've never met any Aborigines like that?" Marcia laughs. "It took me a while, then eventually the penny dropped. It was me!"
All the Aboriginal people she knew in regional Queensland lived in camps on the outskirts of towns, including her great aunt Teresa and her grandmother, Ruby, whom Marcia adored.
"I felt very close to them both," she says. "They were classified as domestic servants but they'd worked on stations all their lives, and they did really hard rural work. It was a tough life and they were victims of the most awful racism."
"I grew up the old-fashioned, hard way," Marcia adds. She spent time in an orphanage, living in a tent on the edge of Brisbane and in camps. Some of those memories are difficult, but others she treasures.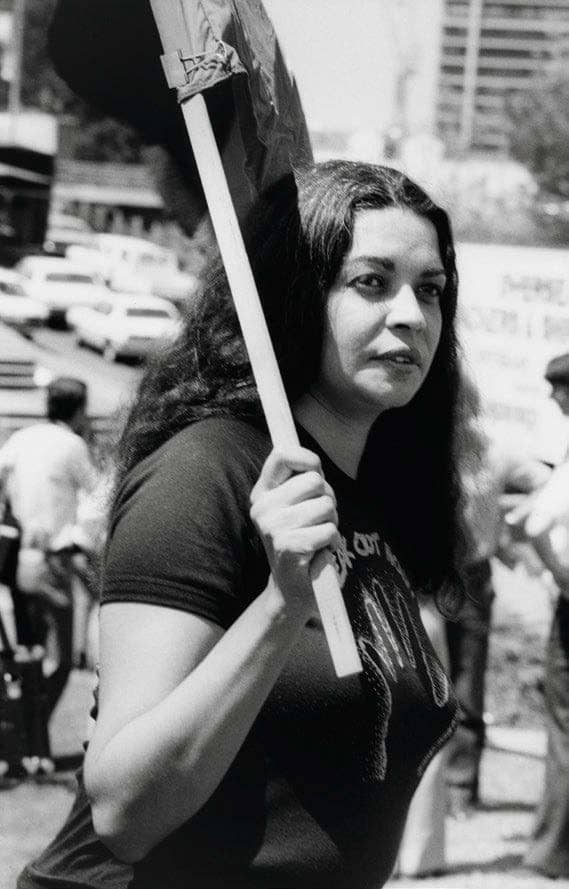 "For much of my childhood, we had to cook on a wood stove; we had kerosene lamps; I had to carry water up from the river. I heard the stories from my grandmother and my great aunt about living in the bush, and I feel close to all that. That's what really shapes you as a person, isn't it?"
Back in Brisbane for high school, Marcia met another great-aunt and an early influence, Celia Smith, who was an organiser for the Federal Council for the Advancement of Aborigines and Torres Strait Islanders (FCAATSI).
"I saw her in town one day," Marcia recalls, "so I went over to say hello. This was the height of the Vote Yes campaign for the 1967 Referendum, and she said to me, 'You have to come and help us, Marcia, because you can read and write'.
"It was an exciting time. The campaign was organised by ordinary people who held cake stalls and handed out pamphlets. It was a grassroots campaign and the grassroots were radical, because racism in Queensland was so severe. People on the reserves were starving."
Another early influence was poet and activist Oodgeroo Noonuccal, then known as Kath Walker. "She was a tough lady," Marcia says, "and she was highly literate and intellectual." She offered a hint at the kind of future of which a young Indigenous girl from Queensland might dare to dream.
Marcia enrolled at the University of Queensland in 1969.
"I wasn't particularly aware, at first, that it was unusual for an Aboriginal person to be there, until the master of the college I was in attacked me in vicious, racist terms in the corridor one night."
Marcia moved into a share house with her boyfriend, the architecture student Rick Lamble, and their baby son, Ben. But again trouble came knocking.
"It was the middle of the Vietnam War," she explains, "the FCAATSI campaign had won … I'd been going to demonstrations and organising some of the Aboriginal resistance." This had attracted the attention of the Queensland Police, who "raided my house very early every Saturday morning. One morning, one of them threatened to kill my baby."
As we go to press, with America in flames, Marcia's words resonate particularly strongly.
You can read up to 3 premium stories before you subscribe to Magzter GOLD
Log in, if you are already a subscriber
Get unlimited access to thousands of curated premium stories and 5,000+ magazines
READ THE ENTIRE ISSUE
July 2020