WHAT A TREATY!
New Zealand Woman's Weekly|December 2 2019
Charles & Cam illa's historic visit
THE ROYALS EMBARK ON A CHARM OFFENSIVE IN AOTEAROA
It may well have been just what the doctor ordered. The Prince of Wales and Camilla, Duchess of Cornwall, touched down in New Zealand last Sunday in what was most likely a reprieve of sorts, for Charles especially.
The royal pair left behind ongoing turmoil that has been enveloping the royal family for weeks − younger brother Prince Andrew has dominated every newspaper's front page in the wake of his tell-all TV interview, while daughter-in-law Meghan, Duchess of Sussex, has generated headlines after the release of court documents from her legal stoush against Associated Newspapers.
While the change of scenery wasn't so welcoming to begin with, grey skies soon lifted as Charles (71) and Camilla (72) arrived in Whenuapai to start their week-long trip – their first in four years and third joint visit to our nation. And while they didn't draw the crowds we've seen some of the younger members of the royal family generate in previous years, there was still no shortage of eager fans to pass on their well-wishes.
The visit also served as a chance for the pair to highlight causes close to their hearts – Camilla championing the causes of youth, women's rights and domestic violence, while Charles largely focused on environmental issues.
But their most highly anticipated engagement was without a doubt a visit north to Waitangi – the first time a royal has visited the treaty grounds in 25 years.
After a stirring formal welcome onto the grounds the couple, who were wearing korowai, listened to a series of speeches, mostly in te reo, which were translated for them.
The pair laughed as Maori leader, broadcaster and actor Waihoroi Shortland recounted, in English, his encounters over the years with members of the royal family.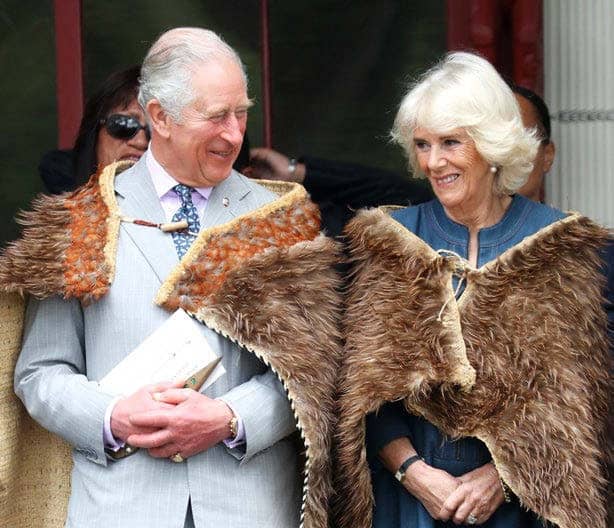 He recalled being at an event in Eden Park in the 1970s attended by Charles, his sister Princess Anne, the Queen and Prince Philip but pointed out that "if you look in the pages of the New Zealand Woman's Weekly" he and the warriors there were "already trying out the unknown pastime of that day of taking selfies. But we took them with your sister, the Princess Royal."
In his speech, Charles spoke about our country's commitment to resolving issues stemming from the Treaty of Waitangi and also said he was delighted to return a Korowai that had been given to his great-great-great-grandmother Queen Victoria in 1863 by a NgaÌ"Puhi chief.
"It's been cared for in the United Kingdom for 156 years and it gives me great pleasure that it can make the journey back to where it was created."
The duchess wore a blue silk, crepe suit by Anna Valentine under her korowai and opted to go without a hat after she struggled to connect noses when greeted with a hongi at the official Auckland welcome.
Several hundred people gathered in the sunshine to witness the couple's visit, and were thrilled to shake hands with Charles and Camilla when they went on an unscheduled walkabout after the formal part of proceedings finished.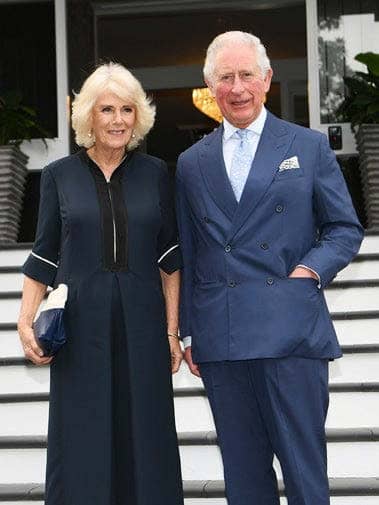 Chris Coakley, who waited with a group of friends for three hours, was delighted she got to shake the prince's hand. "It was a great opportunity to see them up close, which doesn't happen very often. He seemed very relaxed, although he was a bit concerned that some children standing next to us weren't in school."
Charles and Camilla seemed quite taken with a group of three and four-year-olds from Paihia Early Childhood Centre too, who waited patiently to see the royals. The youngsters were rewarded with handshakes and a brief chat, however, some of them weren't entirely sure who they'd just met.
"It was Prince Charming,"
proclaimed one littlie, while at Kerikeri Primary School later that day another youngster excitedly called out, "It's the Queen!" when Camilla delayed her departure to walk over to them and shake a few more hands.
You can read upto 3 premium stories before you subscribe to Magzter GOLD
Log-in, if you are already a subscriber
Get unlimited access to thousands of curated premium stories and 5,000+ magazines
READ THE ENTIRE ISSUE
December 2 2019