ONE For All
Baseball America
|
September 2020
Wholesale minor league reorganization is only one part of MLB commissioner Rob Manfred's "One Baseball" vision to integrate baseball from the major leagues to the youth level
In its dealings with Minor League Baseball's negotiating committee, Major League Baseball has made clear its desire to take control of the minor leagues. As MLB has explained to MiLB, it believes that it can run the minors with more cost-efficiency while producing more revenue for minor league teams. Such a move would also allow MLB to exert more direct control over some of the aspects of Minor League Baseball that currently create hurdles for MLB's goals.
That MLB takeover is expected to happen later this year, either through an agreement with minor league team owners to adopt a new system or through a decision to set up MLB's own development system after the current Professional Baseball Agreement expires on Sept. 30.
Understandably, a wholesale realignment of the minor leagues has been the focus of much attention. In reality, it is only the first part of Major League Baseball's plans for the game.
Through its marketing muscle and new agreements, MLB is looking to take on a much larger role in guiding the sport at all levels in the United States and around the world.
Five years after he took over as Major League Baseball commissioner, Rob Manfred appears much closer to his goal of establishing "One Baseball," a term he began using regularly as soon as he succeeded Bud Selig.
Under MLB's plans, it will play a much more significant guiding role—and possibly a larger financial one—in the game at almost all levels.
Under its plan, MLB would stand as the coordinating decision-maker and guiding force at the head of much of baseball and softball in the U.S.
"Every baseball organization in the country is aligned on the idea that more people should be playing, watching and loving baseball and softball," MLB executive vice president for economics and operations Morgan Sword said. "We are hopeful we can do more going forward to create a mutual recognition of that shared interest."
Baseball America has gathered information on Major League Baseball's plans through conversations with dozens of people at all levels of the game. No one was willing to go on the record about plans that have yet to be fully finalized, and many of the people were only aware of small snippets of MLB's big picture goals.
But in piecing together these fragments, the overall vision of MLB's plan becomes relatively clear—and it largely expands on what Manfred said soon after he took over as commissioner in 2015. Then, the commissioner quickly made clear his view that MLB should be the driving force for baseball throughout the U.S. and around the globe.
Speaking to the American Baseball Coaches Association in 2015, Manfred laid out his vision of "One Baseball" as Baseball America reported at the time.
"Major League Baseball is committed to the idea that we are going to be more actively engaged with all parts of the baseball community at all levels . . . Our tagline for this effort is 'One Baseball,' " Manfred said to the gathered ABCA coaches.
"We want one umbrella effort, with Major League Baseball at the top of it, but involving college, high school and various youth programs. Going forward, we have to attack the youth and amateur market in a single unified and coherent way."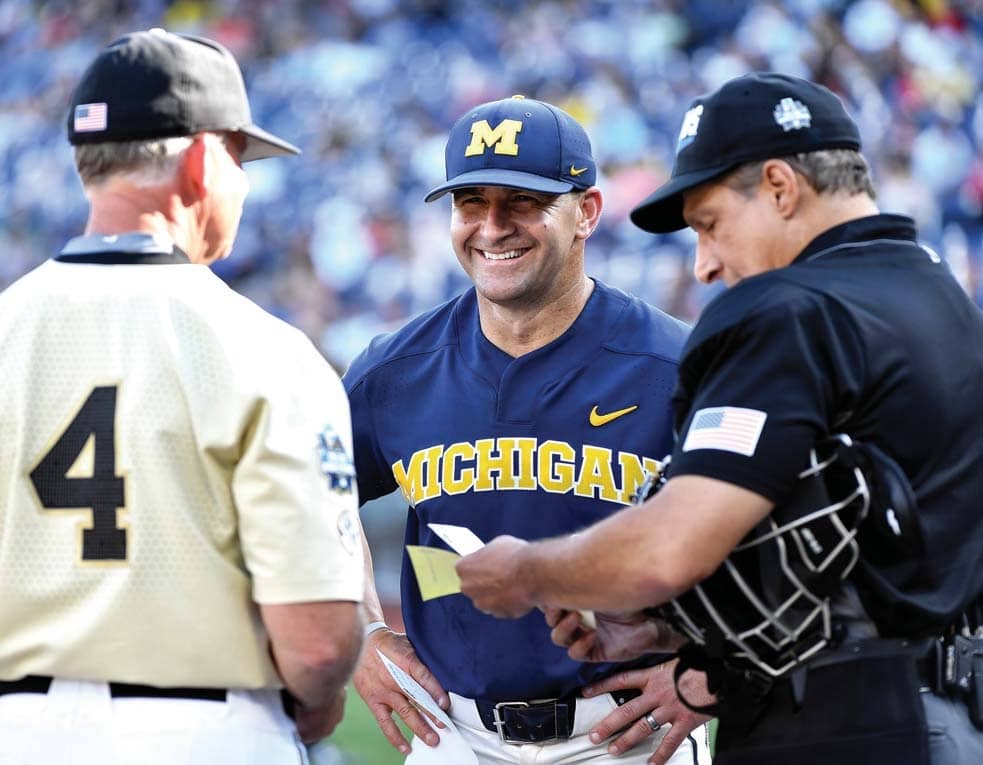 Over the past five years, MLB's efforts to build "One Baseball" had largely been focused on the amateur arena. Under MLB's direction, USA Baseball, which is significantly funded by MLB, has taken on a larger role as a guiding force in amateur baseball. USA Baseball now provides significantly more coaching resources for amateur coaches and has spearheaded the "Pitch Smart" directive to help protect young pitchers from overuse.
The RBI Baseball program has continued to expand to help provide baseball opportunities to underserved populations in cities around the country. And over the last few years, USA Baseball and MLB have developed the Prospect Development Pipeline, which provides instruction and scouting events for top high school players. It provides a supplement, and in some cases an alternative, to the traditional summer showcase events.
You can read up to 3 premium stories before you subscribe to Magzter GOLD
Log in, if you are already a subscriber
Get unlimited access to thousands of curated premium stories, newspapers and 5,000+ magazines
READ THE ENTIRE ISSUE
September 2020