What Killed America's Climate-Saving Nuke Revival?
Bloomberg Businessweek
|
November 2 - November 8, 2015
One decade ago, the U.S. was on the verge of a second, climate-saving nuclear age. What happened?
The road to the Alvin W. Vogtle Electric Generating Plant winds through Georgia pines, past the massive International Paper mill where many trees meet their end, and on toward the Savannah River, which forms the border with South Carolina. A couple of miles out, the 55-story steel-and-cement cooling towers loom over the tree line. Cottony white vapor rises from the towers in what one hopes is a friendly, nonradioactive greeting from the nuclear facility.
Less friendly is the white security pickup with a yellow roof flasher that materializes when I pull my rental car to the side of River Road to take in the view. Provisionally satisfied I'm not a terrorist, the guard lets me head to the military-style entry station, where another security man with a Glock on his hip points to a glassed-in rendezvous point. Credentials are checked, and introductions are made to plant staff. They're proud of the work they do, but on high alert against sabotage and bad publicity.
Plant Vogtle, as the locals call it, is named for a former chief executive officer of Southern Co., the Atlanta-based utility that jointly owns it with several smaller Georgia power companies. As utility officials go, Alvin Vogtle cut a dashing figure. A World War II hero, he inspired the character played by Steve McQueen in the 1963 film classic The Great Escape. (Unlike McQueen's Captain Hilts, aka "the Cooler King," Vogtle did not vault barbed wire on a motorcycle.)
In rural Burke County, his namesake plant is regarded with awe, not least because it has employed so many residents over the years. Beginning in the early 1970s, 14,000 construction workers put up the first two reactors on a 3,100acre site. Today 800 employees— including engineers, control-room operators, lab technicians, and security officers—oversee the plant's operations 24/7. A pair of hump-topped containment buildings with 4-foot-thick concrete walls house two 355-ton underground reactor vessels: Vogtle Units 1 and 2. On-site inspectors from the Nuclear Regulatory Commission (NRC) conduct spot patrols and check monitoring instruments.
Apart from a nuclear plant's characteristic power hum, Vogtle is surprisingly quiet. Next door it's a different story. Concrete-mixer trucks rumble across 800 acres of unpaved red Georgia clay as workers weld enormous components shipped from distant factories. A 60-story derrick, one of the tallest in the world, lifts the modules into place as they're completed. The two additional reactors under construction are supposed to combine with the operating units to make Southern's Plant Vogtle the most productive nuclear facility in the nation, ultimately generating electricity for 1 million customers.
"It's going to be one of the most successful megaprojects in modern American industrial history," says Thomas Fanning, Southern's always-on CEO. With 4.4 million customers in Alabama, Georgia, Mississippi, and northwest Florida, Southern, he says, "is leading the nation's nuclear renaissance."
One doesn't hear much about the nuclear renaissance these days. A decade ago, when Southern started on Vogtle Units 3 and 4, nuclear was poised for a revival. It had backing not only from utility executives but also from climate activists feeling new affection for its low-carbon emission profile. With President Obama's Clean Power Plan—aiming for 32 percent carbon reduction by 2030 and officially enacted on Oct. 23—nuclear ought to be booming right about now.
But it's not. Vogtle Units 3 and 4 are outliers, two of only five reactors being built in the U.S. Two others are under way in South Carolina; Tennessee Valley Authority's much delayed, 40-years-in-the-making Watts Bar Unit 2 plant finally received its operating license in October, making it the first reactor to come online in the U.S. this century. Even as sympathetic an observer as John Rowe warns that the new units at Vogtle will be uneconomical when—or if—they're completed. "They did it as a long-term investment in Georgia's economy," says Rowe, former chairman of Chicago-based Exelon, the country's largest nuclear operator. "That was a wrong decision."
Stunting the renaissance before it got going were the 2008-09 recession, the 2011 Fukushima Daiichi disaster, and especially the proliferation of cheap natural gas. Nuclear, which provides 19 percent of U.S. electricity and twothirds of the country's emission-free power, has arrived at a perilous crossroads. Four nuclear plants have shut down over the past several years because of recession-stifled demand and inexpensive gas. Eight or nine more are in danger of premature retirement for similar economic reasons.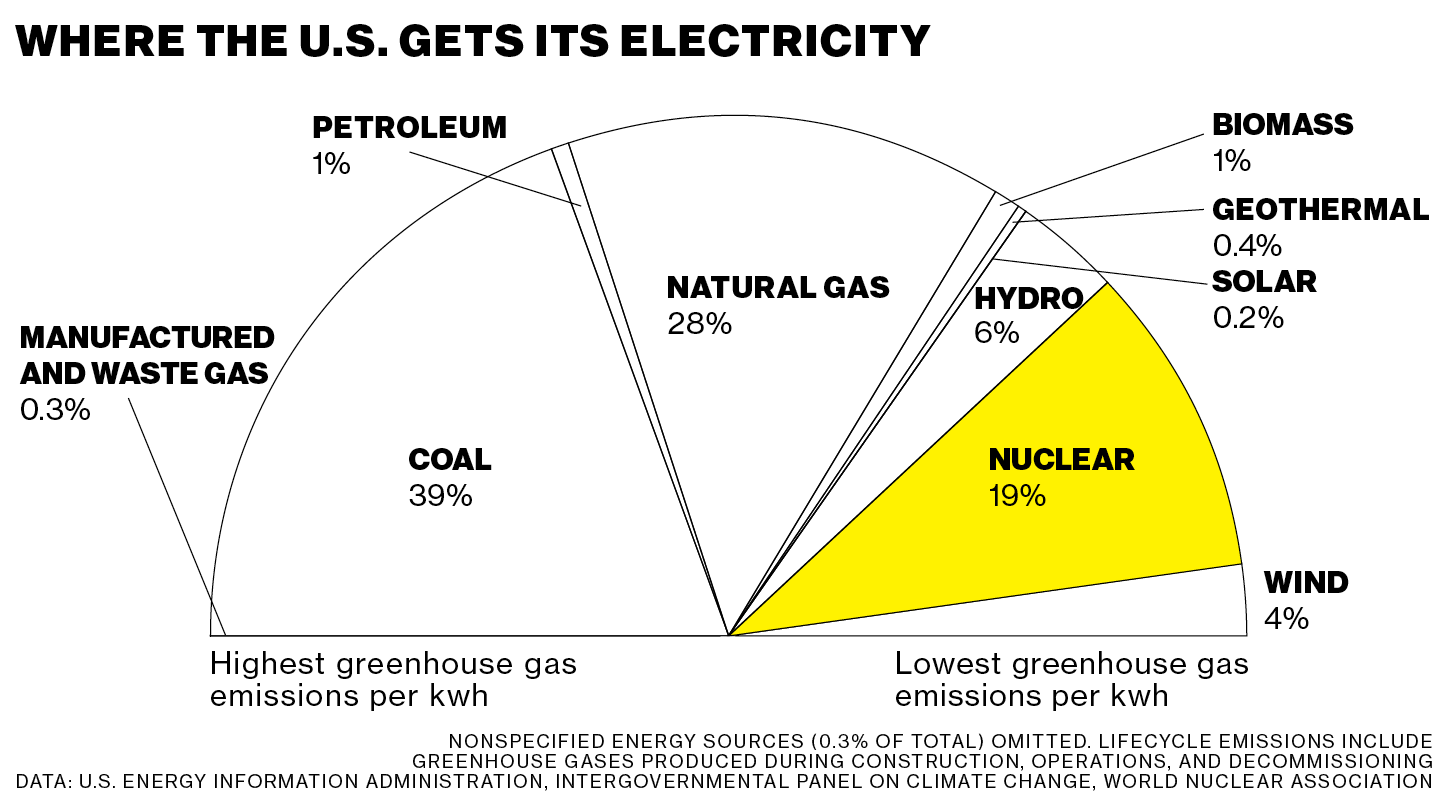 The tortuous history of Plant Vogtle—of public safety concerns, budget overruns, lawsuits, and seemingly self-defeating politics—explains why it's so hard to get nuclear done and illuminates the strange paradox of nuclear power today. "The only way we significantly reduce carbon in the short run is if projects like Vogtle come online," says Josh Freed, vice president for clean energy at Third Way, a centrist Democratic think tank in Washington. Yet, he adds, "just when we need to preserve and expand nuclear in order to meet the president's ambitious climate goals, we're actually in danger of losing a substantial percentage of carbon-free generation."
At Southern they refer to Fanning, 58, as Rocket Man, a nickname earned "while blazing a trail through 15 jobs in eight business units" during a 35-year career, according to Big Bets, an in-house corporate history. Leaning forward and gesticulating vigorously, he describes his utility as "arguably the most important energy company in the United States." Fanning fancies himself a straight shooter and realizes that much of the public is wary of nuclear power. Asked when he first thought about the pros and cons of nukes, he recalls his senior year at Georgia Tech— the spring of 1979. "Three Mile Island," he says, his enthusiasm waning, if just for a moment. At the time of that terrifying accident—a partial meltdown at the Three Mile Island Nuclear Generating Station in Dauphin County, Pa.—Southern was building two of its own first-generation nuclear plants, one near Baxley, Ga., the other near Dothan, Ala. Thankfully no one died at Three Mile Island, but afterward, "the complexity and variability kind of allowed design chaos to occur," Fanning says. "Costs just went off the charts."
You can read up to 3 premium stories before you subscribe to Magzter GOLD
Log in, if you are already a subscriber
Get unlimited access to thousands of curated premium stories, newspapers and 5,000+ magazines
READ THE ENTIRE ISSUE
November 2 - November 8, 2015