Students of this government school are making robots, flying drones, & learning how to code
Like a devout pilgrim, Vedant bows down and touches the steps of his school as soon as he reaches at 7.30 am sharp. Located in the village of Wablewadi, Pune, Ojas International School is setting an example for the education sector. At 8 am, Vedant, along with his schoolmates, begins cleaning the premises of 13 classrooms with brooms and mopping sticks. After that, the 11-year-old spends his time learning and inventing in the robotics room of the school till 8 pm, three hours past the official school timing.
Siddhi, another student from the same school has created a model that cuts water usage by 90%. Impressed, the school headmaster implemented her model in the school.
The school is currently teaching over 600 students. Despite its label of being a government school, it is training its students in the skills of the future: flying drones, creating 2-D and 3-D animation, coding, photography, robotics, sound engineering, farming, along with sports, music, and languages. Based on their interest, the students pursue one of these skills or modules, as they are called. And students are not just excelling in their chosen skills. They are also acing state board exams. In the recent 2019 exams, 47 students from the school secured state merit scholarship.
"Compared to the West, our country lacks inventions. I want to contribute to my country with new inventions," says Vedant. Till now, he has made a vacuum machine, an LED bulb, a voting machine, and a smart dustbin which opens whenever an object comes near it. He, along with his classmates, is now working on making a model of a wificar. Recently, he was part of the school team that won the fourth prize in the worldwide First Tech Challenge Robotics Competition.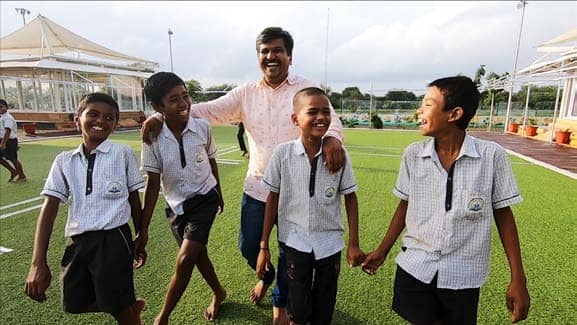 A brainchild of the school headmaster, Dattatray Ware, the school's curriculum is equipping children to solve everyday problems and problems of the future. "We don't provide these kids with readymade solutions. So, they solve problems on their own. They have made models on their own, using digital platforms like Youtube," says Dattatray, who further adds that the sole inspiration behind such a dynamic curriculum is children.
"Over the years, as a teacher, I observed that conventional learning blocks a child's creativity. I wanted to see children pursue their interests."
You can read up to 3 premium stories before you subscribe to Magzter GOLD
Log in, if you are already a subscriber
Get unlimited access to thousands of curated premium stories, newspapers and 5,000+ magazines
READ THE ENTIRE ISSUE
September 2020