Ghost Of Tsushima
For the second time in as many months, we wonder how our Share button is still with us. Tsushima is a virtual photographer's dream; in fact, the island feels as if it's been built with its own photo mode in mind. This is quite simply one of the most picturesque game worlds we've ever seen. It's beautiful even before the wind whistles across its pampas grass and through its shrine gates, but when the breeze whips up a storm of maple leaves, sakura petals and more, it's wondrous to behold.
Elsewhere, you'll duel beneath waterfalls and next to crashing waves, under an autumnal canopy, inside a cave amid floating lanterns and in fields of purple chrysanthemums and red spider lilies. The golden hour seems to last half the day – perhaps it should be renamed the land of the setting sun – and even the near-monochromatic snowscapes of the frozen north have a desolate, eerie beauty. It's almost too much: when sumptuousness becomes the norm, the gasps come less frequently. Besides, for all its aesthetic splendour, what you do within that world isn't nearly so striking.
Still, there aren't many western-developed games that have taken us to 13th-century Japan, and the setting goes a long way to carrying Sucker Punch's sandbox adventure over its biggest bumps. You play as Jin Sakai, the latest in a long line of sad orphan heroes destined for greatness – and here, the studio makes its first mistake by quickly introducing us to two characters we'd much rather be controlling. The first is Yuna, a thief and skilled archer who has a way with a withering look; then comes Lady Masako, a silver-haired warrior brimming with righteous fury after her family's slaughter. In fairness, Jin becomes more interesting as the story progresses. He's been raised by his uncle to be a noble samurai – cue the first of dozens of conversations about honour and legacy – but to take on the invading Mongols (led by Genghis Khan's grandson Khotun) our young hero realises more underhand tactics are required. Rather than face such a brutal opponent head-on, Jin knows getting the job done might involve stabbing them in the back or poisoning their drinks. Over time, his reputation grows, as this reputable fighter becomes known as the Ghost, a man who strikes fear into his enemies – admittedly, mostly by using the kind of stealth tactics we've seen before in several other games.
You generally have two options when approaching a Mongol or bandit compound, assuming it isn't a story mission that forces you into one or the other. Stroll in the front gate, and you can announce your presence, tapping up on the D-pad to prompt a standoff. Here, you need to hold your nerve (and the Triangle button), releasing as your opponent lunges at you to pull off a precise one-hit kill. Later, with the right armour and upgrades, you're able to string together more of these attacks as other enemies race toward you. It's effectively a QTE with bells on, but satisfying nevertheless; pulling this off successfully is by no means guaranteed, with enemies sometimes feinting to lure you into moving first, their own attack dealing significant damage.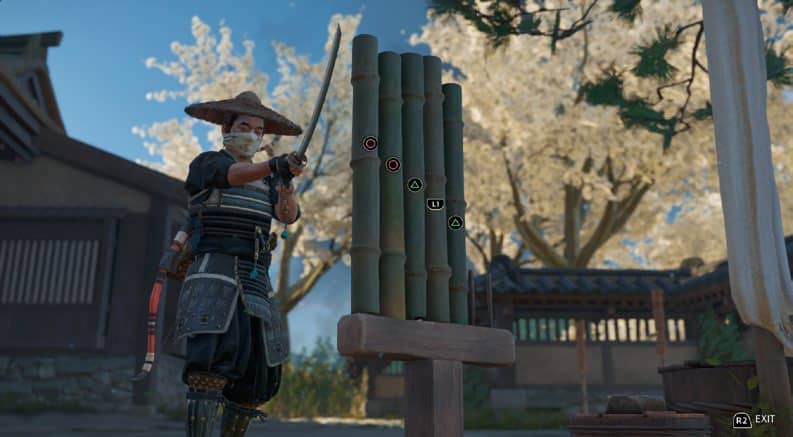 You can read up to 3 premium stories before you subscribe to Magzter GOLD
Log in, if you are already a subscriber
Get unlimited access to thousands of curated premium stories, newspapers and 5,000+ magazines
READ THE ENTIRE ISSUE
September 2020