LITTLE RICHARD THE Specialty YEARS
GOLDMINE|August 2020
A wop bop a loo bop a wop bam boom!
It's the rallying cry of rock and roll, a clarion call that Rolling Stone once referred to as "the most inspired rock lyric ever recorded." As the opening salvo of the song "Tutti Frutti," its impact was immediate, and would span continents; when John Lennon, then a 15-year-old growing up in Liverpool, first heard the record, "It was so great, I couldn't speak." Released in October 1955, it was an instant classic that would become one of the touchstones of rock and roll.
And for its singer and co-songwriter, Little Richard, it would be the career breakthrough he'd been waiting for, the first of a string of Top 10 pop and R&B hits he'd enjoy over the next three years. And while he would continue recording and performing long past the 1950s, it was Little Richard's years with Specialty Records that marked the period of his greatest influence, his musical achievements making him one of the primary architects of rock and roll.
His beginnings were humble. Richard Wayne Penniman was born on December 5, 1932 in Macon, Georgia, one of 12 children. With a father who was a church deacon (who sold moonshine on the side), and a mother who was just as religiously inclined, it was natural for Richard to begin his performing career singing in church. His parents and siblings even performed together as the Penniman Singers. "I could always sing loud and I kept changing the key upward," he told Charles White, author of The Life and Times of Little Richard, adding that he was stopped from singing in church due to his "hollerin' and screamin'." The family was too poor to own a record player, so he spent hours listening to music on the radio. Even his immediate environment gave him ideas for future material. "Black people lived right by the railroad tracks and the train would shake their houses at night," he explained. "I would hear it as a boy and I thought: I'm gonna make a song that sounds like that." It's a key to the excitement his records would later generate.
Already possessing a flair for showmanship, he wanted to become a preacher. That changed the day one of his favorite performers, Sister Rosetta Tharpe, came to town. Richard had a part-time job at the Macon City Auditorium selling soft drinks, and on the day Sister Rosetta appeared at the venue, he greeted her by singing her current hit, "Strange Things Happening Every Day." His impromptu performance led to an offer to sing during the show itself. Afterwards the star handed him what seemed like a veritable fortune — $35. "I'd never had so much in my life before," he said. A new career beckoned.
Richard started out with little more than a strong sense of self. "God gave me a strong mind, and a strong will," he told White. "I've always had a fierce determination to excel." He'd need that determination in the years ahead. At the age of 14, he decided he'd had enough of school and dropped out. Problems with his father also led to his leaving home, signing on with a traveling troupe called Dr. Hudson's Medicine Show.
He spent the next five years touring with similar outfits, such as B. Brown and His Orchestra, singing the likes of "Mona Lisa" and "Goodnight Irene." Not that they were staid renditions. "I just wanted to tear up the house!" Richard told Rolling Stone. He also took on the stage name "Little Richard," partly because people mispronounced his name as "Penny-man," and also following the example set by similarly-named acts like Little Esther and Little Willie John.
It was also during this time that he met a performer who would have a great influence on him, Billy Wright. "I thought he was the most fantastic entertain I had ever seen," he said of the man who was called "Prince of the Blues." He admired Wright's pompadour and flashy clothes; Wright also introduced Richard to the benefits of using stage makeup.
And it was Wright who would help launch Richard's recording career, introducing him to Atlanta DJ Zenas Sears, who used his influence to get Richard a deal with RCA in 1951. The label released four singles by Richard, none of which met with much success, though "Every Hour" and "Get Rich Quick" got enough local airplay to convince Richard he was on the right track.
Richard then met an even more flamboyant performer, Eskew Reeder, Jr., who went by the stage name Esquerita, and had a pompadour that was even more towering that Billy Wright's. In addition to sartorial tips, Esquerita also taught Richard the basics of piano, so that he could accompany himself while performing. Richard's extravagant stage appearance would eventually surpass both Billy Wright's and Esquerita's.
Richard next recorded with the Tempo Toppers, signing with Peacock Records, and releasing two singles (credited to "Tempo Toppers Featuring Little Richard"). But the records failed to find an audience, and Richard began assembling a new band, the Upsetters.
In February 1955, Richard was back in Macon, and caught a show by Lloyd Price at the Civic Auditorium. Price was best known for his 1952 hit "Lawdy Miss Clawdy," and Richard envied both his success and Price's lavish black and gold Cadillac. After the show, Price suggested that Richard might find a home at the label he was on, Specialty.
Specialty was a Los Angeles-based label owned by Art Rupe. Rupe, originally from Pennsylvania, had come to California to work in the movies, but found it easier to get into the record business. After first running the labels Atlas Records and Juke Box Records with other partners, Rupe set up Specialty on his own in the mid-1940s. The label released records by the gospel and R&B acts, music that hadn't yet crossed over to a white audience. "No white people fooled around with this kind of music," Rupe said. "I had no idea that it would have any permanence and I had no idea that it would ever appeal to white people." In addition to Price, Specialty's acts included Roy Milton, Guitar Slim, and the Soul Stirrers, featuring Sam Cooke.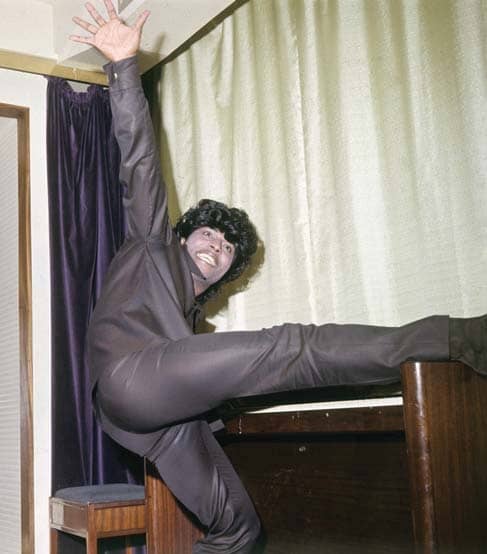 Richard didn't hesitate to act on Price's advice, recording a demo of "Baby" and "All Night Long," two mid-tempo blues numbers, at local radio station WBML. He mailed it on February 16. There are different accounts as to what happened next. Rupe told Charles White that he wasn't initially interested in Little Richard because he was looking for a singer like B.B. King, and that his A&R man, "Bumps" Blackwell, "didn't think much" of Richard's tape either. But in the same book, Blackwell says he thought Richard's voice "was unmistakably star material."
Rupe goes on to tell White, "If it hadn't been for Little Richard's persistence and aggression, we would never have signed him," explaining that Richard began pestering the label with phone calls as soon as he mailed off his tape. But in the liner notes for the 1989 box set The Specialty Sessions, Rupe contends he was interested in Richard as soon as he heard the demo, and tried to set up a recording session a few weeks later, in March 1955.
One problem all parties agree on is that Richard was still signed to Peacock Records. Specialty eventually loaned him the money to buy out his contract, after which sessions were set up on September 13 and 14 at J&M Recording Studio in New Orleans, with Blackwell on hand to produce. One reason the session was in New Orleans was to draw on the city's excellent roster of studio musicians, who had played on records by Fats Domino, Lloyd Price and Professor Longhair.
Recording for two days also provided the label with more material to work with. "We did eight or nine sides with Little Richard the first time, as opposed to four, because Bumps was untried as a producer and we didn't know the kind of material we would be able to get," Rupe explained. "So we wanted to have a lot of options."
You can read up to 3 premium stories before you subscribe to Magzter GOLD
Log in, if you are already a subscriber
Get unlimited access to thousands of curated premium stories and 5,000+ magazines
READ THE ENTIRE ISSUE
August 2020