DION IS STILL KING
GOLDMINE|August 2020
A ROCK AND ROLL ICON, FROM THE BELMONTS TO A HIPPIE FOLK HERO, DION IS AT HOME WITH THE BLUES.
There's a reason why The Beatles put Dion on the cover of Sgt. Pepper's Lonely Heart Club Band. He's a classic. Period. Starting as the lead singer of Dion and The Belmonts in 1957, continuing through his string of solo hits from 1960 to 1964, reinventing the blues with an arrogant sneer in 1965, he became a hippie hero with his folk phase in 1968 (the same year he turned the Jimi Hendrix classic "Purple Haze" into a trance-like mantra). Then he started the 1970s by penning the greatest addiction/recovery song of all-time ("Your Own Back Yard"). He rocked throughout the '70s and '80s as a badass New York City street king and bonafide rock and roll hero with a voice that could peel paint. He had an overt Christian-music phase like Bob Dylan, but soon mastered the art of Mississippi Delta blues guitar like no white boy from the Bronx has a right to do. Sure, there were fallow periods. He may be a legendary pioneer, but he's also human. Point is, Dion is not only a role model, he's larger than life. His new album, Blues With Friends, is one of the best albums of a disappointing 2020. His friends include Jeff Beck, Billy Gibbons of ZZ Top, John Hammond, Jr., Dylan (who wrote the liner notes), Sonny Landreth, Van Morrison, Paul Simon, Bruce Springsteen, Joe Bonamassa, Stevie Van Zandt and others, yet Dion is not overwhelmed by all this star power. They're his songs. His voice is still elastic. And he answered the phone on the occasion of promoting it just the way you'd want Dion, "King of the New York Streets," Francis DiMucci to answer the phone.
DION: Yo!
GOLDMINE: Congratulations on Blues With Friends. What a powerful album! And there's so much more than blues, too. Instant classic rock. And, boy, do you have some friends!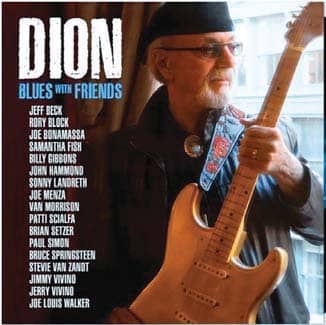 DION: Yeah, right? I'll tell ya, the people who said yes, man, it seemed like everybody
I asked jumped right on board. It was definitely a labor of love. Very exciting for me to hear these contributions. Every time somebody would say yes, I'd envision what they'd infuse these tracks with. I mean, sure, I had the songs, but there was no filling. I really did think right from the jump that every song had a good story and was worth telling.
GM: You got Bob Dylan to write the liner notes, and he said that you know " just the right way to craft these songs."
DION: I was like, "Yeah, I'll take that." He was very generous when I asked. We go back to Columbia Records together.
GM: You were the first rock and roller ever signed to that label.
DION: As such, I was at all of Dylan's early recording sessions.
GM: Mitch Miller, the head of A&R at Columbia, absolutely hated rock and roll.
DION: I came upright on his heels. They were trying to move him a little by then.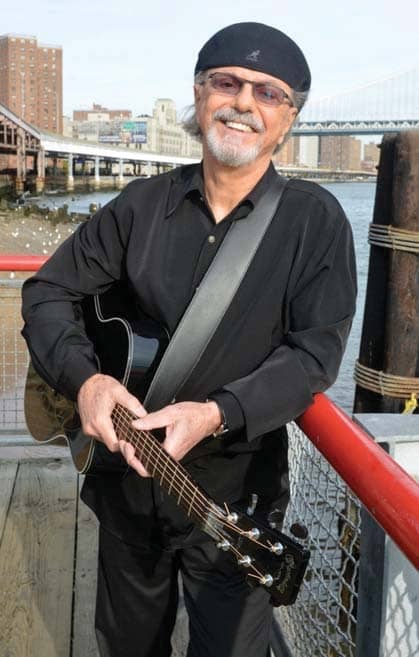 GM: Your new song with one of your friends, Paul Simon, "Song for Sam Cooke (Here in America)," is a real highlight. In your 2011 memoir with Mike Aquilina — Dion: The Wanderer Talks Truth (Stories, Humor & Music) — you talk about traveling the Jim Crow South with Sam Cooke.
DION: "Song for Sam Cooke (Here in America)" was written a long while ago. I put it in the drawer and never looked at it again. It was too personal to release. I had been in Memphis with Sam Cooke. He took me to a small club to see James Brown in The Famous Flames. James wasn't even popular at the time. He was just a Flame. Sam protected me. It was a rough place. Sam was an extremely refined gentleman. His father was a preacher. And he was living out the gospel, now that I look back at it. He was all about "love one another" and "understand one another." That's what my song came out of, not so much about racism in America, but about Sam Cooke's incredible compassion for people... and for me. To see a guy I admired so much in the music business who made all those great records, and who was like a brother to me, be treated like he was, I mean, it was so incongruous. That's where that song comes from. And don't think he didn't understand it. He understood racism. He understood America. Yet he was considerate enough with me to the point where he never let me see him become bitter. So we perform on the same bill that night and he has to get dressed on one side of the stage and I had to get dressed on the other side of the stage. It was a segregated theater. I'm from New York, so that was all new to me.
GM: After reading Peter Guralnick's Dream Boogie: The Triumph of Sam Cooke and watching The Two Killings of Sam Cooke documentary film, I'm convinced he was assassinated by either the American government or a hit man hired by Allen Klein.
DION: I have no idea about that. All I know is how his death affected me personally. It hurt. Bad. It hurt to lose him. It was a shame. A waste. That's the way it affected me. The implications of a conspiracy theory are beyond me. I just know how it felt to lose a friend. [Sam Cooke was shot to death on December 11, 1964, at the height of his fame. He was 33. The perpetrator was found innocent by reason of self-defense despite ample evidence to the contrary.]
GM: How can your voice remain so supple, moving, elastic and soulful at the age of 80? You haven't lost an inch!
You can read up to 3 premium stories before you subscribe to Magzter GOLD
Log in, if you are already a subscriber
Get unlimited access to thousands of curated premium stories and 5,000+ magazines
READ THE ENTIRE ISSUE
August 2020