Man In His Domain: Keith Hufnagel
Playboy Sweden
|
November 2019
NEARLY TWO DECADES AFTER LAUNCHING HUF FROM A MODEST STOREFRONT IN SAN FRANCISCO, THE ACCIDENTAL TASTEMAKER IS USHERING HIS EMPIRE INTO A NEW ERA OF SKATING AND STYLE
It wasn't Keith Hufnagel's idea to name his clothing brand after himself. Anne Freeman, his wife at the time, suggested it when they started the company back in 2002, even pushed for it. Hufnagel had been using his nickname, Huf, on his pro-model skateboard decks for some time, and his sponsors put it on Tshirts. He'd built a personal brand around the name already; it was only a matter of transferring it to his new venture. He felt sort of insecure about it, but he did it anyway. Although they later divorced, Freeman remained involved with the company until 2013, and the name she helped mint remains to this day.
"If you look out in the world, there are tons of brands with people's names on them, and you may not even know who they are. Like, do you know who Louis Vuitton is?" Hufnagel asks me.
I do not, in fact, know who Louis Vuitton is or was, despite owning at least one of his purses, so I get Hufnagel's point. You build a brand, time passes, and you as a person become just one helix in its DNA. Or at least that's the goal. I do know who Keith Hufnagel is, however, and so do a lot of other people — mostly skateboarders and skateboarding fans but streetwear devotees too.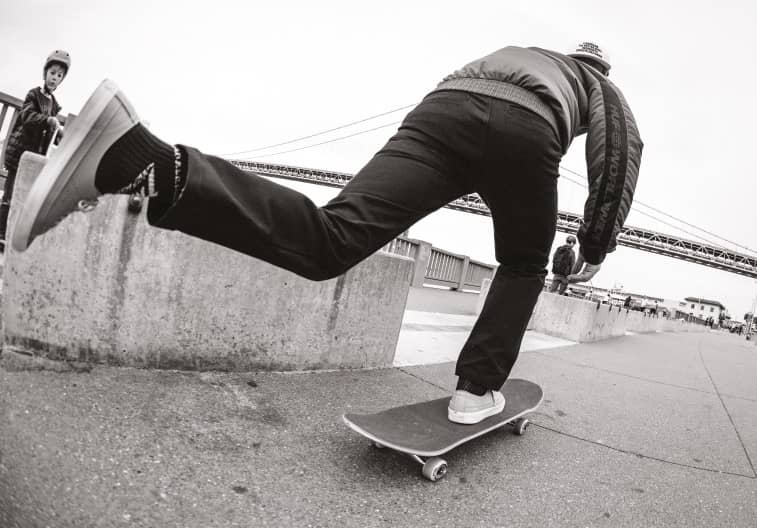 When I first interviewed Hufnagel, back in 2005, HUF was a small clothing line with just two stores in San Francisco, some very limited-edition sneaker collaborations and a lot of buzzes. Almost 15 years later, we're at HUF headquarters in downtown L.A., talking in his office, which is filled with clothing patterns and art pieces, including a giant pigeon sculpture by artist-skater and HUF collaborator Todd Francis. Hufnagel is wearing black twill HUF work pants, a white HUF-logo pocket T-shirt and Adidas shell toes.
This is where Hufnagel spends most days. On the floor, leaning against the wall is a large poster for the footwear company Lakai featuring a grinning blond boy carrying a tiny skateboard. "Keenan did some modeling," Hufnagel tells me. His six-year-old son with his current wife, Mariellen, was named after Keenan Milton, a professional skateboarder who passed away in 2001. He was Hufnagel's contemporary and best friend. About a year after Milton's death, Hufnagel started HUF. He was 28 at the time.
Keith Hufnagel was born in New York City in 1974 to a nurse and a computer technician. He grew up in Stuyvesant Town-Peter Cooper Village, an 80-acre post–World War II residential development bound by First Avenue to the west, 23rd Street to the north and 14th Street to the south. "Everyone in the neighborhood was skateboarding," he tells me. "This group of kids used to hang out at Midtown Plaza, and they would skate in those little dead-end streets. We'd all ride, and I learned how to ollie. Then, for my 13th birthday, I got a real professional-style skateboard."
From that day on, Hufnagel never stopped skateboarding. "It was a passion, or it was an addiction, whatever you want to call it," he says. "It was my path." Skateboarding was an entry point into a new community, into a new geography. "The whole thing is social because you're meeting people and staying connected with them and going to skate their areas. I met Chris Keeffe in my area and then went out to Woodside, Queens and skated his area. Then I met Jon Buscemi and Gino Iannucci and went out to Long Island and hung with them. And then there's Mike Hernandez in the Bronx and Ryan Hickey in Brooklyn, and all of a sudden New York is no longer this small little city."
You can read up to 3 premium stories before you subscribe to Magzter GOLD
Log in, if you are already a subscriber
Get unlimited access to thousands of curated premium stories, newspapers and 5,000+ magazines
READ THE ENTIRE ISSUE
November 2019