HONG KONG HEIGHTS
Mountain Bike Rider
|
August 2020
Hans Rey heads to one of the world's biggest, busiest and densest cities to discover its natural riding
Hong Kong is a place of many faces, a huge conurbation with masses of sprawling habitation, most stretching high into the sky, and contrasting with that there are outlying islands that offer up – for the most part – a different and more peaceful way of life. Rich and poor, old and modern, peaceful and crowded, singletrack and multiple-lane motorway: all exist literally side by side in what Martin Maes would call the most amazing city in the world.
It was after months of planning that our international team finally touched down in Hong Kong. Media, friends and family had made us question the potential folly of coming here at this point in time to make a film and photo story. November 2019 saw a ramping up of discord in the social climate, happening since the summer. Scrapping our plans was not really an option, so we set off understanding that there could be potential roadblocks along the way and we would have to be flexible and prepared to alter our schedule instantly if needed.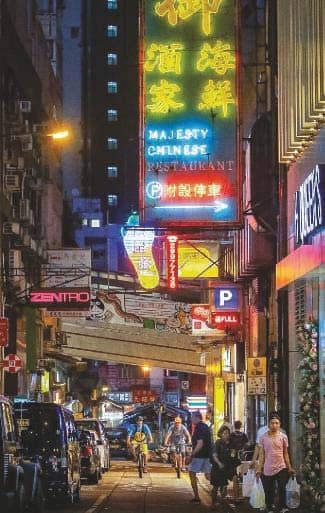 The first day was met with an energetic Hans, eager to hop on his bike after such a long journey and ride the epic Tin Man trail, located in the New Territories region. There are still large areas in Hong Kong that have not been urbanised and are preserved as country parks for the locals and visitors to enjoy.
As the population of Hong Kong Island and Kowloon grew rapidly, more homes were needed, and urban developments spread up and out from Kowloon to the north, all the way to the border with mainland China and south and south-west to the islands of Lamma and Lantau. There are 7.5 million people living in Hong Kong and 50 per cent of them reside in the New Territories. First stop then, Tai Mo Shan, which has the highest peak at 957m. Hans teamed up with Hong Kong native Tiger, a local ripper who grew up watching Hans's videos. He races on a local level and runs a bike repair shop from his small apartment.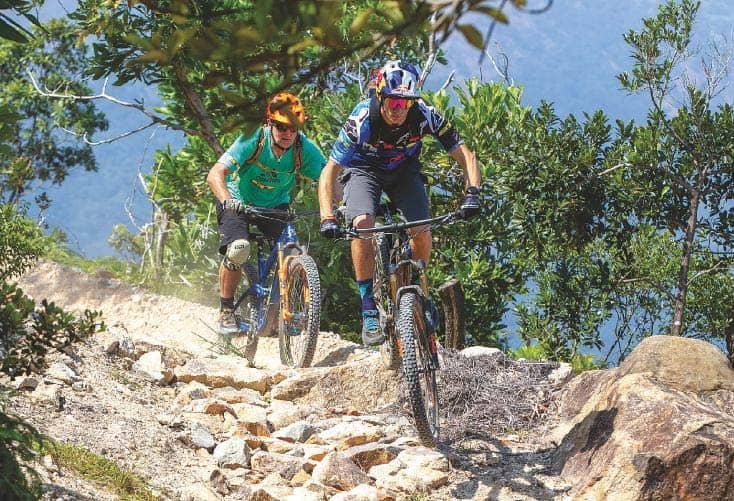 From Tai Mo Shan, the pair headed north and then swung to the west, traversing the New Territories and edging closer to mainland China on the Ho Pui Contour Trail. The riding was super-fun, not too technical and not too steep, only requiring intermediate skills for the most part, suiting many levels of rider. They rode through miles of sub-tropical vegetation, canopies of exotic-looking plants, bamboo groves, streams and waterfalls. The temperature was perfect, with a very tolerable level of humidity, and the sky was a clear azure blue, perfect for the Trans Hong Kong Urban Adventure. Turns out, the mountain biking scene in Hong Kong is big, and this is possibly its most popular trail, over 1,400ft of descent on a super-flowy run with packed dirt and bedded rocks to help you glide over the areas that might be a bit wet and boggy.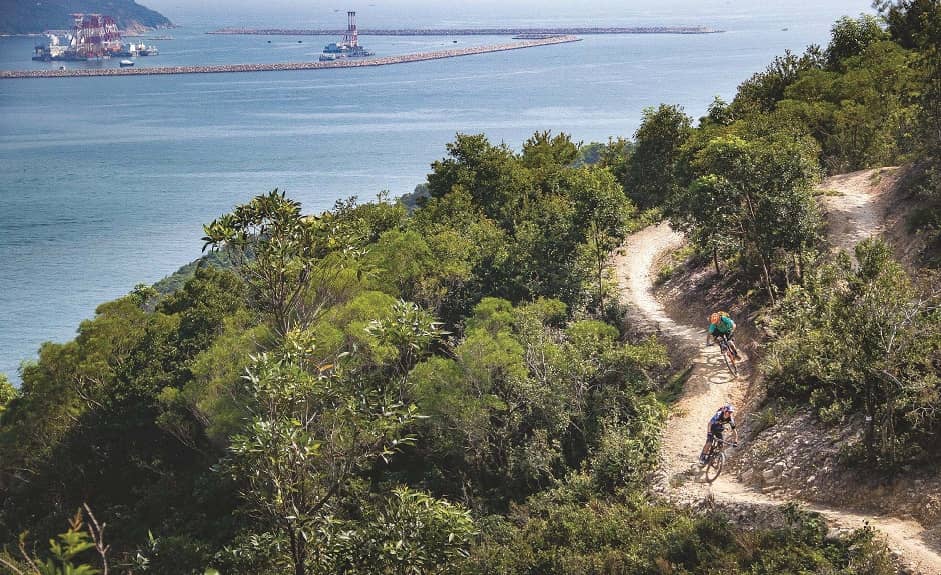 DAY TWO
If the first day was about peaceful, rural riding, the next day promised quite the opposite, exploring Kowloon, home to the old international airport, where planes would swoop in to land so suddenly that you could look into the apartment windows crowded along the approach.
Now the airport has been moved away to a new location, the harbour and sea front has been transformed with glitzy buildings, rising tall and bright, mirroring the reflection of the superyachts bobbing on the water. The sea has been pushed back with built-up land to make Kowloon a little bigger; it now has a promenade and the Avenue of the Stars, honouring the great and good of the Hong Kong film industry.
We met up with enduro racer and fellow GT athlete Martin Maes at what is possibly the most spectacular viewpoint in all of Hong Kong, Suicide Cliff. From the top you have a 360-degree view encompassing Tai Mo Shan, Victoria Harbor, Kowloon, Hong Kong Island, Lantau Island and Shenzhen (mainland China), quite a list.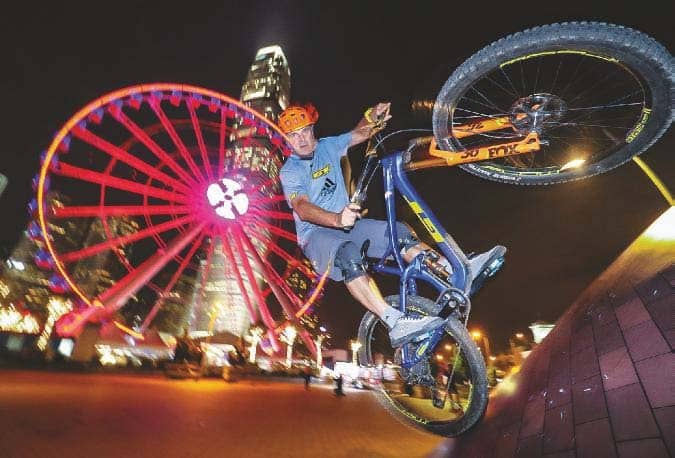 This is not called Suicide Cliff because people jump to their deaths, but rather because unless you are an expert, to hike/ climb is considered suicidal. Some of the trail was so overgrown that the tropical plants were in places taller than Hans and Martin, creating an umbrella of leaves, providing temporary shelter from the sun. This ascent was an exhausting and treacherous near vertical hike a-bike-up a narrow track to reach the saddle where riding was again possible. By the end of the climb we were all exhausted and pretty dehydrated; tip: take two litres of water for this excursion.
You can read up to 3 premium stories before you subscribe to Magzter GOLD
Log in, if you are already a subscriber
Get unlimited access to thousands of curated premium stories, newspapers and 5,000+ magazines
READ THE ENTIRE ISSUE
August 2020