A HEART FOR JUSTICE
Kent Life|March 2020
Working to protect the vulnerable in both Kent and Zambia, meet Canterbury couple Dr Cheryl and Manny Mvula
Some people you meet in life and know they will change you for ever. Manny and Cheryl Mvula are one such couple and theirs is a tale of so much drama, love, faith and chance encounters that I found myself mentally writing the filmscript as we chatted. This is a story crying out for a big screen.
But for now we are chatting at St Mary Bredin Church in Canterbury, a place that's very special to them and the catalyst for much of their work today.
Manny is from Zambia, the seventh of 10 children. As a child he'd help on the family farm herding the goats then walk 7km to primary school, leaves padding his bare feet so that the shoes tied around his neck would be presentable to wear on arrival.
While at secondary school his parents died and the extended family took on the care of the children. Manny's uncle wanted him to stay on and help manage the farm, but his elder brother Elijah, a teacher, encouraged him to continue his studies.
Manny went to live with his brother and was introduced to an English botanist called Bill Astle who wanted the help of an English-speaking native, but first he had to undertake a four-month trial period building his future mentor's house to prove himself.
Which he did, winning the respect and support of his 'English father' and being given the chance to work with Bill in Luangwa National Park as his research assistant.
"Over a three-year period we covered the whole 9,000 sq ml of the park, encountering wild animals, poachers, crocodileinfested rivers. I knew it like the back of my hand," smiles Manny.
He studied to be a ranger, becoming the first trained local black safari guide, and even learnt Italian to be able to lead one particular group. An ex-client was so impressed by Manny's knowledge that he and his wife offered to sponsor him through a Masters at university, which brought him to the UK.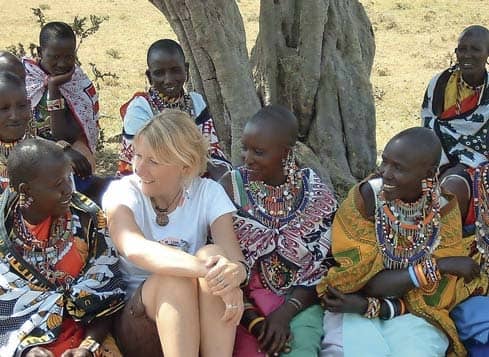 Meanwhile, high-flier Cheryl, a Lincolnshire lass who studied chemisty at Nottingham University, followed by a Phd in organic chemistry, all the while playing table tennis for the British Universities Squad and gaining her black belt in karate, was heading for a career in the oil industry.
Working as an area manger for Shell's petrol stations aross Kent brought Cheryl to Whitstable. In her spare time she volunteered at Howletts, which brought her into contact with wildlife and conservation and a baby gorilla being hand reared by keepers. Djangu was to change her life.
You can read upto 3 premium stories before you subscribe to Magzter GOLD
Log-in, if you are already a subscriber
Get unlimited access to thousands of curated premium stories and 5,000+ magazines
READ THE ENTIRE ISSUE
March 2020