INVESTING: Where to Put Your Money Now
Kiplinger's Personal Finance|July 2020
The market is finding its way in a changed landscape. Our advice: Tilt toward stocks rather than bonds and cash, and favor U.S. over international holdings.
The road map has changed a lot since our last investing outlook, in the January issue. As we hunkered down at home, COVID-19 brought the financial markets and our economy to a crashing halt. The longest bull market in history came to an end, and a bear market emerged in record time, with companies' prospects for the future largely determined by the impact of the coronavirus and their financial wherewithal to withstand it. // What may have surprised most was how resilient the market has been, given the grave economic situation. By mid May, more than 38 million people had lost their jobs. April retail sales and industrial production recorded the steepest monthly drops on record. Restaurants, retailers and movie theaters have filed for bankruptcy, and dozens of companies have suspended or cut their dividends as they husband resources in an attempt to survive (For more on dividends, see the story on page 24.) Oil prices collapsed on fears that global demand would stagnate before recovering some. "We're looking at an extremely deep recession, deeper than 2008 to 2009, the worst since the Great Depression," says IHS Markit chief economist Nariman Behravesh. "No question, this downturn is horrific."
But the stock market reminded investors that it always looks ahead— in this case, beyond the economic chasm to a post-COVID recovery. After falling 34% from its February peak through March 23, Standard & Poor's 500-stock index pivoted to an unprecedented 30%-plus rebound. But some market experts worry that the rally has gotten ahead of itself. Investors, understandably, are wondering if the second half of 2020 will be off to the races or back to the depths. We think the U.S. market will tread a middle ground between the two.
In our January outlook, we said it was reasonable to expect the S&P 500 to reach a level somewhere between 3200 and 3300 at some point in 2020. The broad-market index reached 3386 on February 19, and we don't think it will hit that level again this year. More likely is a year-end finish for the S&P 500 of 2900 to 3000. The midpoint of that range is close to where the market traded in May, and it works out to an 8.7% price decline for the calendar year. Our projection also leaves the Dow Jones industrial average close to its mid-May point at year-end—say, in the neighborhood of 24,400. This forecast includes the expectation of a market correction following the explosive spring rally that could take the S&P 500 down to 2650 or perhaps lower. (Prices and returns are through May 15, when the S&P 500 closed at 2864.)
In other words, we're looking at a volatile market that may make little progress as measured by the indexes— but that shouldn't dissuade you from positioning your portfolio for gains in a post-pandemic future. "Just because the market may not go anywhere for the next six, 12 or 18 months doesn't mean there aren't really good investment opportunities," says David Giroux, head of investment strategy at investment firm T. Rowe Price.
Investors can prosper as we emerge from the downturn by finessing a fine line between defensive plays—but not too defensive—and stocks and sectors that are more sensitive to the economy—but not too sensitive. Your best bet is to maintain a high bar for quality holdings, without paying the sky-high stock prices commanded by companies with the very best balance sheets. And take advantage of emerging post-pandemic investment themes.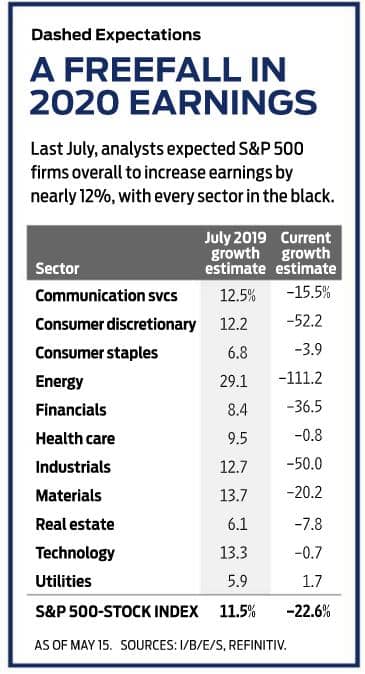 AN ECONOMIC ALPHABET
This is a market more challenging than most investors are used to, especially given how murky the usual crystal balls are. Economists debate, with little agreement, whether the recovery will take the shape of a V (dramatic bounce back), U (prolonged bottom as the economy gradually reopens), W (up and then back down, possibly after another wave of the virus, or L (stuck at low levels as safety concerns limit activity). Or a math symbol: "We agree with the square root sign," says Behravesh, "an uptick that fades away."
Following a first-quarter decline in gross domestic product of just under 5% annualized, Behravesh sees a drop of close to 37% in the second quarter before things pick up in the second half, for a full-year decline in economic growth of 6.4%. Unemployment, recently running at a 14.7% rate, is likely to top out in the third or fourth quarter at 17% or higher, says Behravesh. "This all assumes that the pandemic peaks sometime in July or August and a gradual opening up of the economy continues. If this virus comes back, even this bleak picture is not bleak enough," he says.
Given the epidemiological and economic uncertainties, many companies have withdrawn the guideposts they usually furnish about how their businesses are faring. That makes estimating corporate earnings—the engine that drives stock prices—particularly precarious. "We're operating somewhat blindly," says Phil Orlando, chief stock strategist at investment firm Federated Hermes. The level of earnings might be tough to pinpoint, but the direction is unquestionably down. Wall Street analysts project earnings for companies in the S&P 500 overall to be 22.6% lower than 2019 earnings, according to research firm Refinitiv, with profits plunging the most for energy firms, companies that make or sell nonessential consumer goods (including restaurants, retailers and entertainment firms), and industrials (see the chart at left). It could take until the second half of next year or until even 2022 to get back to 2019 earnings levels.
Hamstrung by falling revenues and shrinking profits, more than 50 stocks have suspended or reduced their dividends. Goldman Sachs forecasts that payouts will fall by more than 20% this year (others predict less). Corporate spending to maintain or upgrade buildings, equipment and the like will drop by 27%, Goldman predicts.
STRONG UNDERPINNINGS
Dire circumstances notwithstanding, the market has some strong underpinnings in the form of massive monetary and fiscal stimulus. "The Federal Reserve, with Congress's help, stopped the bear market squarely in its tracks," says Jim Stack, president of market research firm InvesTech Research. The Fed cut short-term interest rates to 0%, although Fed governors insist negative rates are not in the cards. Central Bankers and the federal government have injected more than $5 trillion combined into the financial markets and the economy so far, says Stack, and trillions more could be coming. "At the same time, the economic challenges remain formidable," he says.
Experts also wonder if we'll pay for spending now with an uptick in inflation later. Shifting political winds toward populism, nationalism and deglobalization are also likely inflationary, says stock strategist Mike Wilson at Morgan Stanley, and together with deficit spending and expected weakness in the dollar "are creating the most convincing case for a return of inflation we've seen in some time," he says. For now, the deflationary effects of a recession—and longer term, the ongoing technological revolution and aging demographics—will temper the risk of spiraling price hikes. Kiplinger expects an inflation rate of just 0.3% at the end of 2020, far below last year's 2.3% rate.
What once was the market's biggest wild card, the U.S. presidential election, has taken a backseat to the pandemic. "If new infections grind lower, we put this brutally ugly second quarter behind us and show growth in the third quarter with people working and the stock market back up, that's good for Trump's reelection," says Federated's Orlando. "If there's an unexpected second wave, another shutdown and recession runs into next year, we're looking at President Biden." Orlando will be watching the stock market's performance in the three months leading up to the election. If the market is up, the incumbent tends to win; if it's down, the opposition is usually victorious. Going back to 1928, the indicator is 87% accurate.
Regardless of the election outcome, some hot-button issues have cooled considerably, given the economic situation, says stock strategist Jeffrey Buchbinder at LPL Financial. "I see no appetite for increasing the corporate tax rate," he says. Similarly, we won't see tariff increases in the deepest recession we've seen since the 1930s."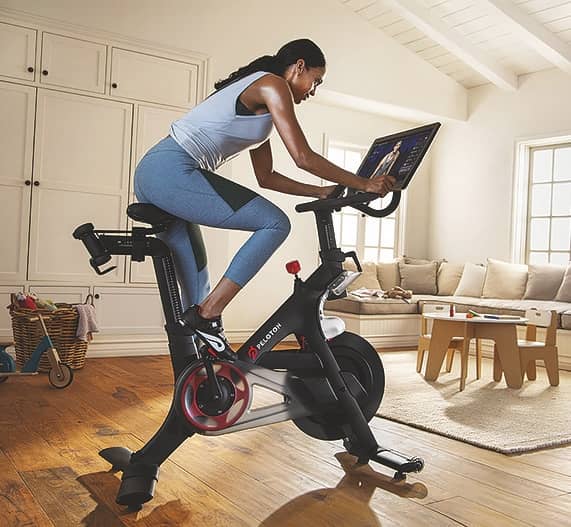 Opportunities
Five Stocks to Buy Now
American Electric Power (symbol AEP, $78). Operating in 11 states, this electric utility mixes defense of a 3.6% yield with some sensitivity to an economic rebound, says T. Rowe Price portfolio manager David Giroux. Look for long-term annual earnings growth in the mid-single-digit percentages.
Becton Dickinson (BDX, $258). The health care equipment maker has a pipeline of products to battle COVID, says BofA Securities, including a test that will confirm an active infection in 15 minutes. Becton is ramping up to produce syringes for a COVID vaccine.
Costco Wholesale (COST, $299). Competitive advantages go beyond pandemic-related stockpiling, says Morningstar. Membership renewal rates are nearly 90% and have held steady through the financial crisis and the rise of e-commerce.
You can read up to 3 premium stories before you subscribe to Magzter GOLD
Log in, if you are already a subscriber
Get unlimited access to thousands of curated premium stories and 5,000+ magazines
READ THE ENTIRE ISSUE
July 2020