TABLE IN A DAY
Family Handyman|June 2020
Peel-and-stick veneer makes it stunning and simple
When it comes to woodworking, I'm a cheater. I want masterpiece results, but I love shortcuts. That's why I like to build tables using hollow-core doors and veneer. This method is faster, easier and cheaper than solid wood construction, and the table is lighter and more stable. The first table I built this way is as flat and flawless as it was 20 years ago.
I spent about $500 on materials because I chose high-grade zebrawood boards and veneer. Built from a species like oak or cherry, a table could cost well under $300. I completed the construction in a day, then spent a few more hours applying a finish.
WHAT IT TAKES
TIME 1–2 days
COST $250–$600
SKILL LEVEL
Intermediate
TOOLS & MATERIALS
Basic hand tools, circular saw, clamps or pneumatic nailer
EASY RECIPE FOR AN ELEGANT TABLE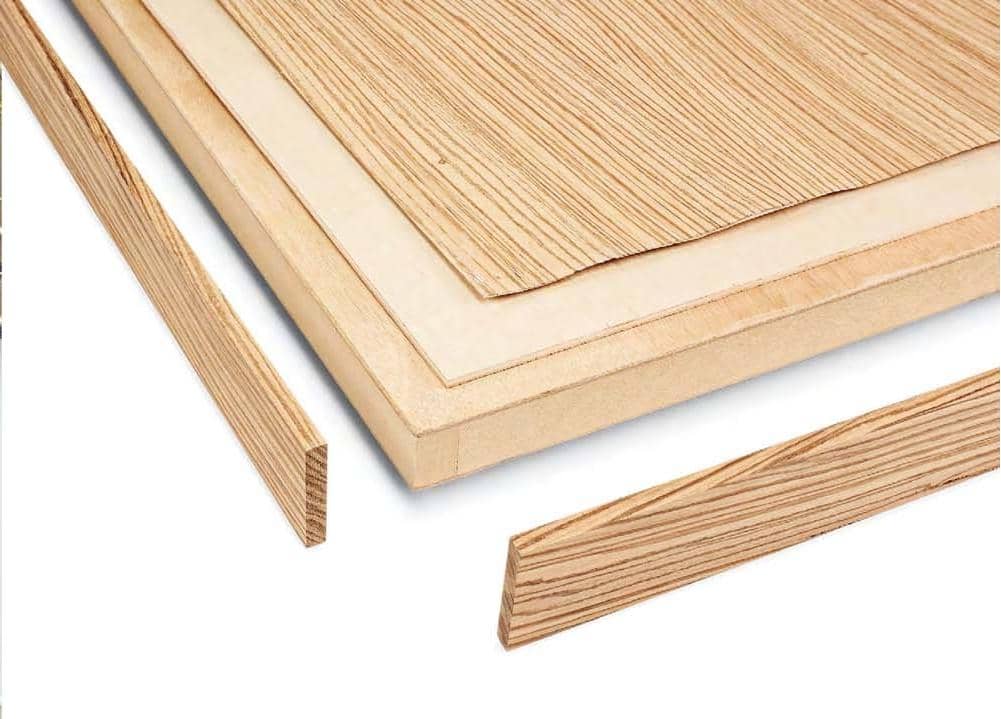 A HOLLOW-CORE DOOR is flat, strong, lightweight and inexpensive ($40 to $60), making it the perfect foundation for a table.
"SKIN" glued to the door provides a tougher tabletop. The faces of a hollow-core door are super thin and easy to puncture. The skin can be plywood, MDF or hardboard.
PEEL-AND-STICK VENEER costs a few bucks more than standard veneer, but it gives you perfect results without special tools or skills.
SOLID WOOD gives the table a durable edge. Veneered edges look just as good, but they aren't nearly as tough. Any thickness will do, but thin stock costs less and is easier to apply. This edging is 3/8 in. thick.
MATERIALS, TOOLS AND TIPS
Hollow-core doors are available at home centers, typically in widths of 28, 30, 32 and 36 in. You can cut them down from their standard height (80 in.) for a table of a different length. You can also cut them to width, but that's a bit more work.
I bought the 28-in. hairpin legs online for about $60. There are lots of styles and finishes available. For a dining table, I strongly recommend hairpin legs formed from three columns rather than two.
This project requires lots of wood glue, at least 16 oz. To give yourself more working time, consider a slow-setting glue such as Titebond Extend, or add about 10% water to standard glue.
My plywood skin had some flaws—tiny lumps that telegraphed through the veneer and became visible only after the veneer was finished.
To avoid this, examine your plywood carefully. Better yet, choose hardboard or MDF for the skin.
You can read up to 3 premium stories before you subscribe to Magzter GOLD
Log in, if you are already a subscriber
Get unlimited access to thousands of curated premium stories and 5,000+ magazines
READ THE ENTIRE ISSUE
June 2020