Your Summer Burn
Oxygen
|
July - August 2019
Break out of the gym and into the beautiful weather with these five high-intensity, fat-burning cardio workouts.
We spend more than half the year waiting for sweet summer to arrive. Then when it does, we persist in trudging to the the stale, dank confines of the gym to do cardio on the same old machines we labored on over the endless frigid months. Nothing against treadmills, but it's time to kiss them goodbye (well, not literally — yuck).
The following five expert-designed workouts will free you from the gym without compromising your fitness-building, fatburning efforts. Go outside and try them today because as we learn all too quickly each year — summer is fleeting while winter is (seemingly) forever.
1 | SPRINTS
This on-the-oval regimen is the go-to of Samantha Clayton, vice president of Worldwide Sports Performance and Fitness for Herbalife and a former Olympic track athlete. "Think of sprinting as the weightlifting of the running world," says Clayton, who competed at the 2000 Olympic Games in the 200 meter and 4x100 meter relay events for Great Britain. "It's high intensity and high impact and promotes muscular growth — especially in the posterior-chain muscles like the glutes and hamstrings."
THE WORKOUT
WARM-UP
Jog two laps (800 meters).*
PRE-SPRINT WORKOUT
- Do the following moves in order for 30 seconds each. Complete three rounds.
- Walking Lunge
- Running With High Knees
- Side Step
- Butt Kicks
- Skipping
SPRINT WORKOUT
Repeat the below sequence eight times through.
Sprint 100 meters (on the straightaways) Walk 100 meters (on the curves)
COOL-DOWN
Walk two laps (800 meters).
TRAINING TIP "If you're a more advanced athlete, finish up with four 50-meter sprints with a 60-second recovery between each one," Clayton suggests.
*One time around a standard track oval on the inside lane is 400 meters.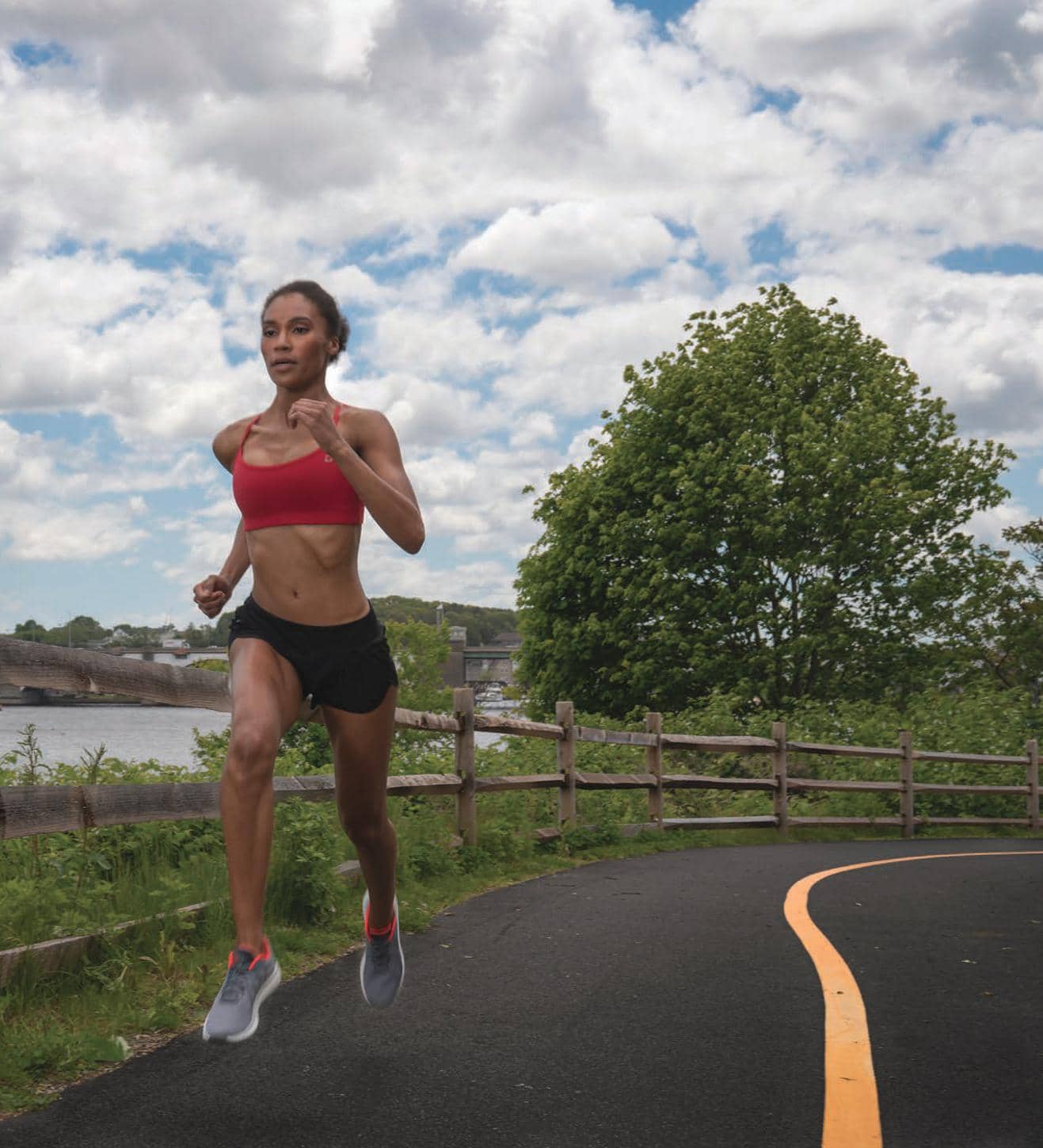 2 | DISTANCE RUNNING
"Distance running is great for your body and your mind, and I like to think of steady-state runs as meditation in motion," Clayton says. Even so, if you aren't game to just lace up and run for 60 minutes straight, use the following workout, which includes running intervals and an exercise interlude to further engage the lower body. "Intervals help you build the stamina and confidence to work progressively up to longer distance runs," Clayton explains.
THE WORKOUT
WARM-UP
For 10 minutes, alternate between walking and jogging in 60-second bouts.
RUNNING WORKOUT
- Repeat the below workout for six rounds, or a total of 30 minutes. 5 minutes Run at a moderate pace. 1 minute Walk.
POST-RUN WORKOUT
- Perform the below strength workout, resting as needed.
EXERCISE SETS REPS
- Stationary Lunge 3 10 (per leg)
- Bicycle Crunch 3 10 (each side)
- Calf Raise 3 10
COOL-DOWN
For five minutes, alternate between walking and light jogging in 30-second bouts.
You can read up to 3 premium stories before you subscribe to Magzter GOLD
Log in, if you are already a subscriber
Get unlimited access to thousands of curated premium stories, newspapers and 5,000+ magazines
READ THE ENTIRE ISSUE
July - August 2019