PACK UP THE FUN WITH Healthy KIDS' LUNCHES
Better Nutrition|August 2020
Liven up your midday meal with these delicious, healthy, and kid-friendly recipes.
It's not always easy to come up with creative lunch ideas for kids. Too often, we fall back on the time-honored PB&J or mystery-meat nuggets. So if you're looking to spice up your children's noontime nosh, check out this selection of good—and good-for-you—recipes. Whether they're headed back to school or just into the next room, your kids will thank you!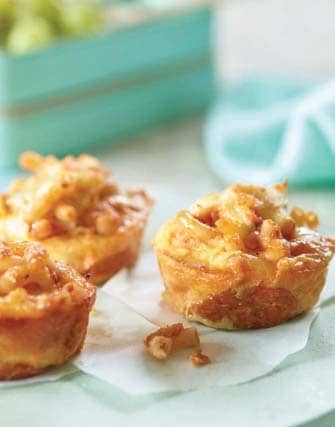 Macaroni Pizza
Makes 16 mini pizzas
Muffin tins make the ideal container for a pizza-flavored mac and cheese. Pasta is packed with protein already, but when you add in cottage cheese, mozzarella, and eggs, you've got a protein-rich lunch that will get your kids through the afternoon.
1½ cups small macaroni (any kind will do, wheat, lentil, rice, or bean)
1 cup marinara sauce
2 cups grated mozzarella, divided
1½ cups cottage cheese
4 eggs
4 Tbs. grated Parmesan cheese Hefty pinch of salt and pepper 16 pepperoni or salami rounds
1. Preheat oven to 350°F. Cook pasta according to package directions until al dente. Drain, place in a bowl, and stir in marinara sauce. Let cool 10 minutes.
2. Stir in 1½ cup grated mozzarella. Blend cottage cheese, eggs, Parmesan, salt, and pepper in blender or food processor until smooth
3. Line cups of two 8-cup muffin pans with two paper liners each. Place pepperoni or salami in the bottom of each liner. Fill cups half full of macaroni mixture. Carefully pour cottage cheese and eggs over macaroni to fill in gaps. Top with the remaining mozzarella cheese.
4. Bake 20 minutes, until the egg is set and tops are puffed and golden brown. Mini pizzas will keep in the refrigerator up to 5 days.
Per serving: 140 cal; 8g prot; 5g total fat (2 sat fat); 14g carb; 50mg chol; 320mg sod; 0g fiber; 5g sugar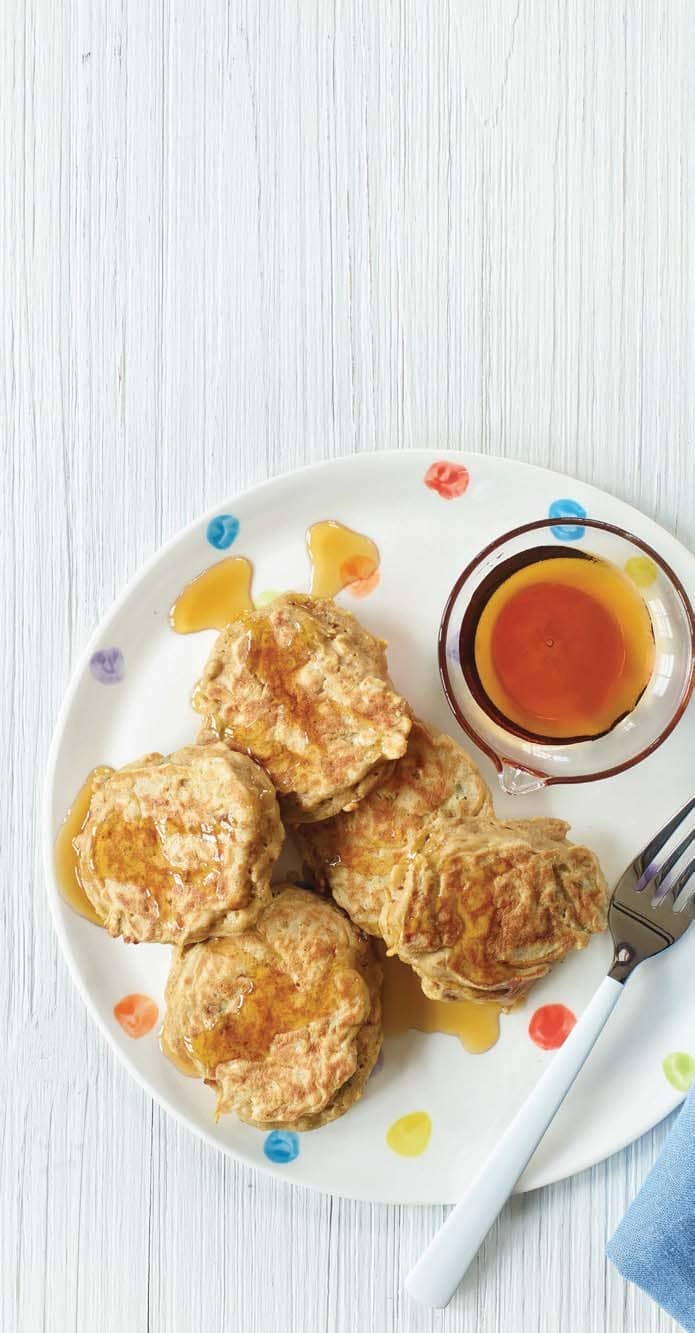 Apple, Oat, and Yellow Squash Pancakes
Makes 24 pancakes
For kids who like to eat breakfast all day, look no further than these silver dollarsized morsels. Serve these high-fiber pancakes with a tub of applesauce or a bit of maple syrup for dipping. Gluten-free, Makes 2 dozen.
1½ cups gluten-free oat flour
1 cup rolled gluten-free oats
2 tsp. baking powder
½ tsp. cinnamon
1 tsp. vanilla
4 eggs, whisked
1 cup milk of your choice
1 large apple, grated (don't peel)
1 small yellow summer squash, grated Cooking oil for the pan
1. Preheat non-stick skillet or griddle to medium-high heat. Mix dry ingredients in a bowl. Add vanilla, eggs, and milk. Stir well.
2. Add apple and squash, and stir into the batter and until well combined.
You can read up to 3 premium stories before you subscribe to Magzter GOLD
Log in, if you are already a subscriber
Get unlimited access to thousands of curated premium stories and 5,000+ magazines
READ THE ENTIRE ISSUE
August 2020