FLYING THE NORTH AMERICAN P-51 Mustang
Flight Journal|June 2020
A triple Ace reports from the cockpit
I consider myself lucky to be able to fly a P-51 Mustang so many years after the war. Jack Roush owns this Mustang, which is painted to look like my 357th FG 363rd FS D-model that I flew after it was de-camouflaged.
The North American Aviation P-51 Mustang is my all-time favorite airplane. I have other favorites too, but the P-51 got me through WW II so well that it is the obvious choice for nostalgic reasons alone. The Mustang is a beautiful airplane to look at, and it has such a great, distinctive sound. There are so many legendary stories about the Mustang that it must be every flyboy's favorite WW II fighter, and I think most objective researchers would agree that it was the best all-around WW II combat fighter. But why was the Mustang so great? In a nutshell, because of its advanced design and overall performance. It was superior in many ways, and if it wasn't the best in a particular area, it was, at least, very competitive.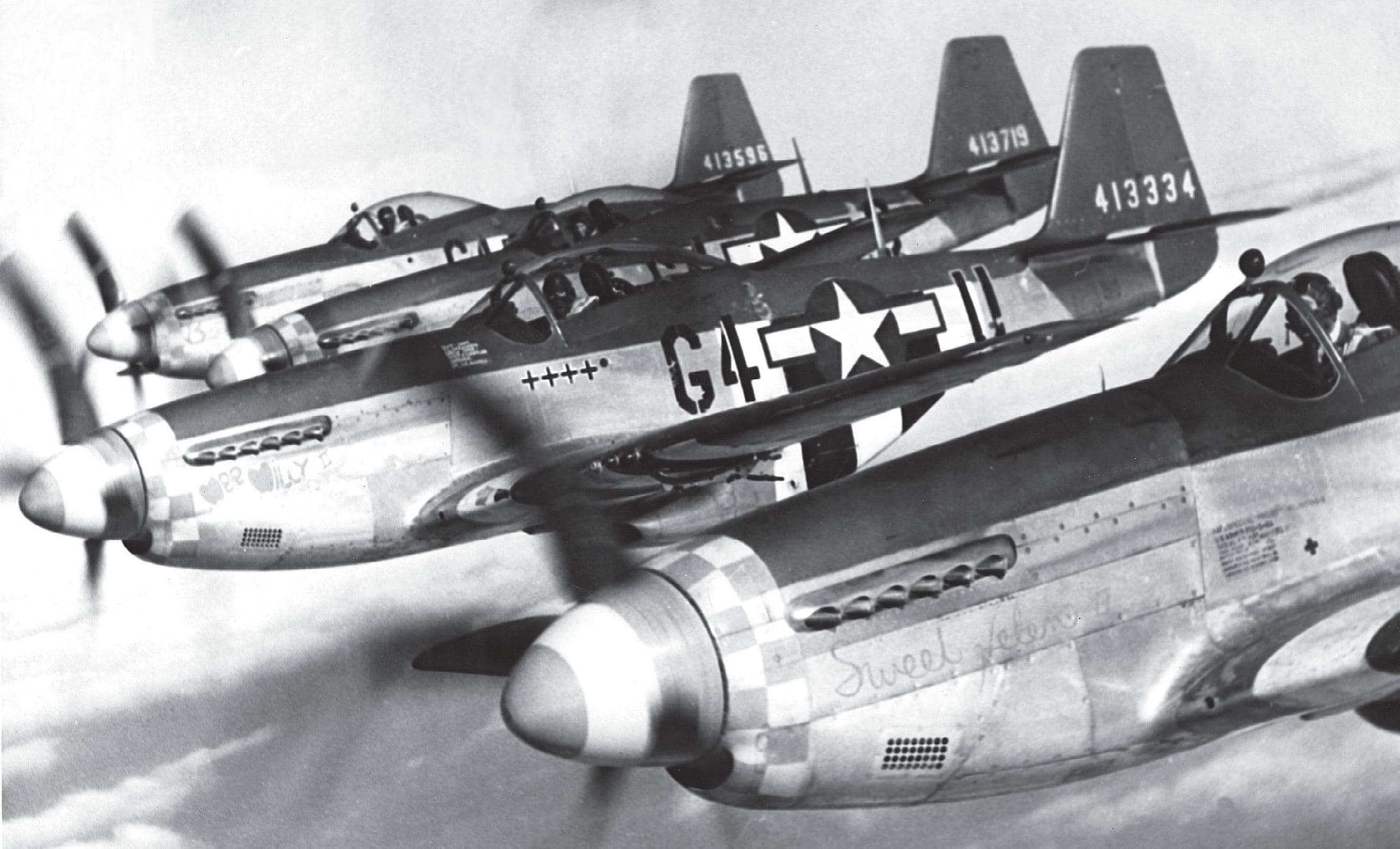 Early D-model Mustangs of the 362nd FS are out on a post-D-Day patrol.
Once the Mustang was equipped with the Packard-built Merlin engine, its highspeed performance became outstanding. At altitude, the P-51's top speed (true airspeed) was close to 440 mph, depending on whose evaluation you read. One of the things that made this possible was the engine's two-stage, two-speed supercharger. The engine could produce takeoff power at high altitude. It was a great performer at sea level as well as at altitudes of 30,000 to 35,000 feet, with the best speed attained somewhere in between.
Another superior performance factor was the range of the P-51. It had a cruise range of about 2,000 miles, which was achieved by the combination of aeronautical design, engine choice and innovative features to increase fuel carrying capacity. The North American design team's determination to build the best fighter possible also contributed to the Mustang's excellence. The team decided to take a risk and use a new airfoil instead of using old, proven wing shapes. NACA had developed a laminar flow, low-drag airfoil that showed great promise. This airfoil was reshaped and specifically adapted to the new fighter by North American. The laminar flow shape was different from conventional airfoils of that day. The thickest part of the airfoil was moved back from the leading edge, and the bottom of the wing had the same contour as the top. All of this resulted in smoother airflow over the wing and less drag. Further, the P-51 wing had a higher critical Mach number where compressibility was encountered. A P-51 could outdive most aircraft and safely recover.
One other unique feature was the design of the coolant radiator. It was so efficient that in theory, it produced thrust—enough to eliminate all or most of the drag caused by the necessary engine-cooling radiator that traditionally caused aerodynamic drag.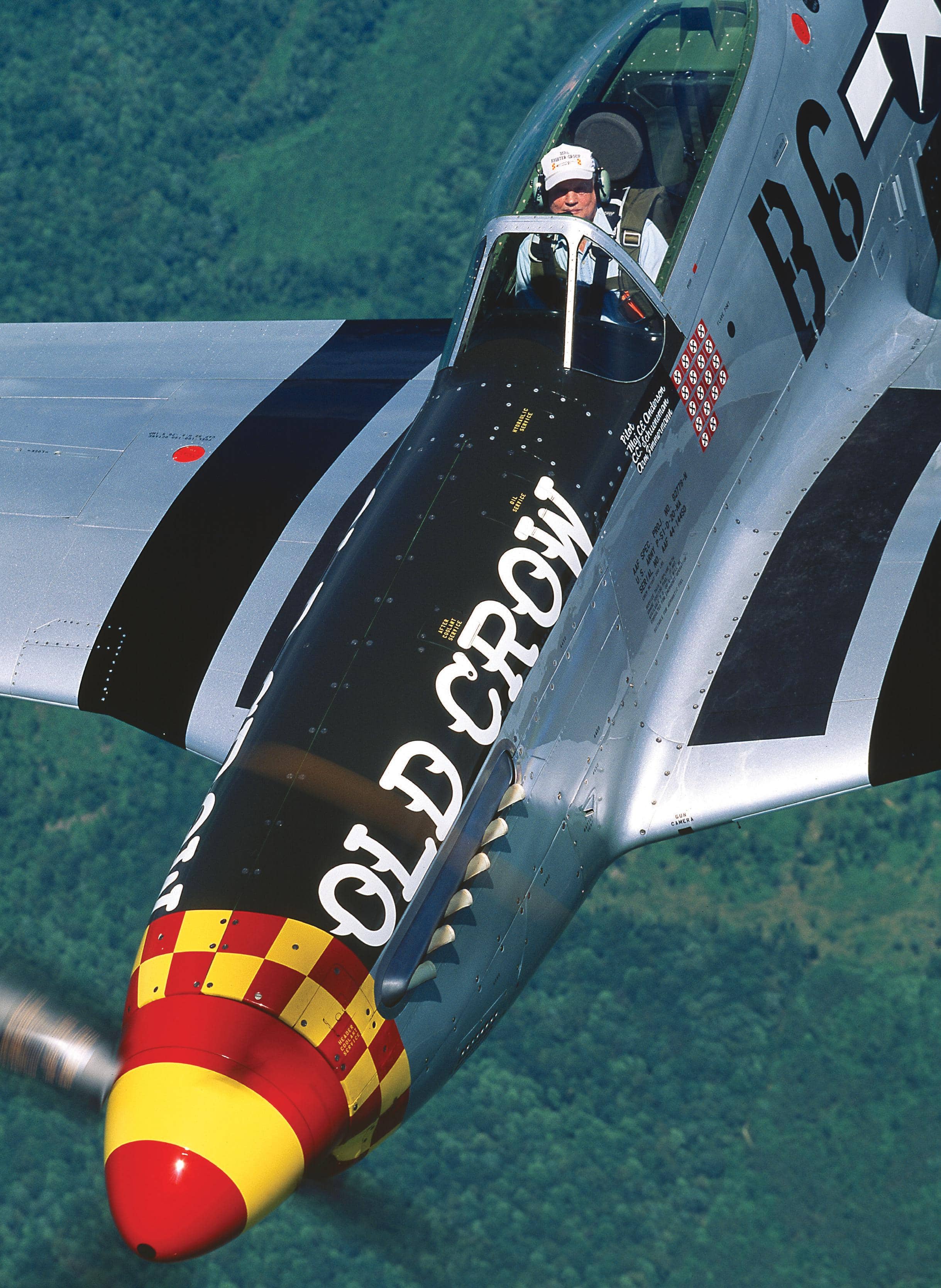 The early Mustangs had high-performance capabilities, but they needed more fuel for better range. This was achieved by installing an additional fuel tank in the fuselage right behind the pilot. External fuel tanks were also installed on the bomb racks under the wing. The P-51D—the classic Mustang— carried 92 gallons inside each wing and 85 gallons in the added fuselage tank for a total of 269 gallons of internal fuel. External wing tanks came in various sizes, from the early 75-gallon tanks to a postwar 220-gallon tank. During WW II, we had the 110-gallon tanks, so we had nearly doubled the fuel capacity of the earlier Mustangs. What did that mean in combat? A 2,000-mile ferry range is great, but in combat, you cannot plan on cruising at low speed and at the best altitude for maximum efficiency. Once you were engaged in serious combat, you had to drop the external fuel tanks and get rid of all that drag. That meant wyou could cruise into hostile territory using the external fuel tanks until you engaged the enemy. After you jettisoned the external tanks, you had a clean, high performance airplane with a full load of fuel. Even the range figures for a clean Mustang are misleading because once in combat, you could use up a lot of fuel at high engine power. The bottom line is that we had lots of fuel for our missions in the European theater.
A MISSION FROM OUR BASE AT LEISTON, ENGLAND, TO BERLIN AND BACK WAS A DISTANCE OF ABOUT 1,000 MILES. THE MUSTANG HAD GREAT RANGE THAT NO OTHER FIGHTER COULD MATCH.
I was a member of the 357th Fighter Group in the eighth Air Force, and our mission was to escort the heavy bombers to whichever targets they were assigned to hit anywhere in Western Europe. We had enough fuel to pick up the bombers as they entered enemy territory, escort them to the target area, and bring them all the way back to safety. On average, our missions were about four and a half hours long. The lengthiest mission I ever flew was on D-Day: June 6, 1944. We had been instructed to patrol behind the invasion forces that were landing at Normandy. I logged six hours, 55 minutes on that mission and still had considerable fuel remaining when I landed. We saw no enemy aircraft and, of course, never used high engine power. A mission from our base at Leiston, England, to Berlin and back was a distance of about 1,000 miles. We flew escort to targets in Poland and around Prague, and even on shuttle flights from England to Russia and then to Italy before returning to England. The Mustang had great range that no other fighter could match.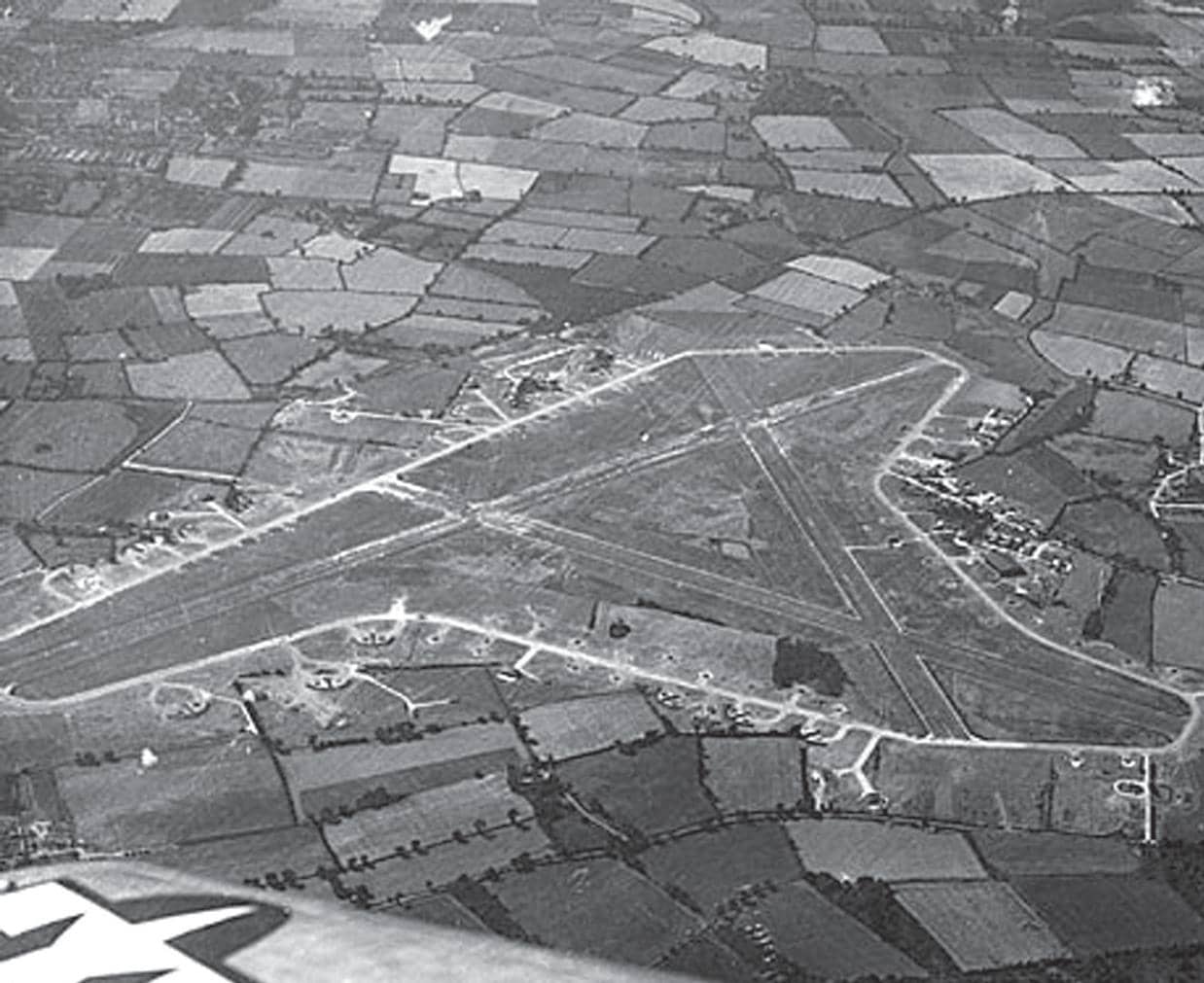 This is how Leiston looked from the air in 1944. It sure was a welcome sight after a day of flying. (Courtesy of Bud Anderson.)
I never even saw a Mustang until we arrived overseas in the combat theater. My fighter pilot training was all in the P-39 Airacobra. My first flight in the Mustang was on December 19, 1943, in England. Our squadron history says that our first Mustang arrived on base that day, and I flew it twice. It amazes me that I have no memory of that very first flight. I think it must have been because I was 20 years old, in a strange land, and about to enter the excitement of aerial combat. Plus, I had just learned that my best friend since childhood had been shot down in a P-38 over Bremen and was presumed dead. This trauma seems to have blocked out my recollections of what should have been a highlight of my life. The best that I can recall is that we were briefed by someone who had flown at least once or twice in the P-51. We had no airplane manuals to study, so it was a fast look around the cockpit, a discussion of a few numbers about takeoff, stalls, approach and landing; then go up and try it.
You can read up to 3 premium stories before you subscribe to Magzter GOLD
Log in, if you are already a subscriber
Get unlimited access to thousands of curated premium stories and 5,000+ magazines
READ THE ENTIRE ISSUE
June 2020