Hello, Harnaam Kaur
Cosmopolitan India|June 2020
This 'bearded lady'— and Cosmo's digital cover star—is on an important mission: to challenge societal perceptions and help women love and embrace their bodies, as they are. In conversation with Cosmo Ed Nandini Bhalla, Harnaam talks about her journey and how she finally found her true purpose... Creative Direction: Zunaili Malik
The first thing people notice
about Harnaam Kaur is her beard—dark, glossy, and framed by a vivid turban and perfectly-exaggerated winged liner. But that's not the most striking thing about this 29-year-old model, anti-bullying activist, and motivational speaker. No, what makes Harnaam truly extraordinary is her most compelling asset—a lion-heart, beating inside the body of a compassionate, sensitive woman.
Harnaam, a British woman of Indian descent, hit puberty at the age of 10, and was diagnosed with Polycystic Ovary Syndrome (PCOS) at 12, which caused her to develop thick facial hair. PCOS is a fairly common condition, a hormonal imbalance that causes weight gain, excessive hair growth, and irregular periods.
Harnaam waxed and shaved and bleached her hair several times a week, to a point where her skin would turn painfully raw, but the hair continued to spread. The schoolyard bullies taunted her, calling her shemale and beast and sheman; they kicked me with footballs and stabbed me with pens. Harnaam began skipping school and refused to go out, for fear of being shamed and stared at. The trauma drove the young girl to depression, self-harm, and constant thoughts of killing herself. Until Harnaam decided she was done. She would not allow her haters to win...and she would accept her body—and beard—just the way it was.
As Harnaam shares her story with me, over a Skype call, I want to reach out and hug her. Not just because of the bullying and shaming and violence and death threats she has had to endure (the death threats continue, by the way)...but because she chose to rise above the ridicule and scorn, and has emerged as a passionate disrupter of mainstream beauty standards.
With every photograph Harnaam posts on social media, of herself living her best life—and looking amazing—she inches us a little forward, towards true diversity and body positivity. In a superficial world that venerates 'perfection', Harnaam challenges our perceptions and reminds us that uniqueness is to be celebrated.
Harnaam tells me she wants more women to learn about her arduous—but inspiring—journey towards self-love, so they can pluck out some courage for themselves from the supply that she has. This is her mission. And this is her story...
Nandini Bhalla: Growing up, what was your idea of beauty?
Harnaam Kaur: "I don't think I knew what it meant to be beautiful, but I knew that I was...not beautiful. When you grow up hearing things like, 'Oh, she's such a fat kid', or 'moti' (fat), or 'kaddu' (pumpkin)... it can leave a deep impact on a young mind. I don't think people understand how their words affect a person. Even if those things are said in a loving way, you know? So for me, being fat was always an issue. And then some parts of my body were darker than others, so I was also told to use fairness creams...like, you have to be white to be 'right'. Now I embrace my body. But back then, my friends were all blonde and thin, with blue eyes and beautiful skin. And to see them being more popular than I was, it sent my brain a message that the way I looked was not acceptable. It's hard because kids learn at a very young age that their body should look a certain way. And it's heartbreaking.
One of the things I love about my job is that I am able to go to schools and portray a diverse image of what a body should or could or possibly might look like. That we are all different."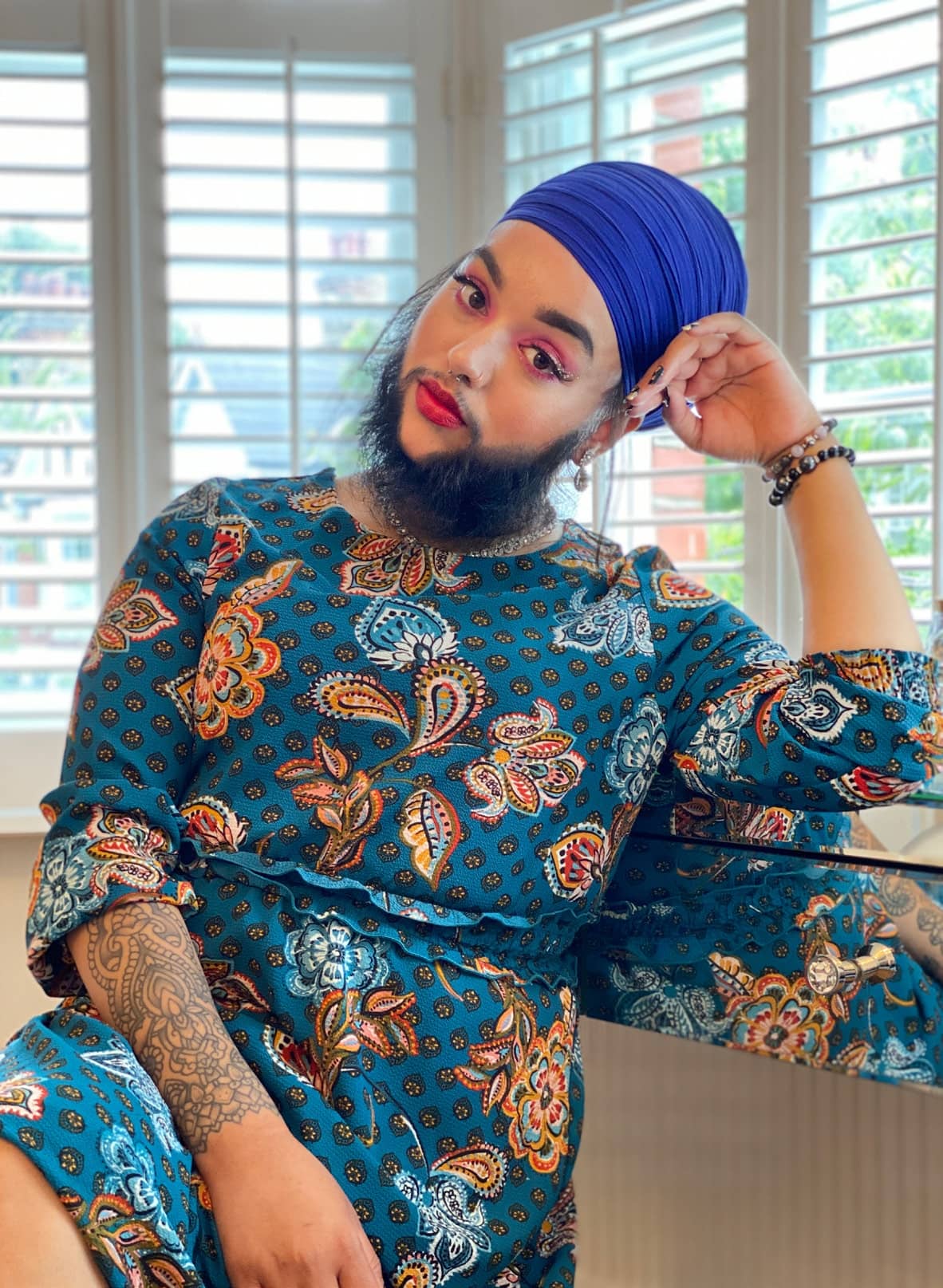 NB: As your body began to change, how did your family react? Were they worried? Were they supportive?
HK: "Oh, they are supportive now because they can see how much of an impact I have had on people's lives, all over the world. They see that now... Even if I were to be a mother some day and see my daughter going through something very difficult, I'd want to help her in every way I could. And I think for my parents, or the world in general, just seeing a woman with a beard can be very confusing. And parents worry about their children. They worry about their child's future and marriage prospects, and about how society might treat her. You know how the world is... I think my parents were worried about these things.
Thankfully, I am very strong. I believe in self-empowerment, in personal growth, and in the power of 'me'. I allowed other people to see that I was actually doing okay. They could see that I was living my life the way I wanted to. And I think the more people see that strength, the more they back off. You will still get the occasional taunt or 'opinion' from an extended family member, or someone in the community. But I guess that just comes with being a public figure. I've learnt that people will always have an opinion..."
You can read up to 3 premium stories before you subscribe to Magzter GOLD
Log in, if you are already a subscriber
Get unlimited access to thousands of curated premium stories and 5,000+ magazines
READ THE ENTIRE ISSUE
June 2020