MALLRATS AT 25
Total Film|May 2020
From sophomore slump to prophetic cult classic, KEVIN SMITH tells Total Film the rollercoaster story behind his pop-culture-lovin' second feature, Mallrats. Plus, the beloved writer/director shares his lockdown viewing picks.
Back in 1995, Mallrats was absolutely classified as a sophomore slump - and should have been," admits director Kevin Smith, revisiting his out-of-time second feature on its 25th birthday. "Ironically enough, the movie has aged incredibly well - to the point where nobody remembers its failures but the director himself. He carries it with him like a cross - or herpes."
Back in the early '90s, Smith was riding high on a wave of unexpected success following the release of his hit debut feature Clerks - a rough-and-ready convenience-store comedy that helped herald in a whole new era of indie cinema. It was during his whirlwind period that Smith first conceived of the idea for its follow-up, a movie that celebrated all the colourful corners of pop culture that he loved from his youth - from comics to movies and everything in between. On paper, Mallrats looked set to be a guaranteed crowd-pleaser but on release, audiences had different ideas.
"The dark origins of Mallrats trace right back to Sundance 1994 and the festival's awards ceremony," says Smith, taking us back to a time where the internet was still in its infancy, movie disagreements had to be settled face-to-face and Marvel adventures existed solely on the page. "Clerks had won the Filmmaker Trophy. I thought it might have been a Carrie like joke where I get up on stage and they dump pig's blood on me," he laughs, "but afterwards there was a party, where I met Jim Jacks. Jacks was the producer of Tombstone, Tremors and Raising Arizona - and he loved Clerks. He asked me if I knew what I wanted to do next and I said 'I've been thinking about making a movie called Mallrats - which was Clerks but in a mall.'"
Unbeknown to Smith, Jacks had come close to buying Clerks for Universal before being bought out by Miramax and when he learned of Smith's second feature, he was keen to snap it up. "January of '94 was when I first said the idea out loud and March of '94 was when I pitched it to Universal; they made it official and we started developing Mallrats." Again set in the world of retail, Smith's second film was a day-in-the-life story following the misadventures of recently dumped geeks T.S. Quint (Jeremy London) and Brodie Bruce (Jason Lee) and saw the return of two familiar faces. "Jacks was all for bringing over Jay and Silent Bob, which was something I wanted to do because I realised if I could keep Jason Mewes employed, he would stop borrowing money from me," laughs Smith, discussing Jay's real-life alter ego. "I got to own the characters after Clerks so I was able to put them into Mallrats."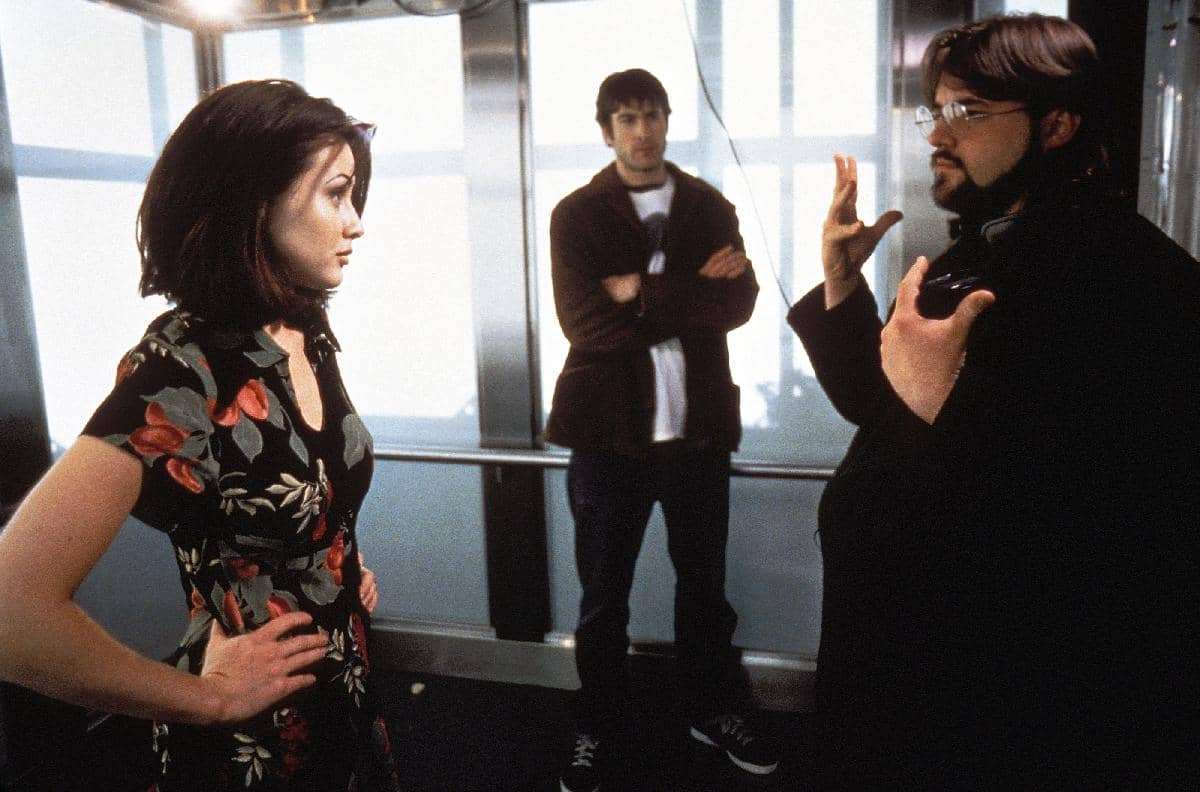 DON'T DO DRUGS
You can read up to 3 premium stories before you subscribe to Magzter GOLD
Log in, if you are already a subscriber
Get unlimited access to thousands of curated premium stories and 5,000+ magazines
READ THE ENTIRE ISSUE
May 2020