The Debtors Strike Back
Bloomberg Businessweek
|
October 5 - October 11, 2015
Activists want to turn billions in unpaid student loans into a catalyst for political action.
When the U.S. Department of Education announced in June the creation of a formal process for students defrauded by their college or university to seek loan forgiveness, it was a victory for the activist group Debt Collective. The impact of the policy could be huge: Granting forgiveness to everyone who attended Corinthian Colleges in the past five years—the for-profit company that filed for bankruptcy in May amid charges of predatory behavior—would wipe out $3.2 billion in debt owed to the U.S. government.
For members of the Debt Collective, which has been fighting for loan relief since its founding last year, it wasn't nearly enough. The piecemeal approach of requiring individual borrowers to apply for loan forgiveness seemed unacceptably burdensome. "The right thing to do would be to issue a classwide discharge and understand that this happened to a group of people," says Ann Larson, 41, one of the organization's leaders. "No one who is paying attention can possibly think that the Department of Education is doing all it can." The Debt Collective's overarching goal, she says, is to persuade the millions of Americans who are severely late on their student loan payments to "revolt"—to turn the billions they collectively owe from a burden into a source of political power.
At the moment, the strategy is working. Amid inertia in the world of education finance, with total student debt balances now reaching $1.2 trillion, the Debt Collective has become a leading voice for student debtors, earning the respect of consumer advocates and state attorneys general alike. "It is quite an accomplishment to have gotten the department to this point," says Robyn Smith, an attorney with the National Consumer Law Center who's consulted with the group. The Debt Collective "has played a major role in keeping public attention on this issue and keeping the department's feet to the fire."

For a movement made up of delinquent borrowers, the Debt Collective is surprisingly optimistic about the role it can play. The group has roots in Occupy Wall Street, the protest that began in New York City's Zuccotti Park in September 2011. While camped out to spotlight bankers' misdeeds and wealth inequality in America, Larson began thinking about unionizing student borrowers. The activists she met tended to have educational debt themselves, and they realized their shared experience of unmitigated frustration and powerlessness could inspire a broad social movement.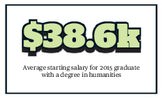 You can read up to 3 premium stories before you subscribe to Magzter GOLD
Log in, if you are already a subscriber
Get unlimited access to thousands of curated premium stories, newspapers and 5,000+ magazines
READ THE ENTIRE ISSUE
October 5 - October 11, 2015