A Middle Kingdom Expedition To God's Land & Punt
Ancient Egypt|Issue 102
Dylan Bickerstaffe explores an important inscription carved in the rocks at Wadi Hammamat.
Today the Wadi Hammamat route to the Red Sea leaves the Nile Valley at Kuft (Qift), and crosses a long stretch of empty desert plain before entering a system of wadis that traverse a broad range of jagged mountains; to eventually emerge through an area of curiously banded and sculpted rocks and reach the coast at Quseir. A number of sites in the mountains were of interest to the ancient Egyptians for the extraction of gold and amethyst, but, from the Pre-dynastic through to the Roman period, the area that received the most attention was that around the quarries where the sacred bekhen stone was mined. It is here that the surfaces of rocks along the roadside are covered with inscriptions left by officials leading expeditions. Pre-dynastic boats are to be found, as are scenes of figures offering to the presiding deity, Min.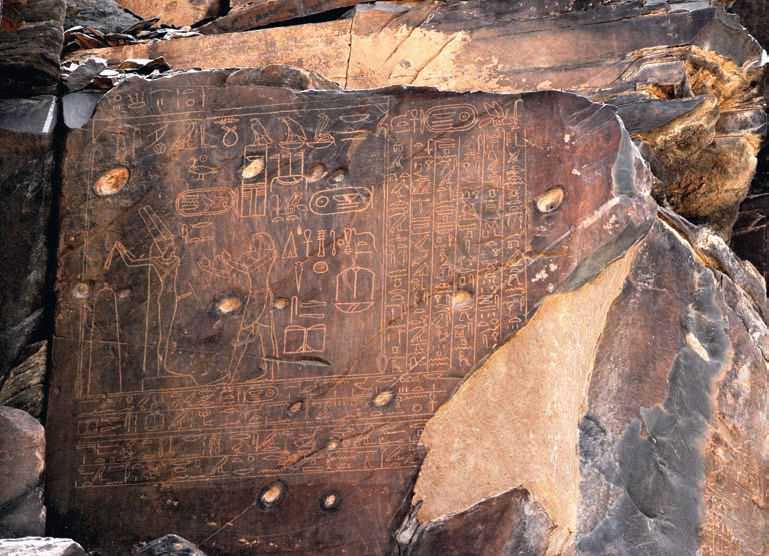 Royal Names
Curiously, it is the cartouches of less familiar pharaohs which dominate here. So, although Menkheperra (Thutmose III), and Menmaatra Sety (I) are in evidence, they are no more prominent than (Djedkara) Isesi, Meryra (Pepy I), and Merenra from late in the Old Kingdom; or Sekhemra Wadjkau Sobekemsaf (I) of the Seventeenth Dynasty; Userkheperura Meryamun Sety Meryenptah (Sety II) of Dynasty Nineteen; or Heqmaatra Rameses (IV) of the Twentieth Dynasty. Also unusual are the records left in Year 44 of Khnumibra Ahmose (II) of the Twenty-Sixth Saite Dynasty; Year 28 of the Persian king Darius (Dynasty Twentyseven); and Nakhthorheb Snedjemibra Setepenanhur (Nectanebo II) of the last native Egyptian dynasty (Thirty). Scattered around and dating from the Ptolemaic and Roman periods are Greek graffiti giving such names as Didymus and Crocus!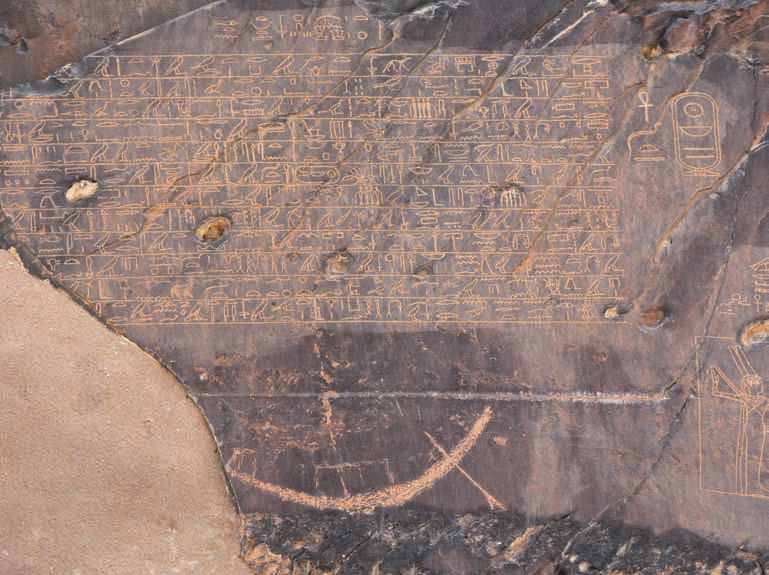 Probably the most extensive inscriptions are those left by Nebtawyra Mentuhotep (IV) of the Eleventh Dynasty (see above and below) – who would be virtually unknown except for these records of miracles and marvels that occurred in his Year 2 when the vizier, Amenemhat, led expeditions comprising some 13,000 men to the Wadi. It may well be no accident that the inscriptions of this obscure monarch are placed close to one left in Year 8 of his predecessor, Sankhkara Mentuhotep (III) (shown left), by the Great Steward, Henu.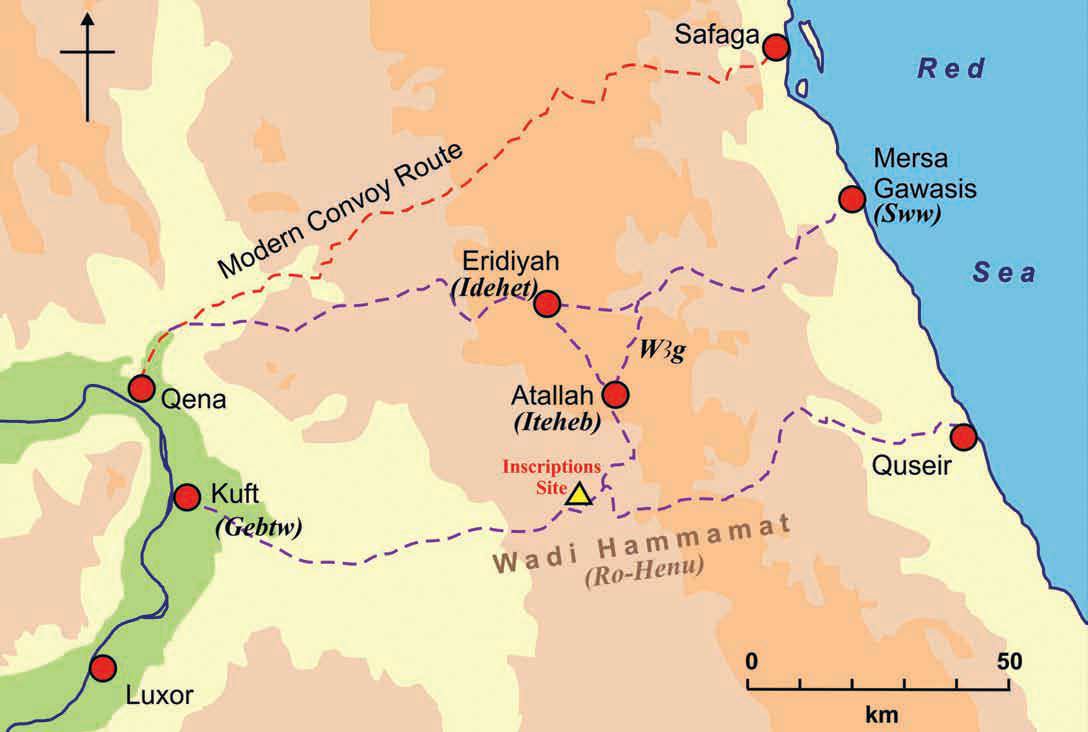 You can read up to 3 premium stories before you subscribe to Magzter GOLD
Log in, if you are already a subscriber
Get unlimited access to thousands of curated premium stories and 5,000+ magazines
READ THE ENTIRE ISSUE
Issue 102