GONE FISHING!
Ancient Egypt
|
September / October 2020
Joseph L. Thimes casts his rod in search of the techniques used by the ancient Egyptians to fish for food and for sport.
Fish formed a major part of the ancient Egyptian diet with catch from the Nile itself and from the Mediterranean and Red Seas to the north and east of the country. Fish provided the main protein source for most Egyptians. Methods of preparing fish as food included drying, pickling, boiling, or roasting.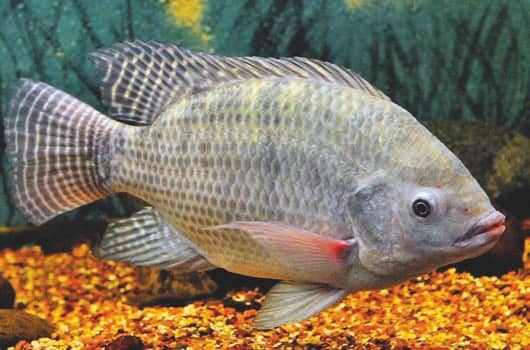 In general, fishing methods stayed the same throughout ancient Egypt's history. Fishermen cast hand-held nets from a boat, or slung a net between two boats (as shown above). Fish were also caught using drag nets from the shore, by angling (using line and hook), and were speared or caught in a small net in the shallows.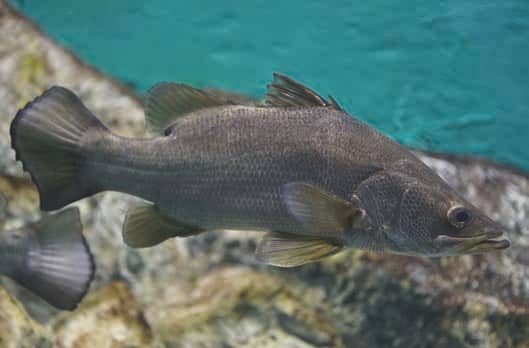 Fishing was well organised with fish farms and breeding grounds, teams of fishermen operating together to make a living, and the manufacturing of fish netting and traps. Fishermen toiled singly, in small groups, and in several squads. At the Old Kingdom workers' village near the pyramid at Giza, a large facility processed sufficient fish to feed thousands of skilled artisans there. Thousands of fish bones, gills, fins, and heads were discovered, including the remains of Nile perch, an expensive fish which was caught by line and hook in the deeper Nile waters. A cheaper fish, the catfish, was caught in the Nile River basins when its waters receded.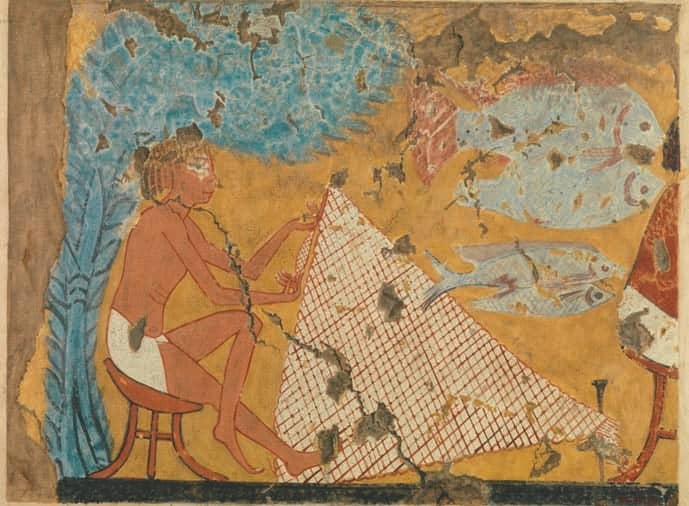 What Fish Did They Catch?
The expertise of the ancient artists allows us to identify many of the fish species depicted in tomb scenes (see opposite, bottom). Typical fish included tilapia (boulti or bolti fish, below left), mullet, carp, eel, Nile perch (below), cat- fish, puffer fish, and elephant snout fish (or long-nosed elephant fish) amongst others. Many of these fish could grow considerably large. Tilapia fish could grow to 60cm long and weigh more than 5kg. Electric catfish could weigh 18kg, certain mullets about 8kg, and bynnis about 6kg. The elephant snout fish averaged about 76cm in length. A very large fish, the Nile perch, could weigh about 200kg at about 200cm in length.
Net Fishing
Net and rope-making techniques are shown in some New Kingdom tombs at Thebes (above left) and the Middle Kingdom tombs at Beni Hassan. High standards were set for netting used to catch fish, birds and wild animals. Some surviving fishing nets were discovered at the workmen's village located at the pyramid of Senusret II (about 1880 BC) at el-Lahun in the Fayum area (below).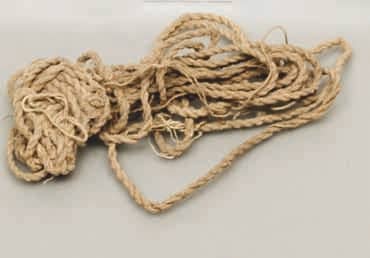 Expensive trawling or drag nets knotted by linen were used by professional fishermen. These seine nets were equipped with wood floats (above) which acted like buoys to keep the top of the net on the surface: while weighted clay lumps served to sink the bottom portion of the net (below).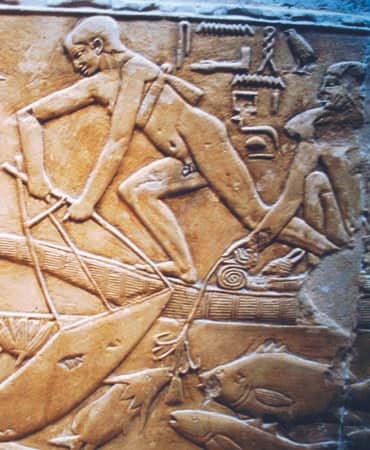 You can read up to 3 premium stories before you subscribe to Magzter GOLD
Log in, if you are already a subscriber
Get unlimited access to thousands of curated premium stories, newspapers and 5,000+ magazines
READ THE ENTIRE ISSUE
September / October 2020