HISTORY OF THE PC
Linux Format
|
October 2020
In a world of competing processors and operating systems, John Knight explores how the PC began, what powers it and how it's still going.
The PC; the personal computer; the IBM-compatible. Whatever you want to call it, somehow it has maintained a dominant presence for nearly four decades.
If you try to launch any program written from the '80s to the 2000s onwards, you have a good chance of getting it to launch: your PC has backward compatibility going right back to the '70s, enabling you to run pieces of history as though they were from yesterday. In fact, your computer is brimming with heritage, from the way your motherboard is laid out to the size of your drive bays to the layout of your keyboard.
Flip through any PC magazine and you'll see everything from bulky desktop computers to sleek business laptops; from expensive file servers to single-board devices only a few inches big. Somehow, all these machines are part of the same PC family, and somehow they can all talk to each other.
But where did all of this start? That's what we'll be examining: from the development of the PC to its launch in the early '80s, as it fought off giants such as Apple, as it was cloned by countless manufacturers, and as it eventually went 32-bit. We'll look at the '90s and the start of the multimedia age, the war between the chip makers, and the establishment of Windows as the world's leading but not best operating system.
But before we go anywhere, to understand the revolutionary nature of the PC you first need to grasp what IBM was at the time and the culture that surrounded it.
IBM was formed in the early 20th century by people who invented the kind of punch-card machines and tabulators that revolutionised the previous century. IBM introduced Big Data to the US government, with its equipment keeping track of millions of employment records in the 1930s. It gave us magnetic swipe cards, the hard disk, the floppy disk and more. It would develop the first demonstration of AI, and be integral to NASA's space programmes. IBM has employed five Nobel Prize winners, six Turing Award recipients, and is one of the world's largest employers.
IBM's mainframe computers dominated the '60s and '70s, and that grip on the industry gave IBM an almost instant association with computers in the minds of American consumers. But trouble was on the horizon. The late '70s were saturated by 'microcomputers' from the likes of Apple, Commodore, Atari and Tandy. IBM was losing customers as giant mainframes made way for microcomputers.
IBM took years to develop anything, with endless layers of bureaucracy, testing every detail before releasing anything to market. It was a long way from offering simple and (relatively) affordable desktop computers and didn't even have experience with retail stores. Meanwhile, microcomputer manufacturers were developing new models in months, and there was no way IBM could keep up with traditional methods.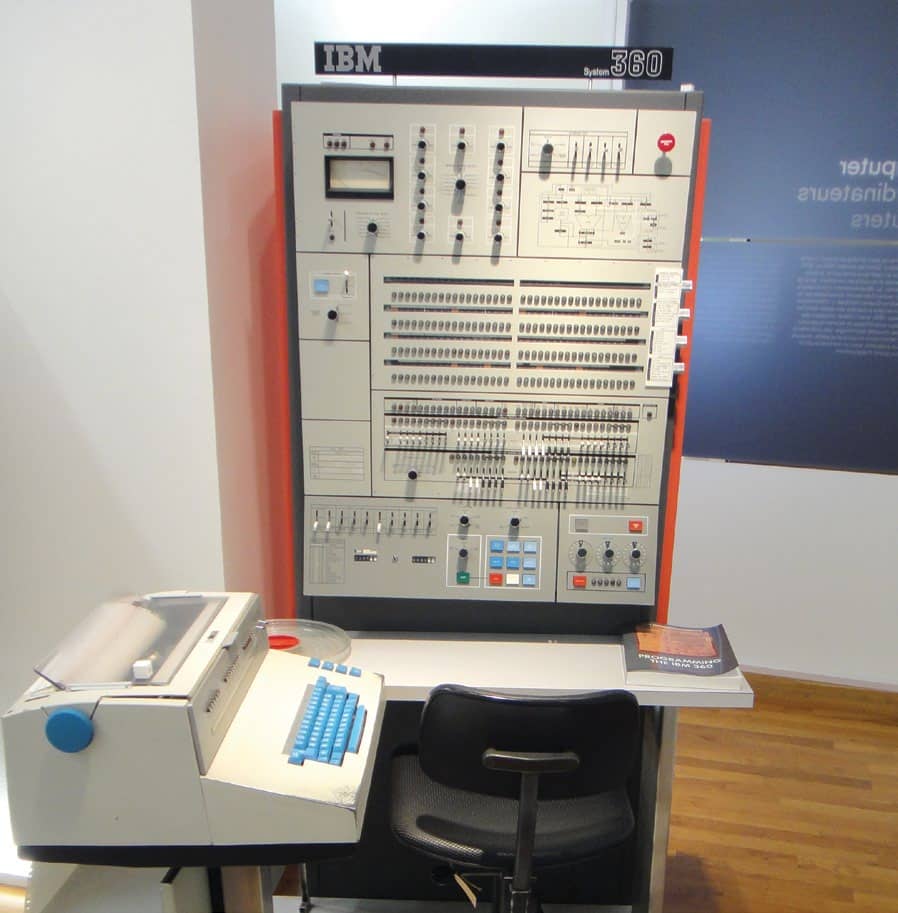 Assembling a crew
In August 1979, the heads of IBM met to discuss the growing threat of microcomputers, and its need to develop a personal computer in retaliation. They created a series of Independent Business Units, which were given a level of autonomy. One of these would soon be led by executive Bill Lowe, who would become the father of the PC.
In 1980, Lowe promised he could turn out a model within a year if he wasn't constrained by IBM's methods. Lowe's initial research led him to Atari, which was keen to work for IBM as an OEM builder, proposing a machine based on the Atari 800 line. Lowe suggested IBM should acquire Atari, but it rejected the idea in favour of developing a new model instead.
This model was to be developed within the year, with Lowe given an independent team. This new squad, the Dirty Dozen – a group of IBM misfits – was allowed to do things however they saw fit to get the job done. The task was code-named Project Chess, with Lowe promising a working prototype in 30 days.
Lowe went for an open architecture. While dealers were very interested in an IBM machine, it just wouldn't work if they had to operate within IBM's proprietary methods. If dealers were going to repair these machines, they needed to be made from standard off-the-shelf parts.
By August, Lowe had a very basic prototype and a business plan that broke away from established IBM practice. Based on this new open architecture, the PC would use standard components and software, instead of IBM parts, and be sold via normal retail channels
Over the coming months, the Dirty Dozen grew exponentially in number and toiled away to transform the prototype into a world-class machine. They focused on giving the PC an excellent keyboard, which they delivered with the IBM Model F. It needed to be durable and reliable, so each key was rated to 100 million keystrokes. IBM was renowned for quality keyboards and would try to replicate the feel of older beam spring terminal keyboards with a new Buckling Spring technology. These gave the keyboards the famous clacky sound and weighted feel that was popular with typists, giving a tactile feedback unrivaled at the time.
You can read up to 3 premium stories before you subscribe to Magzter GOLD
Log in, if you are already a subscriber
Get unlimited access to thousands of curated premium stories, newspapers and 5,000+ magazines
READ THE ENTIRE ISSUE
October 2020