Celebrating Geekdom
Digit|June 2017
Geeks are not anti-social, they are just anti-unintelligence!
Remember the socially socially awkward Leonard Hofstadter with his black-rimmed round glasses from the American sitcom "Big Bang Theory," or the dweeby physicist Sheldon Cooper from the same series? When you think of a geek, what comes to mind is the stereotypical image of a be spectacled geeky chap with high-waisted trousers or suspenders to pull them up. This is because pop culture portrays geeks as people with limited social skills (and strangely high intellect) and other such clichés. But who is a geek really? Are the qualities simply restricted to these stereotypes or is there more to the geek than meets the eye?
The Oxford English Dictionary defines geek as an "an unfashionable or socially inept person." However, this is the informal usage of the term, which has the more positive meaning "a knowledgeable and obsessive enthusiast."
A geek is essentially an individual who devotes extraordinary amounts of time and energy in the pursuit of their interests, which sometimes might make them socially awkward or introverted. A small section of the word still uses the word "geek" in a derogatory manner, even if it is to address an individual possessing immense intellectual ability, or mastery of a particular hobby and interest.
Usually people think geeks are limited to people with immense mastery of technology. However, any person who has invested most of their life in the pursuit of a single passion can be called as a geek. So if you eat, sleep and breathe anything associated with sports for example, you can be labeled a "sports geek".
WHAT MAKES A GEEK A GEEK
Popular culture would have us believe that being geeky is genetic – the staple of American movies, which pigeonhole what a notion of a geek is are the perfect example. However, it is unclear if being a geek is genetic. Studies assert that genes make a difference to one's intelligence levels and determine the individual's performance. However, they are not limited to determining one's IQ, but also fuel a person's motivation levels. Theories abound that people are just born with the natural affinity towards a certain activity, which they master and become experts at. So, while someone may be a techie, that is, working in the IT field, he or she may not necessarily be a geek.
There also exists a belief that all geeks wear glasses, drop out of college, and are too arrogant to work with others. While this may have been true for the older generation of geeks, the modern era geeks (you Digit readers included), are well-groomed, very well educated, articulate and driven, which is the reason why more and more geeks are finding success in the world. The geek shall inherit the earth?
People like Steve Jobs, Dennis Ritchie and Bill Gates are geeks who people admire and consider role models. These individuals changed the world and the modern geeks want to carry the torch forward by creating even more amazing products and services. Geeks are fast dispelling the prevalent notions and are the harbingers of change, especially in tech related fields.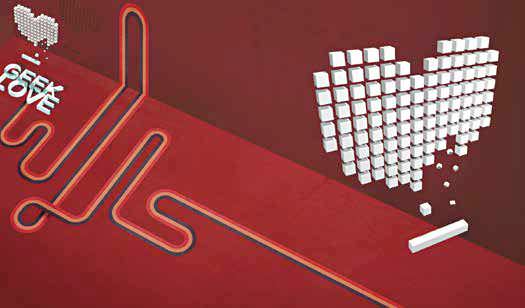 NERDS AND GEEKS: WHAT ARE THE DIFFERENCES?
You can read up to 3 premium stories before you subscribe to Magzter GOLD
Log in, if you are already a subscriber
Get unlimited access to thousands of curated premium stories and 5,000+ magazines
READ THE ENTIRE ISSUE
June 2017